Salespage Snapshot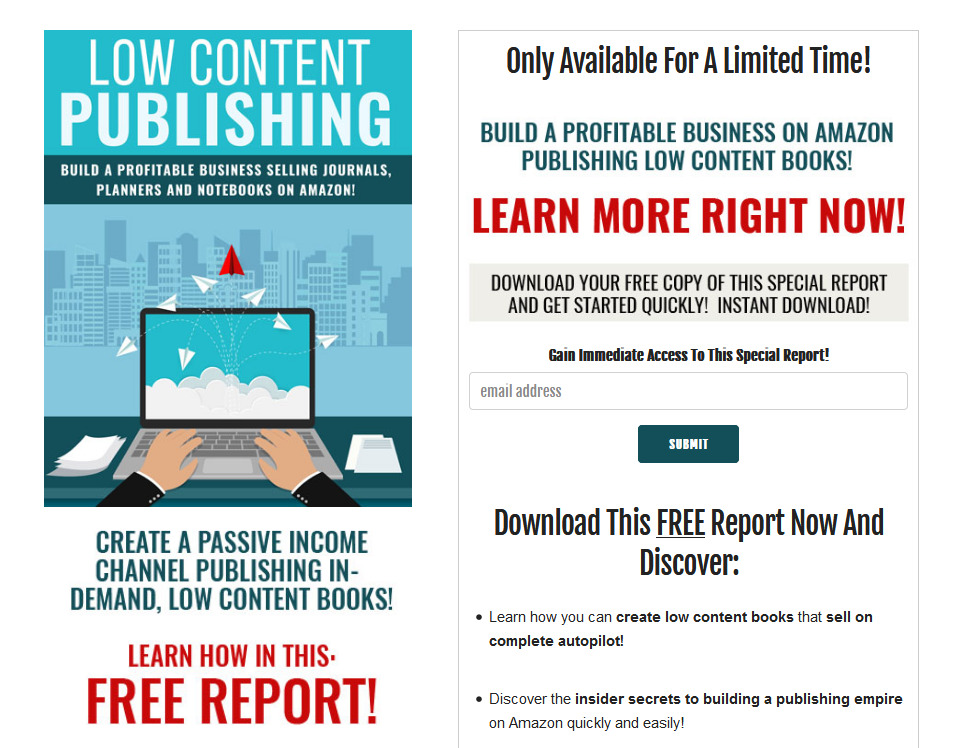 >> Click Here To View Sales Page...
Table of Contents
Table of Contents 3
Introduction 5
Getting Started 9
Uncovering Hot Niches 15
Driving Traffic to Amazon 21
Maximizing Sales Quickly 30
The Right Way to Pin Content 36
Resources 40
Sample Content Preview
Create attractive, attention-grabbing covers that target specific niche markets, along with high-quality, professional interiors/templates. Your covers won't always be pretty or even polished, but they will instantly stand out to a segment of your niche.
Note: Uploading simple lined journals is a great way to start, but if you really want to boost your income you'll want to invest in professional interiors that provide customizable layouts.
Write keyword-centric blurbs for every book you publish. These will be filled with relevant and targeted keywords that will pull in traffic and help you connect with the right audience of buyers.
Once you've seen a few sales, identify your bestsellers and focus on creating more of them. Build a brand around a "series" of themed low content books and maximize your income!
Now, when it comes to making the most money possible on Amazon, you'll want to focus on just 3 main things:
1: Finding hot niche markets. This is the most important step when it comes to making money with low-content books. You want to cater to die-hard fans in scorching hot markets who will buy anything that features images or phrases about their hobbies and interests.
2: Creating unique and attractive covers. Notice that I didn't say pretty? That's because a bunch of pretty covers won't likely make you a lot of money. Instead, you want to gear your covers towards what people in that niche are instantly attracted to.
3: Building a Brand. You're going to build a brand around your best-selling low-content books. That way, you can not only sell more low-content products, but you could branch out and maximize your income by promoting relevant affiliate products.
And I'll throw in a fourth step to consider once you get the hang of this:
4: Experiment with different Interiors. You can start with basic lined-templates for now, but once you've cut your teeth on publishing low-content books, you can start to play around with different interior layouts that help you stand apart.
They key to this is that we're maximizing our income while minimizing the time we spend doing it.
So, don't worry about creating elaborate templates or spending too much time on covers when you're just starting out. The bulk of your time should always be spent on researching markets and uncovering hot niches.
Uncovering Hot Niches
Finding profitable, underserviced niches is the key to maximizing your income with low-content books.
Here's how to do it:
Step 1: Research Consistently
There are many ways to uncover hot niche markets, but we'll start with Amazon since that's where we'll be publishing our low-content books.
If you plan to publish via Lulu.com, Etsy, or other publishing houses, you should still use Amazon to gauge profitability and overall demand.
Here's the tool I use to simplify the process: Publisher Rocket
Publisher Rocket is one of my favorite tools for evaluating the profitability of journals and other low-content books on Amazon.
After researching so many different Amazon-based tools, Publisher Rocket seems to be the most reliable when it comes to digging deep into low content book niches to figure out how many books are likely to sell each month.
That being said, it's not uncommon to see a slight fluctuation in estimated book sales from week to week by $200-300 based on recent activity and ranking.
With Publisher Rocket, you're also able to uncover keywords that you'll use within your book listing and descriptions on Amazon to increase visibility and sell more books. It's a very useful tool for helping spot hot niche markets.
Here are a few other places you can go to find niches with die-hard fans who will gladly buy low-content books:
Facebook Groups
This is by far one of the easiest ways to scout for hot niche markets. Look for groups that are very specialized and have 200 or more members and are active.
You can locate groups at: https://www.facebook.com/groups. Click "Discover" and enter in a few keywords to find relevant groups.
Other Details
- 1 Ebook (PDF, DOC), 40 Pages
- 7 Part Autoresponder Email Messages (TXT)
- 1 Squeeze Page (HTML)
- Year Released/Circulated: 2020
- File Size: 2,061 KB
License Details:
[YES] Can be sold
[YES] Can be used for personal use
[YES] Can be packaged with other products
[YES] Can modify/change the sales letter
[YES] Can modify/change the main product
[YES] Can modify/change the graphics and ecover
[YES] Can be added into paid membership websites
[YES] Can put your name on the sales letter
[YES] Can be offered as a bonus
[YES] Can be used to build a list
[YES] Can print/publish offline
[YES] Can convey and sell Personal Use Rights
[YES] Can convey and sell Resale Rights
[YES] Can convey and sell Master Resale Rights
[NO] Can be given away for free
[NO] Can be added to free membership websites
[NO] Can convey and sell Private Label Rights