Salespage Snapshot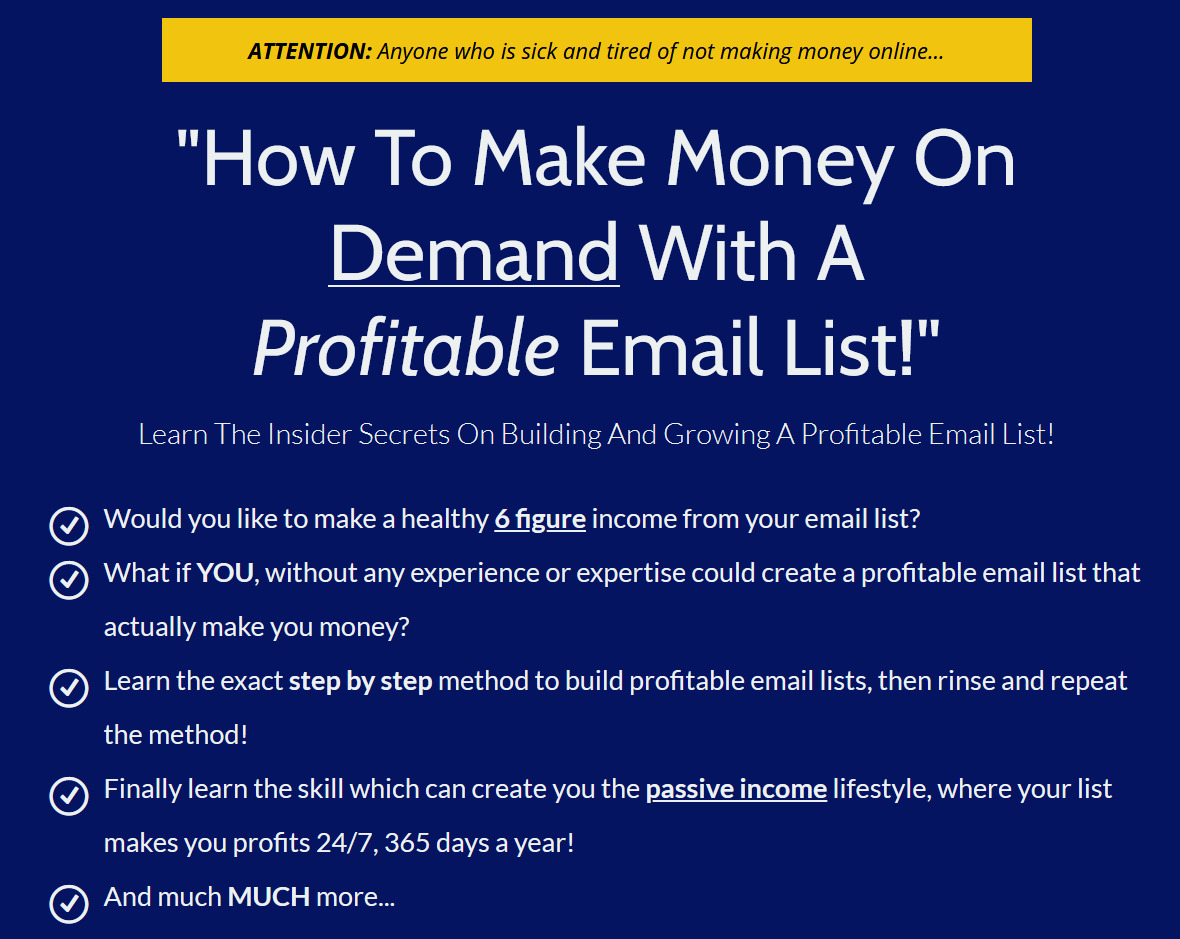 >> Click Here To View Sales Page...
Table of Contents
Chapter 1: Why Build an Email List.. 5
Chapter 2: How to Build an Email List…..11
Chapter 3: Know Your Audience……. 18
Chapter 4: Building a Targeted Email List……. 21
Chapter 5: Building a Landing Page29
Chapter 6: Driving Traffic to the Landing Page…….35
Chapter 7: You've Got Them Hooked, So Reel Them In.. 41
Chapter 8: Make Some Money, Honey……47
Chapter 9: Deep Diving into Affiliate Marketing……53
Chapter 10: One Last Revision before the Final Test…….60
The Finale…64
Sample Content Preview
Chapter 2: How to Build an Email List
Now let's move on to the tools you need to build an email list. The name of the game is email marketing and it's a great way to build loyal consumers, right? So, you put out an ad on a social media platform and it's getting a good level of engagement. You're happy with it. A lot of e-commerce businesses use sign-up forms that are created by experienced marketers to get them started. It usually starts either with a pop-up ad or a Facebook ad to get the consumer going.
But how do you convert that momentary interest into lasting loyalty? You get them to a place where they will get more of what they just saw. From promotional offers to showcasing products and services or telling personal stories that have them hooked to your narrative, there are a lot of things you can do to get consumers to stay with you and in time, pay for what you're offering.
But sometimes, the steps from clicking on a pop-up to signing up for an email list can be a long one. People don't like to fill out long forms that ask too many questions. So, you need to start by making it easy for them. Let's go through the process of building an email list that's easy for you and the consumer.
The first step is to have a landing page with a unique/strong domain name. When your consumer clicks on the pop-up ad, they need to go to a place that gives them more of what they just saw. This is one of the most useful ways to build an email list. Treat this like running a website that has multiple pages.
For instance, if you have a website that offers 10 different services, you could have a different pop-up ad for each of them, right? Make sure that when your consumer clicks on an ad, they are taken to a landing page with details relevant to that ad.
Now, remember that every website has a domain name and often, it is this name that consumers remember whether they remember the specific page or not. Even if they forget where exactly they saw the product or service that they wanted to sign up for, they will try Googling your domain name and a couple of words relevant to the product or service they wanted to access. So, make sure you have a strong domain name that is easy to recollect.
Oftentimes, when people see that they have to fill out a form, they want to shut that tab and go right back to browsing the internet. To avoid that, you may want to take advantage of the interest they have shown in the content on the pop-up ad and offer them a goodie.
Depending on the service you run, it could be a voucher, an instructional video guide or a free ebook that is exclusively for those who sign up for the email list. This is referred to as a content upgrade.
It's kind of like offering candy to a kid. While that has a morbid kidnapper-y vibe to it, when it comes to attracting customers, freebies can work wonders. Those who give you their email ID get to unlock the goodies.
A lot of businesses like to put this upfront on their main page. This is usually the page that gets the most visitors because it is the front of your business. It's a great place to ask visitors to sign up. Sometimes, it also works to your advantage in a way that they get to see your services or products only if they sign up. This is an interesting way to build an audience while they are still curious about your business.
Creating a smart bar is another way of grabbing your visitors' eyeballs. A smart bar is a bar at the top of the website that doesn't go away even when the visitor scrolls down. It is kind of like priority notifications on your phone. No matter what else happens, this thing stays on top. Put it in a color that pops on the background of your landing page and announce boldly asking your visitors to "Sign Up For The Newsletter Here".
It doesn't interfere with their browsing like a pop-up ad and it never goes out of their line of sight which automatically registers in their subconscious. And literally takes just a few minutes to install.
Now, if they didn't sign up right after they got to the landing page and the smart bar failed to do what it intended to do, as a last-ditch effort, you can use an exit-intent pop-up. This is exactly what it sounds like. When you are shutting down a tab on your browser, you can edit the settings for your browser to prompt a response like "Are you sure you want to shut this tab?" Like when you're saving a Word document and it asks you, "The document has been modified. Do you want to discard changes and exit?"
This is the same thing. When the visitor is leaving your website, you can give them one last prompt to sign up for discounts, vouchers and new merchandise information. If they like what they saw, this one might just work. For a lot of businesses, it actually has.
Now that you have them on your email list, the next level of engagement begins. You need to send them timely emails to make sure your customers keep coming back to you. You might think you can do it manually but if you have it all figured out (and you should) wouldn't it be nice to have it automated? In the business, those are called autoresponders.
Even if you haven't used them before for business purposes, you have certainly seen them in one form or another. Your autogenerated bank emails and out-of-office vacation responders are all a part of this facility.
Autoresponders are emails that are scheduled to be sent way ahead of time. For example, when an individual signs up for your service, you can automate a welcome email taking them through the many benefits of signing up for your service. A week later, you can give them a few vouchers or a discount code. Following that, you may prompt them towards your social media handles to multiply your numbers there and count on them to spread the word. And for you, they save a lot of time and it's not at all complicated to set up.
You need an email marketing app like Getresponse or Mailchimp or Campaign Monitor to get started. Each of them offers a certain level of sophistication. So you must go through a good number of them to figure out what works best for your product or service.
Some of them are expensive and that's something to consider, especially if you're in the starting stages of your business. Some charge you based on the size of the email listing. So they might work well initially but you may have to switch later on (or not, depending on how things are going for you).
Either way, autoresponders will get a lot of work done while you focus on the things that only you can do for your business.
Chapter 3: Know Your Audience
Building an email list must be treated like building an audience for your product or service. This is particularly important if what you are offering is not for everyone. For instance, a laundry service might be for everyone who owns clothes but collectible radio sets are not.
So, the first step in building an email list is to figure out your audience. Whether you get them through social media channels or billboard, banner or bus advertising (if it applies to your product or service), you need to target the ones who are actually interested in your offering. Otherwise, you might be able to attract an audience but it will not convert into anything substantial. As a result, the bounce rate of your website will be terribly high.
In the internet marketing industry, bounce rate is the term used to describe the rate at which your audience is leaving the site. Even if you are not well versed with internet jargon, it should seem quite plausible with everything on the internet. We have all clicked on links that have redirected us to websites we have had no interest in. The same is applicable to email listings too. In fact, you actually don't want people who are not interested in your product because then what you have to offer is reaching the wrong audience and is most likely being considered spam.
A bounce rate of 26 to 40 percent is considered really good. The next level is average which ranges from 41 to 55 percent and anywhere from 56 to 70 percent is considered higher than average. If your bounce rate is over 70 percent that means a huge chunk of people are making it to your landing page but aren't staying on it. That means, you have channels that are bringing uninterested users to you. That's not helpful.
So, once you start building an email list, start thinking of it as building a targeted email list. One of the best ways of doing that is to find high rank websites and forums that are related to your niche.
Consider going on forums like Reddit and Quora where you can start threads on the subject. Make sure you add your URL to your profile and to the bottom of the threads with your signature. This is going to be a daily exercise and you must do it long enough to have enough data to analyze what kind of audience it is bringing in. It is highly likely to bring in individuals who are interested in your product or service and these avenues can be highly rewarding.
Other Details
- 10 Articles (TXT)
- 1 Ebook (PDF), 65 Pages
- 6 Graphics (PNG)
- 1 Salespage (HTML)
- Checklist, Resource, Mindmap, Optin Page, Social Media Images, Email Swipes
- Year Released/Circulated: 2021
- File Size: 48,239 KB
License Details:
You're granted master resell rights, resell rights or to resell with personal use rights.
You may add this product to your PAID membership site
You may giveaway the product as a bonus when people buy through your affiliate link
You may edit the included sales page and opt-in page
No, you may NOT edit the contents of the eBook(s) & videos
No, this product does NOT include private label rights. You are granted Master Resell Rights only
No, you may NOT giveaway the eBook(s) & videos for free.