Salespage Snapshot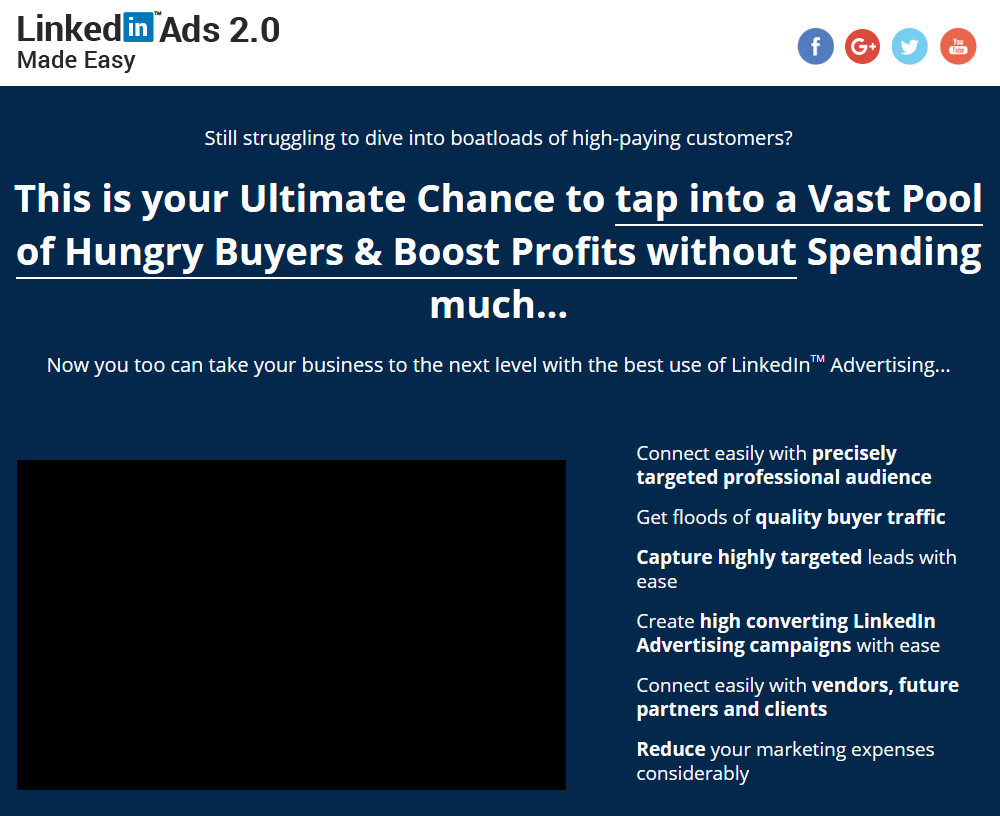 >> Click Here To View Sales Page...
Table of Contents
Introduction 04
Section 1: LinkedIn Ad Basics
Chapter 1: What is LinkedIn All about? 07
Chapter 2: What Are LinkedIn Ads? 09
Chapter 3: How Can LinkedIn Ads Help Your Business? 12
Chapter 4: Shocking LinkedIn Ad Facts To Consider 16
Section 2: LinkedIn Ads – Step by Step
Chapter 5: LinkedIn Walkthrough 20
Chapter 6: Creating A Company Page 26
Chapter 7: Campaign Manager Walkthrough 29
Chapter 8: Creating A "Sponsored Content" Ad 34
Chapter 9: Creating A "Text Ad" 41
Chapter 10: Creating An "InMail" Ad 46
Section 3: Advanced LinkedIn Ad Strategies
Chapter 11: Creating A "Showcase Page" To Promote Content Series 51
Chapter 12: Collecting Leads Directly From Their LinkedIn Inboxes 54
Chapter 13: Using LinkedIn Features To Locate Qualified Targets 58
Chapter 14: Turning Your Company Pages Into Lead Generation Pages 61
Chapter 15: Creating A Marketing Plan For LinkedIn 63
Chapter 16: Best Practices For Content, Campaigns, And Company Updates 66
Section 4: Additional Tips to consider
Chapter 17: Do's and Don'ts 70
Chapter 18: Premium tools and Services to consider 75
Chapter 19: Shocking Case Studies 80
Chapter 20: Frequently Asked Questions 87
Conclusion 92
Top Resources 93
Special Offer 94
Sample Content Preview
Chapter 2: What Are LinkedIn Ads?
Using LinkedIn for advertising can make it easier for you to target the right people simply because you already know what people are looking for on the platform. It might be people looking for a specific organization, it might be people looking for career development info, the fact is that they are all looking after their professional development.
To leverage this client matching power LinkedIn offers you just the right type of advertising solutions and the right tools that will help you to easily reach those most likely to respond to your business-related promotions in the form of LinkedIn Ads.
LinkedIn Ads will allow you to build your brand, to raise awareness about it and to generate leads the right way by letting you target a unique audience of over 500 million active professionals on the platform by way of job titles, functions, industries, and more.
LinkedIn Ads are effective and easy to set up no matter whether your goal is to generate leads, to drive awareness or to maximize event registration, and they also allow you to control your budget and advertising costs with flexible pricing options.
And the cool thing is that there are LinkedIn Ad formats for every advertising need.
Sponsored content Ads, for example, can help you to boost your content and to promote company updates that will allow you to generate leads and to drive awareness on the world's most viewed professional newsfeed audience, on any device.
"InMail" advertising, or direct inbox advertising, will allow you to reach your potential targets right on their LinkedIn email inboxes. Using InMail advertising will help you to easily send personalized messages to your prospects. This LinkedIn Ad format leverages the power of the oldest and most cost-effective form of marketing: email!
Dynamic social ads on the other hand will allow you to drive relevant responses with adverts that are designed and served on the basis of activity and the profiles of people in your target audience, allowing you to show highly personalized copy and dynamically generated marketing images to LinkedIn members right where they are most likely to hang out.
Advertising units offered by the LinkedIn advertising platform also include "programmatic display ads" that will help you to reach your target audience in a premium context through accurate, professional targeting technology.
Display advertising units are highly visible and are specifically placed in high-traffic areas across LinkedIn pages, and they operate on a fraud-monitored environment that ensures maximum brand safety.
Classic "Text Ads" are also supported by the LinkedIn advertising platform to give advertisers, marketers and common users a way to advertise on a budget that works for them. They are an easy, cost effective way to drive traffic and generate quality leads on a pay-per-click or per impression basis.
As you can see, LinkedIn's own advertising platform is as diverse, as feature rich and as cost effective as any of the big players, with the added benefit of serving a highly targeted, unique audience. We will be talking about the benefits of using LinkedIn Ads for your business in our following chapter, so make sure to tune in!
Chapter 3: How Can LinkedIn Ads Help Your Business?
As a marketer, you are already aware that your business idea will go as far as your efforts to get it out there, and there are usually two common routes to achieve maximum exposure and results: organic reach and paid advertising.
Now, when it comes to paid advertising, everybody likes to get the job done through the usual platforms, which is fine because we all know the importance of establishing a presence across the largest display networks.
But what about LinkedIn? It's by far the largest and most popular professional network on earth, and yet there is only a handful of marketers leveraging its advertising platform. Here are some of the ways in which LinkedIn Ads can help your business.
LinkedIn Ads Will Allow You To Target The Largest Pool Of Career-Minded People Available
While advertising networks such as Facebook and Google are better for promoting consumer-grade products and entertainment, LinkedIn is better for promoting career-related products such as eBooks, video training and events such as webinars.
With over 400 million active users, you can bet that LinkedIn is the safest place to reach the most professional people in your audience.
LinkedIn Is A Great Place To Promote "B2B" Offers And Items
Unlike Facebook, LinkedIn is not a social media platform to hang out and slack off, and you are unlikely to find business managers looking for entertainment in there. They will be likely looking for productive business partners and information about how their industry operates overseas.
Other Details
- 1 Ebook (PDF), 95 Pages
- Top Resource Report, Cheat Sheet, Mindmap, Special Report
- Year Released/Circulated: 2018
- File Size: 7,255 KB
License Details:
[YES] Can use
[NO] RESELL OR GIVEAWAY