Salespage Snapshot: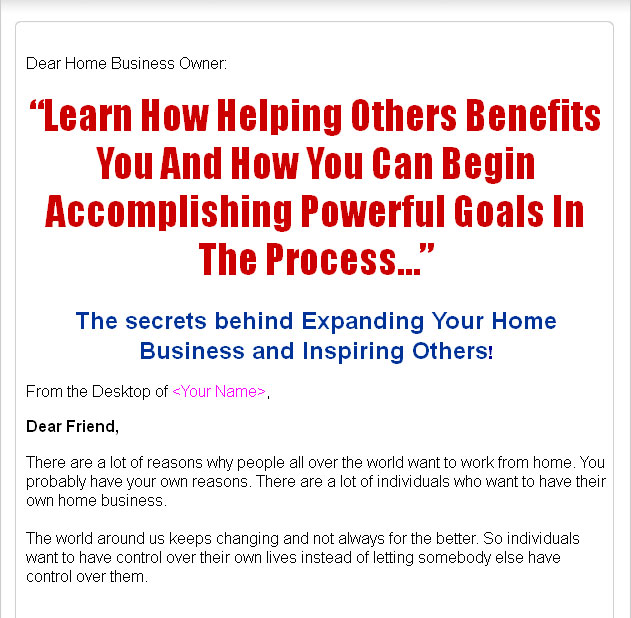 >>> Click Here To View Full Sales Page…
Table Of Contents
Chapter 1:
How Businesses in the 21st Century Are Different from Earlier Businesses
Chapter 2:
The Network Marketing Model (MLM) – Why Is It a Great Business Model in the 21st Century?
Chapter 3:
Using the Internet for Your Business
Chapter 4:
Web 2.0 – A Step Ahead for All Businesses
Chapter 5:
Niche Businesses – The 21st Century Trend
Chapter 6:
Attracting the Customer
Chapter 7:
Internationalization of Business – Easier Now than Ever Before
Chapter 8:
Providing Freebies – A Useful Tool in Leveraging Businesses Today
Chapter 9:
Some Methods Used in Business Promotion Today
Chapter 10:
New Trends for New Businesses
Sample Content Preview
The Network Marketing Model (MLM) – Why Is It a Great Business Model in the 21st Century?
Many people ask whether MLM really helps to make money or, more precisely, to market a product? The answer is YES. In fact, in these times of recession, MLM could be the best option to use as a business model. The prime reason for this is the fact that MLM does not cost anything for marketing. Here, people refer products to each other by word of mouth. This has a very high conversion as the product here is referred by someone whom you know and trust.
Especially in the 21st century, when the market is so volatile, it is difficult for a small company to keep investing in ads. MLM is the solution for that. It gives you a growing option without much investment. Millions of people have become millionaires using MLM channels alone. In MLM you refer someone and someone refers someone else in this way a long chain of people builds up. Here, the major benefit is that even if you don't refer many people, your downline is active and you keep getting checks.
This way you can earn a regular residual income monthly. There are many people who get retired when they are just 35 riding on their MLM horses and put their efforts in this regard, making millions of dollars. If you select a better MLM product and company, there are no reasons that you don't get success.
Sometimes people are wary of MLM, especially when they consider that they don't know anyone quite well and so they won't be able to build networks. However, nowadays, it has become very easy in the work on the Internet. You can use Facebook, MySpace.com, hi5 and many other social networking websites to build your network instantly. You can join forums, private JV clubs, affiliate networks which make your network building like child's play.
Summary
If you want to start leveraging your business, the best way to do that is to take it online.
Using the Internet for Your Business
The Internet is the new tool for your business in this 21st century. It helps you do build your business, earn online, save your time and money. In earlier days, just to send someone a letter we need to wait for days but now with the help of the Internet; it can reach within just a few seconds and that too for free.
There are many people have take up full time businesses on the Internet. For example, eBay is a portal where people selling product online. There are millions of people earning full time from just eBay. There are many other portals that work in a similar manner.
Promoting your product or service was never been so simple. Internet marketing has made that happen. People promote their product or services using blogs, websites, free micro blogging, forums and so on. Many online communities exist for different business which you can join for free and many premiums paid once which opens a new door for you in terms of business and new customers.
Facebook and Twitter has totally changed the way we use social communities. People can totally customize Facebook to be their personal desk and promote whatever they want to. There are several software applications available to promote Facebook and Twitter which minimize your work by 70% and makes the process automated.
Twitter is a new revolution in microblogging where people follow each other and inform each other about their activities, products, services, events, etc. Twitter helps you to connect to people instantly and easily. You don't have to know much about the Internet to use Twitter; it's very easy to use and instant blogging.
Summary
Web 2.0 is what is really taking businesses forward.
Web 2.0 – A Step Ahead for All Businesses
Web 2.0 has totally changed the way how manufacturers and buyers used to behave earlier. Now customers have become smart and manufacturers have improved a lot in their quality and service. Most of the companies have started using Web 2.0 to improve their business, to know their customers thoughts and improve their product or service.
Customers have become more discerning than they ever were. They don't make decisions for making instant purchases like they used to do before. They search for reviews on product or service on the Internet first, closely take a look at product and only then make the decision which product to buy. It has become much easy to know the review of a product for example if a customer wants to buy a mobile they have more than hundreds of choices. So, they do a research first, check users' reviews from people who have already used the product or service and then decide which one will be a good fit for your purposes. This helps the user to know exactly what the product is and whether or not it matches with what the manufacturer claims.
Companies and manufacturers also keep a close track of these reviews and try to improve the product quality or price based on reviews by their existing customers. This way it helps both the customers and the manufacturers to maintain good relationships with each other.
With the help of web 2.0, you have at your disposal a completely new and prospective way or marketing which helps both the parties. Companies realize that one bad comment about their product can jeopardize their business prospects. Hence, they make genuine efforts to keep the customers happy with what they offer.
The Web 2.0 concept is so vast that not all the companies knows exactly how it works. But realizing the vast benefits it has, people are not minding the effort they have to put in order to understand the concept.
Summary
Working within a niche amounts to specialization, which in turn gives better credibility to your name.
Niche Businesses – The 21st Century Trend
Niche businesses weren't so common until people started understanding the power of Internet and how to earn online using methods of niche business marketing and the Internet.
First of all, let me tell you what a niche business is. To explain you more clearly I will explain you with an example. There are many business online and offline, say health, games, entertainment, training, sports, etc. If you want to select a business in a particular area such as training, then it becomes your niche. It has a broad meaning as well, so we go more in research and find detailed information on that niche and look for sub niche example dog training. Dog training can further be divided into sub niche example stop your dog from barking, how to stop your dog from scratching carpets and so on. So in this way we can find more targeted niche and get targeted buyers and make good sales.
Earlier, it was difficult to find the proper niche by marketers as they did not have proper sources but nowadays the Internet has removed that stop block and opened new opportunities in niche business marketing. More and more people are joining niche business to get a good profit from their business.
Once you find the proper niche you can start promoting it using blogs. You can use free blogs like www.blogger.com, www.hubpages.com, www.squidoo.com and many others. This helps you to get start without much investment as most of these platforms are free.
You can even use article marketing, which is one of the best known online marketing methods. If you do proper article marketing you can get tons of targeted traffic to your niche blog. You can get a very good number of sales as here conversion rate will be high because you will be using sub niche business marketing technique with other promotional options.
Other Details
- 1 Ebook (DOCX, PDF), 40 Pages
- 1 Salespage (HTML)
- Ecover (JPG)
- File Size: 779 KB