Salespage Snapshot: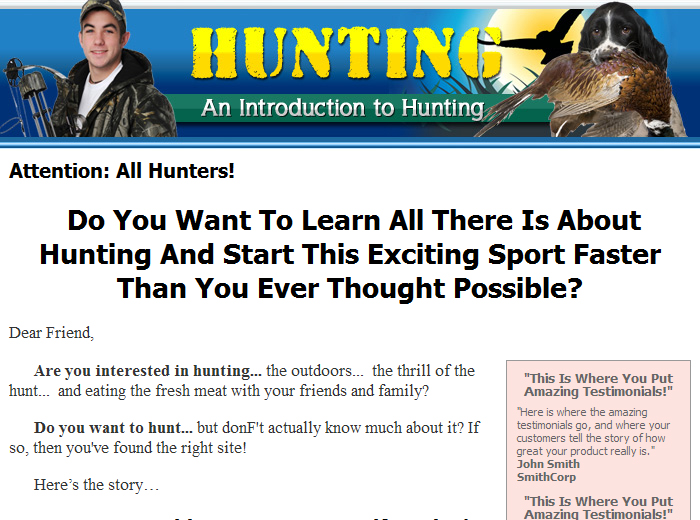 >>> Click Here To View Full Sales Page…
Table of Contents
INTRODUCTION
THE HISTORY OF HUNTING
HUNTING & RELIGION & TRADITIONS
METHODS OF HUNTING
HUNTING SAFETY
HUNTING WEAPONS
FINAL WORDS ON HUNTING
CONCLUSION
Sample Content Preview
INTRODUCTION
Many people enjoy the activity of hunting. There are many types of creatures that people learn to hunt and there is a hunting season of some sort nearly year round. In the next few chapters, we will take a closer look at hunting as well as the history of hunting; the reasons people enjoy this activity, hunting safety and the various types of hunting around the United States.
Why hunt?
If you are not a hunter, you may not understand that hunting is more than simply "hunting". There are a lot of people that take hunting very seriously. They consider hunting the ultimate sport. They train, get the right equipment and learn all they can before going on a hunting expedition. Some of these people ate not just "out for the kill", they are out there for a sport. They take it very seriously.
Controversy:
Of course, with any type of hunting comes controversy. Alongside the avid hunters, are those that feel that hunting is not a sport at all, but a conquest- a way for man to track and kill harmless and innocent animals. Those that cry foul over hunting often argue that people who hunt are only doing so for the thrill of the kill, so to speak. They argue that people who hunt are not doing so out of need, but for fun. This is another topic about hunting we will look into further over the next few pages.
However you look at hunting, you cannot deny that hunting certainly has its place and was critical in the survival of humans all over the world. While most people today do not hunt for survival and because they have to feed their family, hunting is still a popular past time. It has changed over the years. Technology and advances in weaponry has given birth to a completely new way to hunt. It is quite advanced in today's time.
Other Details
- 30 Articles (TXT)
- 2 Ebook (PDF, RTF), 41 Pages
- 7 Part Autoresponder Email Messages (TXT)
- 1 Salespage (HTML, RTF)
- 3 Ecovers (JPG)
- File Size: 2,723 KB