Salespage Snapshot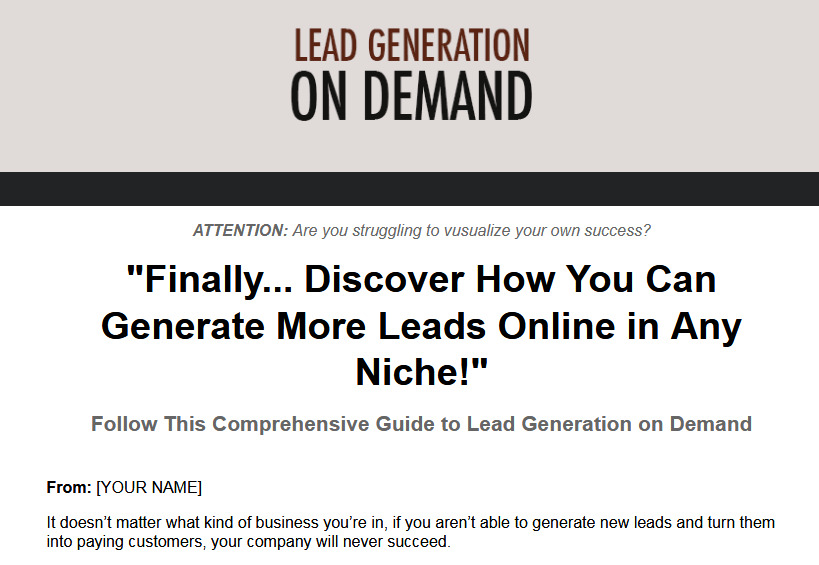 >> Click Here To View Sales Page...
Table of Contents
Introduction …. 5
Chapter One – Blogging to Generate More Leads …. 8
Rank Higher with Fresh Content …. 9
Have Greater Control Over Your Content 9
Gain Better Internal Linking Within Your Website . 10
An Easier Way to Attract Inbound Links 10
Add More Variety to Your Website … 11
Publish Content That Would Otherwise Hurt Your Ranking 12
Focus on SEO …. 12
Identify Authoritative Links . 13
Identify High-Positioned Keywords …. 13
Apply the Information …. 14
Chapter Two – Using Social Media to Build Relationships 16
Make Friends While Selling Your Social Media …. 17
Organically Increase Your Followers and Fans 17
Encourage External Websites to Link to Your Content … 18
Optimize Your Social Media Posts …. 19
Encourage More People to Share Your Posts . 20
Chapter Three – Link to Potential Customers with Proper SEO .. 22
SEO Works Even Better for Businesses without Websites . 23
The Value of SEO is Both Measurable and Calculable .. 24
Realize a Better Return on Investment .. 25
Increased Visibility … 25
Receive Better Coverage … 26
Build Credibility … 27
An Inexpensive Marketing Strategy .. 27
Chapter Four – Utilize Webinars to Demonstrate Your Business Expertise…. 29
Personally Introduce Yourself and Your Business 30
Demonstrate Your Credibility and Authority 30
Push Your Products and Services in a Less Pushy Way …. 31
Generate Leads and Expand Your Sales Funnel . 31
Expand Your Business Network and Your Mailing Lists . 32
Lower Your Expenses While Providing a Convenient Way to Meet … 32
Improve Your Bottom Line . 33
Chapter 5 – Generate More Leads with Email Marketing .. 35
Require Less Time and Effort . 36
Real-Time Communication 36
Personalize Your Message 37
Segment Your User Information .. 38
Send More Frequent Communications .. 38
Reduce Overhead …. 39
Simplified Tracking .. 39
Better Brand Recognition … 40
Build Stronger Customer Relationships . 41
Increase Traffic to Your Website . 41
Conclusion … 43
Sample Content Preview
various functions like RSS feeds, trackbacks, and comments. What very few people realize are the benefits they can gain by having an optimized blog containing relevant content. When it comes to creating more leads for your business, there are many benefits that you can gain from optimizing your blog.
Rank Higher with Fresh Content
When you continually update the content on your website, you increase your chances of ranking higher on Google and other search engines. Your company blog offers a fantastic way for you to refresh and update your site continually. Not only will this help to attract and keep customers on your site naturally, but the search engine bots also love sites with fresh content.
By now, it should be quite clear that, when it comes to SEO, content is king. All of the best SEO strategies are based on creating good content. Fresh and relevant content is useful to users and will help build interest in your product or service among potential customers.
Have Greater Control Over Your Content
When you are able to produce more unique, useful content for your blog, you have complete control over the message that you are trying to provide to your target audience about your product or service. With SEO optimization you are in full control of your
keywords, as well as the links that you place in your posts. Continually providing fresh content for your blog gives you substantial power over your online presence.
Gain Better Internal Linking Within Your Website
This benefit of a fully optimized blog is closely related to having greater control of your online presence. With the ability to control the content that you place on your blog, you can decide to link to different sections of your blog posts to the various pages on your website using the anchor text that you choose. Not only does this kind of linking tell the different search engines what to look for on your site, but it also directs potential customers to your landing or sales pages.
An Easier Way to Attract Inbound Links
One of the most critical factors that you need to consider when it comes to search engine ranking is backlinking. When Google's bots find a website that has no backlinks, it automatically assumes that the site has little to offer. However, a domain that has plenty of backlinks is more likely to be ranked much higher in the search engines because it most likely contains useful content. It is essential to keep in mind, however, is that the backlinks should only be from related or highly respected websites. If your site contains too many backlinks that aren't relevant, it could end up being penalized.
This is where you can significantly benefit from hosting a blog. Not only does each post that you create offer interested visitors a link that they can share, but you can also generate backlinks yourself by sharing some of your posts with your social media network.
Your visitors will always share some posts more than others, so carefully tracking the posts will, in time, give you a better idea of the type of content that you should be creating for your target audience.
Add More Variety to Your Website
Since search engines are looking for content that will be useful to users, you are somewhat limited regarding how much content you can have on your main company website. However, if you host a blog, it will allow you to write about anything that you feel your audience will benefit from and that will help them make a decision on whether to buy your product or service, regardless of whether or not the content fits within your sitemap.
It is highly unlikely that you would place 'how-to' or list articles on your main site, yet these have proven to be some of the most popular topics searched for online. Blogging helps to fit in content that is commonly searched for online while helping to increase the potential number of click-throughs that you receive from your content.
Publish Content That Would Otherwise Hurt Your Ranking
In addition to creating regular blog posts, blogging software is ideal when you want to rank higher on the search engines and get links to certain types of content that could ultimately hurt your main site's SEO. These include frequently asked questions, product updates, newsletter archives, and online media rooms. Hosting a blog will not only form an essential part of your overall SEO and lead generation strategy, but it is also an excellent way to improve your credibility and give your company a personalized voice.
Focus on SEO
According to a recent study conducted by HubSpot, 75 percent of people never scroll past the first page of the search results. Spending countless hours writing, rewriting, and editing your content, so that it can collect dust on the second page of Google's search results can be a tough pill to swallow.
If you want to increase your search ranking, then you have to focus on creating a highly optimized blog with SEO in mind. It
starts with uncovering your best opportunities that exist for doing so and has the potential to yield significant results in your search ranking, which in turn will help to generate more qualified leads. Identify Authoritative Links
Page authority is a metric that is measured by almost every SEO tool, and it calculates how well a specific page on your site could rank in a search. There are dozens of different factors that can affect this, including the number of inbound links, unique IPs linking to a given site, and individual domains. The higher the page authority, the more likely that page will rank higher in the search engines.
The high authority pages can also help to boost the ranking of other pages on your site, including those that are currently ranking on page two of Google, by simply linking to them. First, you need to identify your most authoritative pages. This can be accomplished by using tools like Moz's Open Site Explorer (https://moz.com/link-explorer).
Identify High-Positioned Keywords
Now that you know where your pages stand, you'll need to uncover high-positioned keywords that align with your high authority pages. You can use Google Analytics and filter all the keywords you currently rank for in descending order. Filter your search by anything that appears in a position above ten, which is the first page of search results, to identify your best opportunities for increasing your rank.
Apply the Information
Once you've discovered your high authority sites and the highpositioned keywords, you can use this information to increase the search ranking of the rest of your webpages, by using long-tailed keywords to link to relevant pages on your site. Add an appropriate link from your high authority pages to other pages on your website improve your search ranking, but it will also enhance your reader's experience without disrupting the reader's experience by stuffing a bunch of irrelevant keywords on your most authoritative pages.
A company blog will provide you with many distinct advantages, but you need to be sure to implement it in a smart way, and you need to be willing to put in the work of optimizing your blog and refreshing your blog's content on a regular basis. However, taking the time to ensure that you commit to the process of blogging will provide you with a significant payoff.
A busy blogging community will provide you with contextual backlinks that are often rewarded by search engines by ranking your site higher. Regular readers of your blog will usually give a boost to your website's visibility by sharing items of interest, especially on social media.
Chapter Two – Using Social Media to Build Relationships
If your business is operating on a budget, it can often be a challenge to relate the effort that you are putting into building relationships on social media with the actual return on investment (ROI). If you've been spending a lot of time on social media, but don't feel like you are getting the results that you expect, you might start to question whether the efforts that you are putting in is really the best way to invest your limited time and resources. Unfortunately, very few people are able to find conclusive answers to the questions they have in their minds, which makes them more reluctant to jump onto what they see as the "Social Media Bandwagon." While some businesses see the various social media platforms as a valuable and viable marketing channel for their company, others view it as a yet unproven and unpredictable distraction that doesn't really lend itself to conventional metrics. However, this is just not true.
Other Details
- 20 Articles (TXT, DOC)
- 1 Ebook (PDF), 44 Pages
- 2 Graphics (PNG)
- 1 Salespage (HTML)
- 3 Keywords List (PDF, CVS)
- Checklist, Lead Magnet, Optin Page, Social Media Messages, Opt-in Page Headline, Email Swipes, Salespage Headline, Infographic
- Year Released/Circulated: 2019
- File Size: 55,005 KB
License Details:
[YES] Can be sold
[YES] Can be used for personal use
[YES] Can be packaged with other products
[YES] Can modify/change the sales letter
[YES] Can be added into paid membership websites
[YES] Can put your name on the sales letter
[YES] Can be offered as a bonus
[YES] Can be used to build a list
[YES] Can print/publish offline
[YES] Can convey and sell Personal Use Rights
[YES] Can convey and sell Resale Rights
[YES] Can convey and sell Master Resale Rights
[NO] Can modify/change the main product
[NO] Can modify/change the graphics and ecover
[NO] Can be given away for free
[NO] Can be added to free membership websites
[NO] Can convey and sell Private Label Rights