Salespage Snapshot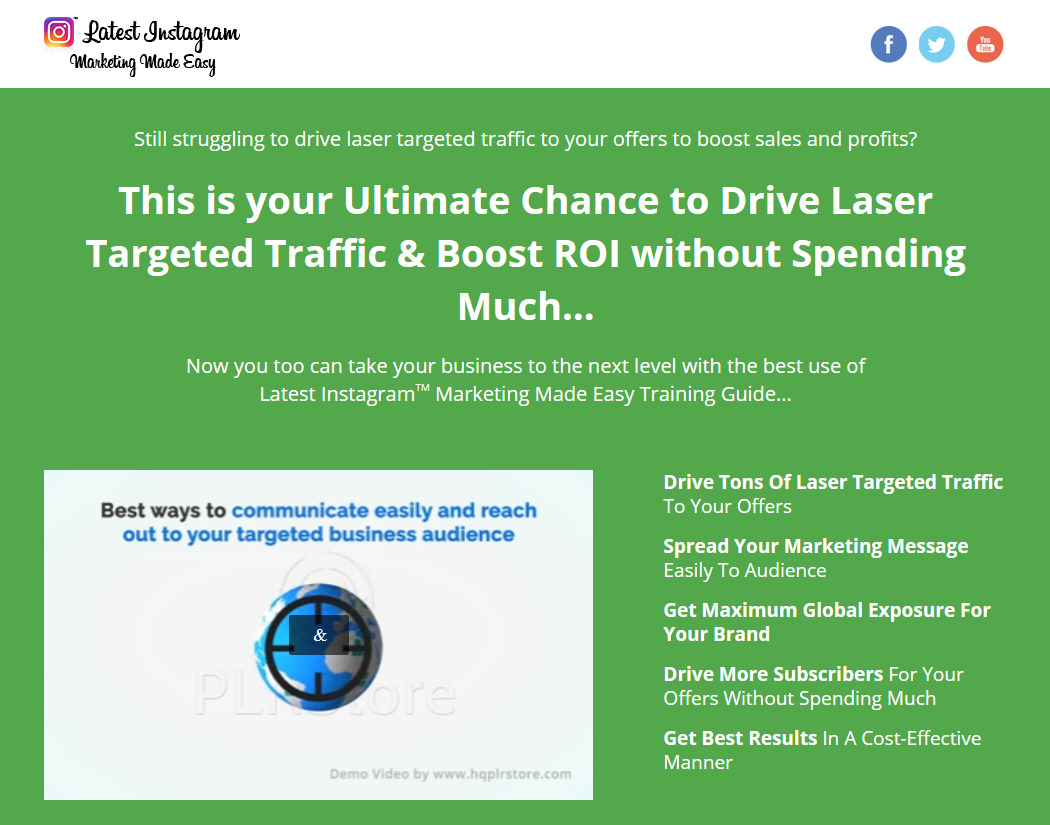 >> Click Here To View Sales Page...
Table of Contents
Introduction 04
Chapter 1: What Is Instagram Marketing All About? 06
Chapter 2: Optimizing Your Instagram Profile For Doing Business 11
Chapter 3: Researching The Best Hashtags And Topics For Your Instagram Campaigns 15
Chapter 4: Creating A Basic Instagram Marketing Post Or Product Teaser 19
Chapter 5: Promoting An Instagram Post From The App 23
Chapter 6: Using Instagram Stories To Raise Product Awareness 27
Chapter 7: Repurposing Your Instagram Content For Other Platforms 31
Chapter 8: Using Instagram Live For A Product Reveal 35
Chapter 9: Promoting A Facebook Post On Your Instagram Account 40
Chapter 10: Running A Facebook Video Ad On Your Instagram Profile 45
Chapter 11: Running A Product Catalog Ad On Instagram 48
Chapter 12: Instagram Marketing Tips For Brands And Businesses 53
Chapter 13: Creating The Type Of Instagram Content That Customers Love 57
Chapter 14: Tips For Capturing And Editing The Perfect Instagram Photo 61
Chapter 15: Using And Understanding Instagram Insights To Track Your Performance 66
Chapter 16: Proven Instagram Marketing Strategies To Try 71
Chapter 17: Instagram Marketing Do's And Don'ts 76
Chapter 18: Instagram Marketing Premium Tools And Services To Consider 80
Chapter 19: Instagram Marketing Success Stories 85
Chapter 20: Instagram Marketing Frequently Asked Questions 91
Conclusion 95
Top Resources 96
Special Offer 97
Sample Content Preview
Chapter 1: What Is Instagram Marketing All About?
Hey there everyone! Welcome to "Instagram Marketing", the ultimate Instagram Marketing crash course for anyone who wants to learn how to use Instagram to build their online presence and grow their business.
We want to thank you for picking us as your guide in this exciting journey, as well as congratulate you for your decision to improve your online marketing game.
Here you're going to learn all you need to launch and grow your brand or business on Instagram, how to reach the perfect type of customer, and how to generate more profits with advanced-level strategies. But first, let's start with the basics.
What is Instagram Marketing?
Instagram marketing is quite simply the use of the Instagram platform and its features to market your
content, your brand, your products, your services, and your business.
Content creators, brands, marketers, and businesses have learned how to use it to share stuff like pictures and videos in a way that is so casual that immediately engages, which makes it the perfect platform to promote and sell through visual discovery.
Instagram marketing is a combination of organic social media marketing strategies, visual discovery, and built-in advertising features that are unique to the Instagram ecosystem.
How Does It Work?
Instagram marketing works great because it lets you showcase your products with images, and because it helps you create brand awareness through photos and videos that you can use to tell stories, or to highlight the coolest parts of the lifestyle that you want customers to associate with your brand.
You can leverage Instagram's scrollable gallery format to grab the attention of users with a powerful image or video that makes them stop to check your post. Once you've captured the attention of a user with a visual element in your post, the next step is to make them take action.
Instagram helps you in this step by letting you add copy, captions, calls to action, and hashtags into your post. This is how you can drive people to a landing page, or to comment, or to click on a hashtag to discover related content.
This simple method is very effective to drive awareness, engagement, and action in basically any business-to-consumer niche, and it works because it helps the user make an instant visual and emotional connection with what you're trying to sell.
For example, if you're running a baking shop, you can post photos of your sweets to Instagram two or more times a day, and you can optimize your image posts with hashtags related to that business as well as with geo keywords that'll help potential customers in your area to discover your shop.
Couple that with behind-the-scenes videos to give your shop an air of coolness, and soon you'll be attracting new customers to your shop.
Other powerful features such as integration with Facebook Ads can help you take your business to the next level because they let you run paid ads and promotions across Instagram, Facebook, and many other places around the web.
Why Should You Consider Instagram Marketing For Your Business?
✓ Instagram is BIG and active. There you'll find over a billion active accounts,worldwide, every single month. This gives you a great opportunity to expand your business to a larger and possibly global audience.
✓ 90% of Instagram users follow and interact with business accounts.
✓ Of those, at least 30% have purchased products that they have seen on Instagram!
✓ Instagram helps you to showcase your products or services in a very casual way thanks to its unique creative tools and immersive formats.
✓ Instagram enhances the way you reach people with your message along the customer journey.
✓ Instagram allows you to create a profile that is visually appealing and where you can add a backlink to your business website, or any other landing page.
✓ It integrates with Facebook Advertising, which will help you to explode
your reach and sales with ads that are cheap and high-converting.
What's The Future For Instagram Marketing?
Instagram is working on amazing features for businesses as we speak. One that is worth looking forward to is integration with Facebook's "Brand Collabs", a platform where content creators can find brands that they can partner with.
Another cool feature Instagram is working on is running Instagram Shopping posts as ads, which are posts that feature products that people can purchase
with a single click. This can be a tremendous opportunity for independent product creators and small retail brands on Instagram to increase their sales.
The future looks bright and profitable for Instagram marketers, so, are you ready to learn all about Instagram Marketing and get ready to make it big? Yes? Then awesome, see you in lesson one next!
Chapter 2: Optimizing Your Instagram Profile For Doing Business
Hey there everyone! Welcome to lesson number one of the Latest Instagram Marketing training! Here you'll learn how to get your Instagram account ready to promote your stuff and do business.
When you create an Instagram account, you only get access to basic features for common users. But if you want to be able to use business-friendly features such as your business profile, promoted posts and insights, you have to switch to a professional account, and in this lesson we are going to show you how to do it easily, the right way.
Other Details
- 1 Ebook (PDF), 99 Pages
- Cheat Sheet, Mindmap, Special Report
- Year Released/Circulated: 2020
- File Size: 5,920 KB
License Details:
[YES] Can use
[NO] RESELL OR GIVEAWAY