Salespage Snapshot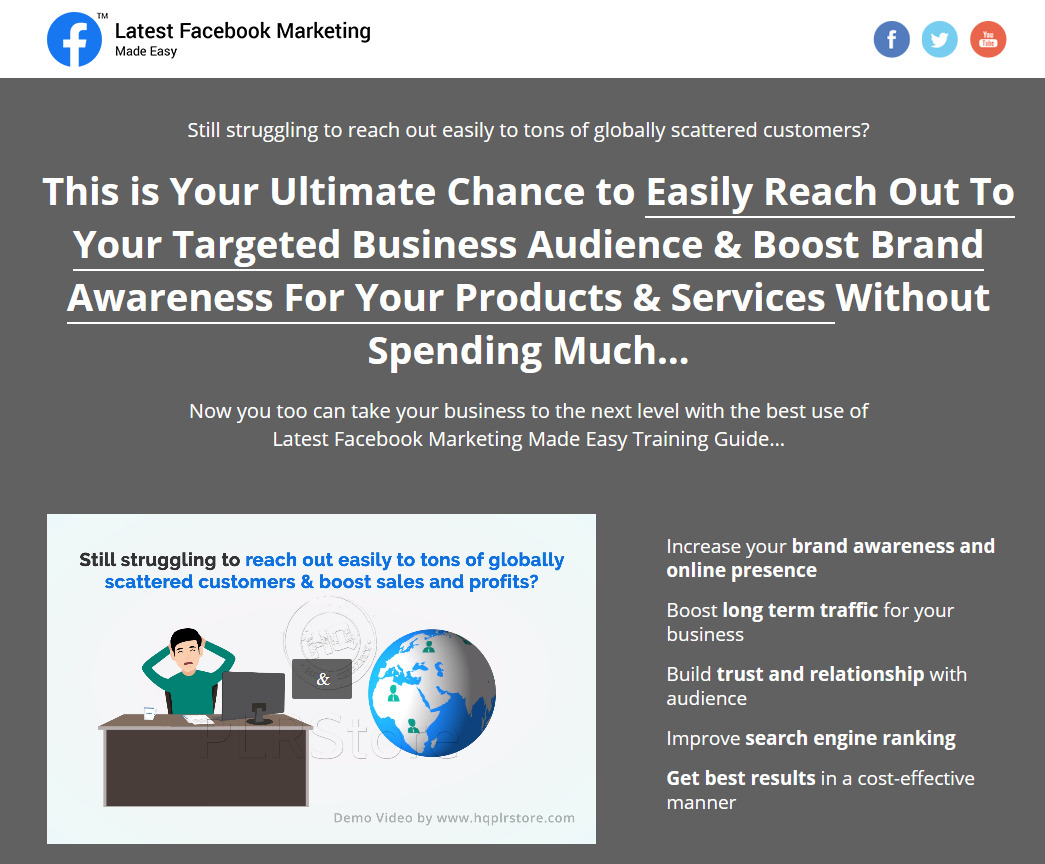 >> Click Here To View Sales Page...
Table of Contents
Introduction 04
Chapter 1: What is Latest Facebook Marketing all about? 06
Chapter 2: Creating A Facebook Page To Promote Your Business 11
Chapter 3: Creating Optimized Facebook Marketing Posts 15
Chapter 4: Promoting A Facebook Marketing Post 18
Chapter 5: Creating A Targeted Facebook Group 21
Chapter 6: Creating A Facebook Content Marketing Calendar And 25
Scheduling Posts
Chapter 7: Using Facebook Live To Boost Engagement And Product Awareness 29
Chapter 8: Collecting Leads With A Facebook Giveaway campaign 32
Chapter 9: Integrating A Lead Capture Campaign On Your Facebook Page 35
Chapter 10: Creating A Facebook Web Traffic Ad 38
Chapter 11: Creating A Facebook Remarketing Campaign 43
Chapter 12: The Perfect Facebook Marketing Plan For 2020 47
Chapter 13: Latest Facebook Marketing Strategies For Local Businesses 53
Chapter 14: Crazy Ways To Make Traffic To Your Facebook Pages Explode 58
Chapter 15: Latest Facebook Contest Ideas To Try In 2020 63
Chapter 16: Latest Facebook Marketing Trends To Keep An Eye On In 2020 68
Chapter 17: Latest Facebook Marketing Do's And Don'ts 73
Chapter 18: Latest Facebook Marketing Premium Tools And Services To Consider 78
Chapter 19: Latest Facebook Marketing Success Stories 83
Chapter 20: Latest Facebook Marketing Frequently Asked Questions 89
Conclusion 93
Top Resources 94
Special Offer 95
Sample Content Preview
Welcome to "Latest Facebook Marketing", this year's ultimate Facebook Marketing training program. We are more than glad to have you on board and congratulate you on your decision to learn from the best!
Facebook is the top social platform for brands and businesses, and Facebook marketing is vital for your growth strategy, yet, it can be difficult to keep up with the competition and the changes that the platform constantly goes through.
So, if you want to learn an optimized, streamlined, fool-proof method to outdo whatever your competition is doing, then Latest Facebook Marketing is the training for you. If you're new to Facebook Marketing, you'll be glad to know that we're starting from the basics, and if you're not, then this is a great opportunity to get a fresh take. Let's get started!
What is Facebook Marketing?
Facebook marketing is the use of Facebook as digital marketing channel. More specifically, it is the use of the Facebook platforms and its features to promote your brand, your business, and your products, to engage your audience, to collect leads, to communicate with potential customers, to build awareness, to generate traffic, and to drive sales.
Facebook is a marketing-friendly platform with a business-oriented environment, where you can build a presence for your business by providing value through content, conversations, and entertainment.
You can use Facebook for marketing at no cost, and your success comes down to the strategies that you apply and the time you put into it.
How does it work?
Facebook Marketing works primarily by building a social presence for your brand that users can interact with.
This means you are going to create a profile for your business the same you would create a profile for yourself.
In fact, the Facebook Marketing mindset is similar to the personal brand mindset: you create a page for your business that people can Like or Follow, where you are going to publish posts that sound casual and engaging to make it easier for people to interact with your brand.
Once you establish a presence and build a following, you are going to raise awareness about your products, services, and offers by curating branded content from your website or other content channel.
Right after you can start promoting your stuff a little more aggressively through contests and by sharing promotions such as discounts to get your audience interested in your stuff.
Then you can start using Facebook features for businesses, such as Facebook ads and Facebook remarketing.
Why should you consider Facebook for Marketing?
Facebook should no doubt be a part of your digital marketing arsenal. The most obvious reason why you should consider it is exposure.
Facebook is still the most visited, most active social media site that exists, with over a billion active users a month. This means that finding the perfect audience for your business is easier on Facebook.
Facebook provides you with plenty of tools to engage your audience, including business pages, groups, chat, live video, and multimedia posts.
Facebook also gives you all the flexibility you need to promote your brand and to send traffic from your pages and groups to your website.
Facebook also lets you cross-promote content to Instagram, and it lets you integrate lead capturing functions such as lead capture shortcuts on your pages.
Plus, Facebook has what is perhaps the second largest and most cost-effective advertising platform on the internet.
What benefits can Latest Facebook Marketing bring for your Business?
With latest Facebook Marketing you will learn all the steps involved in building a presence for your business on Facebook the right way.
Here you'll also learn the latest marketing tactics that work on Facebook, and proven strategies with an amazing track record of generating results and profits for businesses in any niche.
Latest Facebook Marketing also shows you the correct way of setting up paid campaigns on Facebook for maximum results and maximum return on investment, so every dollar your business puts into paid ads goes back to your balance.
Furthermore, with Latest Facebook Marketing you'll learn how to create long-term brand loyalty and repeating customers at a fraction of the cost you'll pay if you hired an agency, all by learning how to do it yourself!
What's the future for Facebook Marketing?
The future of Facebook marketing is more automated and enhanced by novel technologies like virtual reality, augmented reality, and 360 videos. Facebook's idea is to make it easier for customers in the platform to experience the products and services that are promoted by businesses there.
You can also have a taste of the future of Facebook marketing today by trying out stories and chatbots, yet these features are in their very infancy, but they're worth keeping an eye on.
So, are you ready to start your Latest Facebook Marketing journey? Then allow us to grab you by the hand so we can teach you all that'll lead you to your Facebook Marketing success!
Other Details
- 1 Ebook (PDF), 97 Pages
- Top Resource Report, Cheat Sheet, Mindmap, Special Report
- Year Released/Circulated: 2020
- File Size: 5,531 KB
License Details:
[YES] Can use
[NO] RESELL OR GIVEAWAY