Salespage Snapshot: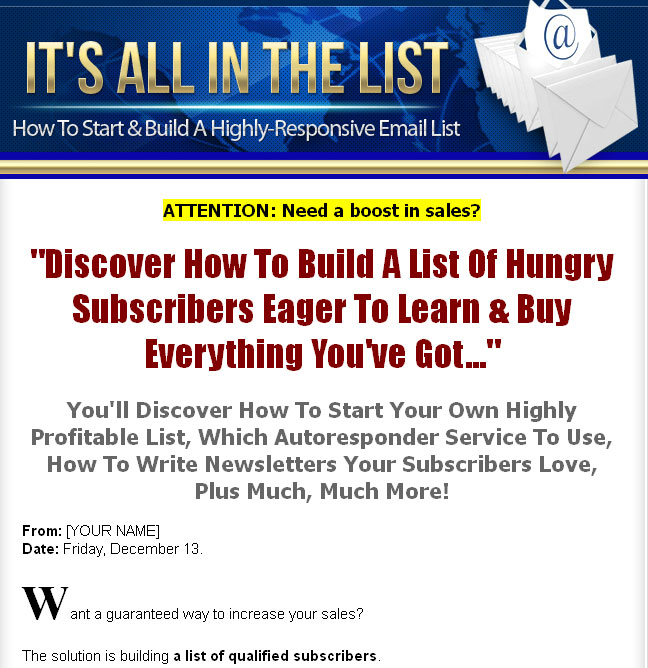 >>> Click Here To View Full Sales Page…
Table Of Contents
Introduction………………………… 6
Email List: Keeping Your Clients Updated …………. 7
Announcement Lists: Letting Your Clients Hear From You ……….. 7
Discussion Lists: Letting Your Clients Interact and Grow………… 8
Why Should You Use Email Lists? ……………………………. 9
Full-­?control of the List……….. 9
Send Messages at Lightning Fast Speed ………… 9
An Automated System………. 9
Check on Your Clients ………. 10
It's Cost-­?effective and Reliable …………. 10
Why Choose Announcement Lists? …………. 12
Why Choose Discussion Lists? ……………….. 13
Guidelines in Starting Your Email List ……….. 16
Step 1: Gather Email Addresses………………… 16
Step 2: Select Your List Manager …………….. 16
Step 3: Be Choosy …………… 17
Step 4: Organizing Your Recipients ………….. 17
Step 5: Prepare the Material to be Sent ………….. 17
Step 6: Press "Send" ………… 17
Step 7: Keep a Copy …………. 18
How to Gather Emails for Your List………… 19
Get Up Close and Personal by Asking ……….. 19
Too Busy to Ask? Give Them Your Card………………. 20
Add Sign-­?up Forms in Your Web Page ………………… 20
Go Social ………………… 20
AutoResponder: A Must Have for Your Email List ……. 22
GetResponse (www.getresponse.com) ………………. 22
Aweber (www.aweber.com)……. 23
MailLoop (www.marketingtips.com/mailloop/) …… 23
Interspire (www.interspire.com/emailmarketer/) .. 24
iContact (www.icontact.com) ……………………………. 24
Building Your Email List: Getting People to Join ………. 26
What are the Advantages of Freebies?…………. 26
What Freebies Do I Give Away?………………………. 27
How to Set Up Your List and Freebies……………… 28
Writing a Newsletter Clients Love ………….. 30
Getting Permission………….. 30
Create Valuable Content…… 31
A Preview Pane ………………. 32
Write Interesting Subject Lines……….. 32
Researching on Your Topic… 33
Choose the Right Title……… 33
Be Brief and Concise ………… 33
Impress your Subscribers with Facts……….. 34
Polish Your Newsletter …….. 34
How to Make Great Freebies for Your Clients …………. 35
Interesting Articles………….. 35
Writing Effective Announcements…………. 36
Giving Away an Audio or Video……………. 36
How to Monetize Your List …… 39
Promote Your Products……. 39
Promote Other Products….. 39
Promote a Website …………. 40
Sell a Website or a Domain.. 40
10 Ways to Build Your Email List………………… 41
Continue Adding Contacts to Your List ………….. 41
A Third Wheel ………………… 41
Use a Webinar …………. 42
Work With Others…………… 42
Buy, then Register…………… 42
Trade Fairs and Exhibits ……. 43
Target Specific Audiences …. 43
Privacy Policy …………………. 43
Use Multiple Forms Subscription………. 43
Don't Spam ……………………. 44
Conclusion ………………………… 45
Sample Content Preview
Introduction
Modern technology has not only made our everyday lives much more comfortable and convenient, but has also opened unlimited doors of opportunities for every seasoned and budding entrepreneur. Nowadays, communicating with clients on a local, national and even international scale is by far easier, thanks to the internet and the different software programs designed specifically for only one purpose: to generate more income.
Many businesspersons have turned to the power of the internet to make their businesses grow. Online advertisements and promotions are quickly becoming the trend in today's world of enterprising.
One excellent online business tool that has the potential to help every business achieve its realization is the email list.
This innovative software program allows every businessperson to keep in constant contact with their clients by sending them their latest newsletters, updates and announcements. But do take note that is just one of the many advantages of using an email list.
Other Details
- 2 Ebooks (PDF), 45 Pages
- 2 Salespages (HTML)
- Year Released/Circulated: 2012
- File Size: 1,730 KB
License Details:
[yes] you may giveaway this book.
[yes] you may resell this book.
[yes] you may sell/pass resell rights/master resell rights this product.
[yes] you may edit squeeze page/ salespage
you do not have private lable rights. you may no sell or giveaway private lable rights.
you may no re-title or edit the content of this product.
you agree to handle any own costumer support issues related to this product.