Salespage Snapshot: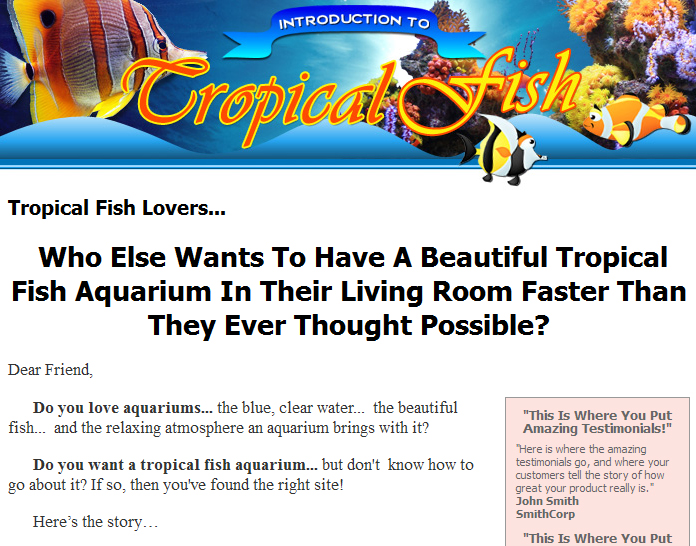 >>> Click Here To View Full Sales Page…
Table of Contents
Introduction
Chapter 1
Getting Started
How to Set up an Aquarium
Choosing a Location for your Aquarium
Selecting an Aquarium
Glass or Acrylic?
Positioning your Aquarium
Lighting
Heating
Filtration
Mechanical Filtration
Chemical Filtration
Biological Filtration
Air Pumps
Aquarium Decor
Plants
Testing the Water
Setting up your Aquarium
Chapter 2
Water Chemistry and Conditioning
Conditioning of the Water
Cycling
Adding your Fish
Chapter 3
Coping with Problems
Solving Water Problems
Special Problems with Tropical Fish Aquariums
Caring for your Fish while you are on Vacation
Chapter 4
Choosing your Fish
Community Aquariums
Chapter 5
Understanding Fish Diseases
Columnaris
Gill Disease
Ick
Dropsy
Fin Rot
Fungal Infection
Hole in the Head
Pop Eye
Cloudy Eye
Fish Lice
Nematode Worms
Treating your Fish
Chapter 6
Maintenance
Daily Routine
Checking your Water
Checking the Filter
Feeding your Fish
Weekly Routine
Vacuuming the Substrate
Monthly Routine
Filtration
Conclusion
Sample Content Preview
Introduction
Adding a tropical fish aquarium to your home is a wonderful way to enjoy the beauty of the ocean right within the comforts of your own home. A tropical fish aquarium featuring a variety of brilliantly colored fish and surrounded by vivid vegetation can be not only beautiful but also very relaxing and calming as well.
Before you start your tropical fish aquarium, it is important to have some relevant information at your disposal. Tropical fish are beautiful, but there are some things that you need to know to ensure that your fish remain beautiful and healthy for a long time.
In this guide we will discuss the basic information that you need to know how to choose the right aquarium for your needs along with various accessories and even how to choose from among the many different species of fish that are available. This is an important step as there are some types of tropical fish that have far more demands in order to remain healthy than others.
Maintaining a tropical fish aquarium can be a relaxing and rewarding hobby when you have the right information at your fingertips. This guide will provide you with all of the information you need to know to get your aquarium underway, even if you happen to be a novice at keeping fish. We will cover various topics such as how to get your aquarium initially set up as well as various illnesses that you should be on the lookout for in your fish and how to treat them.
In addition, you will find a daily, weekly and monthly maintenance guide that will walk you through the steps of properly maintaining your aquarium to achieve the optimal results.
Let's get started!
Other Details
- 30 Articles (TXT)
- 2 Ebook (Docx, PDF, RTF), 36 Pages
- 7 Part Autoresponder Email Messages (TXT)
- 1 Salespage (HTML, RTF)
- 3 Ecovers (JPG)
- File Size: 1,379 KB