Salespage Snapshot: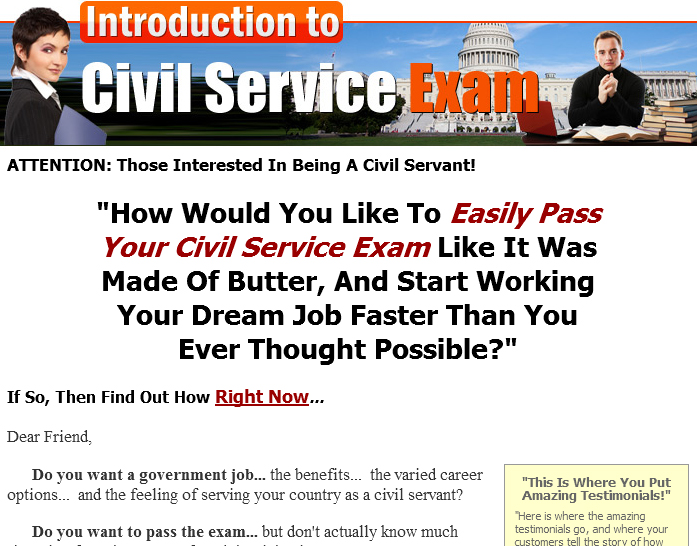 >>> Click Here To View Full Sales Page…
Table of Contents
Introduction
Chapter 1.
Civil Service Exam Basics
Background on Civil Service Exams.
Obtain an Exam Bulletin
Submit your Application
Take the Exam.
Placement on the Eligible List.
Contact Letters
Vacant Positions Database
The Hiring Interview.
Medical Exam.
Pre-Employment Drug Test.
Background Clearance.
Probationary Period.
Types of Tests
How Civil Service Exams are Graded.
Different Types of Exams
Multiple Choice Examinations.
Education and Experience Examinations (E&E).
Practical/Physical Examinations.
Chapter 2.
Registering to Take the Exam.
What the Civil Service Exam Announcement will Tell you.
Determine whether you Qualify for the Exam.
Determine if There is a Residency Requirement.
Find out if There is an Application Fee
Subjects of Examination.
How to Apply for the Exam
The Admission Notice.
On the Day of the Exam
After Taking the Exam.
Chapter 3.
Preparing to Take the Exam
Preparing for a Test of Knowledge
Preparing for a Test of Ability or Skill.
Computer Administered Multiple Choice Tests
General Test Taking Guidelines.
Chapter 4.
On the Day of the Test.
Test Monitors
Candidate Directions
Beginning the Test
During the Test.
Finishing the Test.
Glossary
Sample Test Questions
Accounting/Auditing Sample Questions Answers:.
CODING SAMPLE TEST QUESTIONS
CODING SAMPLE TEST QUESTIONS
Coding Sample Questions Answers and Explanations
Decision Making Sample Test Questions
Decision Making Sample Questions Answers and Explanations.
Following Instructions Sample Questions
Following Instructions Sample Questions Answers and Explanations
Supervision Sample Test Questions.
Supervision Sample Questions Answers and Explanations
Human Relations Sample Questions
Human Relations Sample Question Answers and Explanations
Conclusion.
Sample Content Preview
Chapter 1
Civil Service Exam Basics
Background on Civil Service Exams
In order to be considered for many municipal, state or federal jobs, particularly entry-level jobs, applicants are often required to take a civil service test. Test grades are often used to place applicants on job referral lists, which are often known as 'registers.' These lists are registers are often used to certify eligible individuals to fill vacancies. Government or city agencies then contact the certified candidates to set up interviews, etc.
City, state and federal jobs are often filled through a Civil Service process which helps to ensure that the hiring process is completely fair and competitive. Exams may be used to measure a potential candidate's merit and fitness for particular positions. Taking an exam is the beginning of the hiring process that can lead to obtaining a position within a city, state or federal government department or agency.
There are often several steps involved in registering for and taking the civil service exam.
Obtain an Exam Bulletin
The first step is obtaining an exam bulletin which will specify how, where and when you need to file for an exam for a particular classification and the minimum qualifications or requirements that you must meet in order to participate in the exam.
Submit your Application
You can often download the application from the department or agency website. You will need to complete the application and either mail it or take it in person to the appropriate location that is listed on the exam bulletin by the final filing date. Your application meets the minimum requirements an announcement that the application was accepted and a notice of the test date will be sent to you. If your application is rejected based on a determination that you did not meet the minimum requirements you will also be notified. You may be eligible to apply for the exam at a later date once you have accrued additional experience or education.
Other Details
- 30 Articles (TXT)
- 2 Ebook (PDF, RTF), 40 Pages
- 7 Part Autoresponder Email Messages (TXT)
- 1 Salespage (HTML, RTF)
- 3 Ecovers (JPG)
- File Size: 1,321 KB