Salespage Snapshot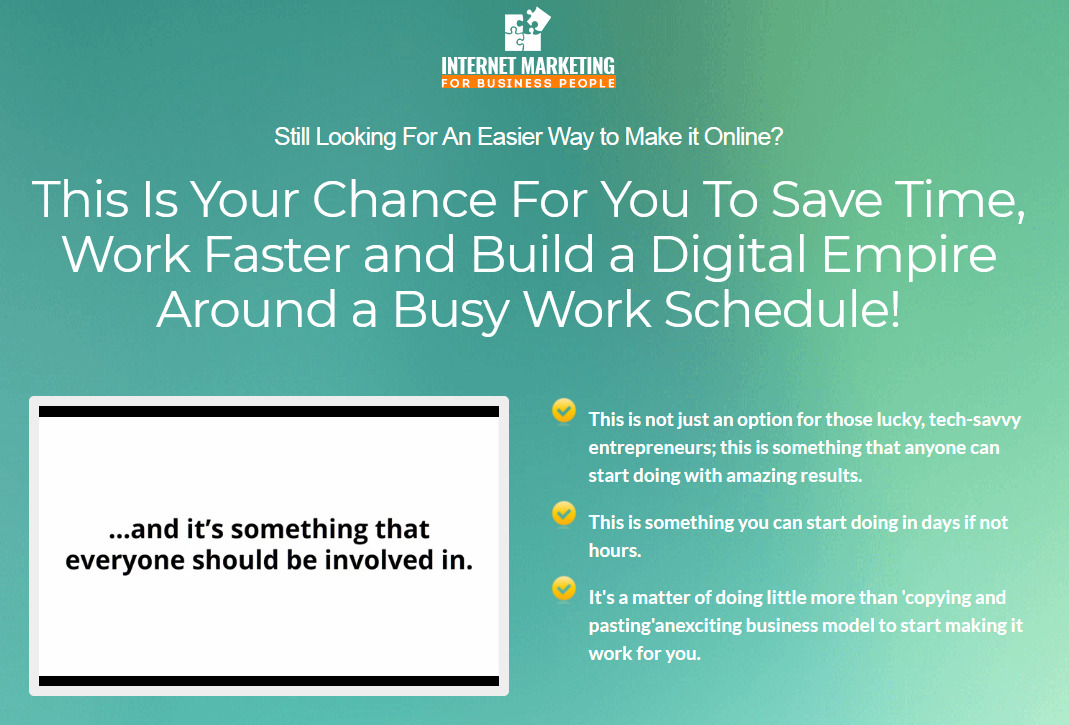 >> Click Here To View Sales Page...
Table of Contents
Chapter 1: Introduction .. 4
That All Sounds Great! But I Don't Have the Time or the Knowledge! ….. 6
Who is This Book For? . 8
Chapter 2: What Makes the Internet Go Around ….. 9
The Economy of the Web 10
The Role of the Internet Marketer …. 11
Chapter 3: Start Earning Money Almost Immediately With This Incredible Simple Business Model: PLR Products ….. 14
PLR Products: The Fastest Way Imaginable to Start Making Reliable Income Online …. 16
Chapter 4: Affiliate Marketing and Other Super Fast Business Models You Can Create in Your Spare Time 19
What is Affiliate Marketing? . 20
How it Works … 21
Other Great Online Business Models You Can Set Up in No Time…. 22
Chapter 5: How to Choose Things That Will Sell and Make Money Quickly (Finding a Route to Market)
Picking the Niche . 26
Merging Niches ….. 29
Choosing Products With Value Proposition .. 29
Chapter 6: How to Use Facebook Ads and Google AdSense for Quick Profit … 31
An Introduction to Facebook Ads and How to do it Right …. 32
An Introduction to Google AdWords 34
Chapter 7: How to Quickly Profit From a Big Blog Using the Best Growth Hacks .. 36
Why You Should Always Sell and Never Display Ads .. 37
Building Trust and Offering Value ….. 38
Growth Hacks for Quickly Growing Your Audience .. 39
Your Super-Fast Guide to SEO ….. 41
Chapter 8: Conclusion and Productivity Tips to Help You Do More Work in Less Time ….. 44
Conclusion ….. 46
Sample Content Preview
To people who don't understand how to make internet marketing work for them, it can seem a little like magic! Like you're some kind of sorcerer who can conjure money out of thin air (and of course this is part of the appeal of understanding internet marketing). When they learn that the money is rolling in while you're snoring, you'll find they're even more amazed!
The Economy of the Web
Money comes and goes on the web and is driven by many of the same forces that drives it out here in the 'real world'.
More specifically, most of the money is made by people buying things and for the most part, these are physical products (items from sites like eBay, Amazon, clothes shops or even grocers), digital products (eBooks on how to make money or get fit), services (legal services, consultation, dating websites, marketing, writing, photography), holidays and more. These days, you probably make a lot of your own purchases online and so you're probably familiar with this. And even if you don't make the purchase online, you might well do the research online – you might search for the nearest local hairdresser or place to eat for instance. Conventional businesses that you are likely very familiar with all make a lot of their money online and so too might yours.
But you probably don't have time to set up a business like this. If you're a busy professional then you're not going to have time in the evenings to set up a hair salon, to start offering legal advice or to sell t-shirts.
These are business models that require monetary investment, lots of time, certain skills and knowledge etc. This is not a business that you set up in your evenings! One way you can get around this of course is to sell something that you can create in a short amount of time and that won't involve too much of a financial investment. That might mean that you sell an ebook for example. An ebook is really nothing more than a Word Document or a PDF file that you can create in MS Word. As such, it will require no specialist skills or knowledge to create, it will cost you nothing and you don't need to store it anywhere. What's more, is that you can sell it countless times while only having to product it once. The same goes for apps, for games, for online courses and for other 'digital products.
The Role of the Internet Marketer
The problem is that these types of product only appeal to a certain type of person and you need to do a lot of convincing in order to persuade someone to spend money on something they can't physically hold in their hands. And that's where internet marketing comes in. One simple form of internet marketing is to sell a digital product and then to start profiting nearly endlessly from a single file that they created just once. Your job in this case will largely revolve around paying for online advertising, trying to get to the top of Google (which takes more time) or mailing people in a mailing list.
But that's only one way you can use those internet marketing skills Because all of those businesses need eyes. All of those clothes shops, all of those hair dressers and all of those holiday sites… they all need people to find them. Thus, they are willing to pay other people in order to get the word out – both directly and indirectly. This is how a lot of websites will make money from advertising, without actually having to sell anything on their site. In this case, you can make money from people who pay you monthly fees to display banner ads on your website, or you can make money through Google ads and other networks that will pair advertisers with the right content creators. In this latter scenario, you will often earn a very small amount each time someone clicks on your ad or each time it is shown to a new user. In both scenarios, the more visitors you can attract to your website, the more money you still stand to earn. YouTube videos earn money in a similar way – by showing ads at the start of the video in most cases, or being paid by sponsors to show off products. In this case, you can think of the way you make money as being similar to a free magazine that gets handed out on the subway. You didn't pay for that magazine but it is absolutely covered in adverts and those advertisers pay for the creation of the magazine knowing that it's going to be seen by a very large number of people. Alternatively, you can earn money to directly promote a product. This can happen by finding a sponsorship deal, as many of the Instagram and YouTube stars have managed, or it can happen by promoting affiliate products.
This latter option essentially amounts to selling a product for commission. Here, the seller will provide you with a unique link to their site that only you know and any
purchases that come through that link will be credited to your account – earning you a percentage of each sale. In short, the success of the internet marketer hinges on their ability to draw eyes to a subject matter and to say opinions. If you do that, then you can drive sales of both your own products and those of other creators and sellers. As a busy professional, these skills can either allow you to grow your own business, or to start making lots of money on the side in your evenings. And over the next chapters you're going to learn how to do both those things with minimum time and effort.
Chapter 3: Start Earning Money Almost Immediately With This Incredible Simple Business Model: PLR Products So far, you're either intrigued by all this theory or rolling your eyes because you've heard it all before. Either way though, it's just that – theory – it's time we started putting things into practice.
Just before we do though, I want you to consider one more thing: the way you think about earning money online as a business. A paradigm shift if you will. Because this is where a lot of people who set out to make money online will go wrong. Hopefully, you're less likely to fall into this trap if you're already successful in business, but it still bears mentioning.
Because a lot of people will approach online business with a plan to become the next Mark Zuckerberg or Steve Jobs. The web is new, it's exciting and it's 'high tech'. This is where entrepreneurs are made and huge businesses are born overnight. This is your opportunity to create something truly new, something life changing and something that will make you rich while changing the world. Except that's the very worst way to think as you go into this. For every Mark Zuckerberg, there are millions of people who never make it. These are rare, fluke occurrences and actually they do not represent the majority of the big successes on the web at all. Most of those big successes look nothing like Mark Zuckerberg – they look like you. And they look like your colleagues at work. We've already seen that the web works very similar to the rest of the economy. The money comes from people selling hair shampoo and holidays. And these aren't businesses that are changing lives. These are everyday, regular old businesses. They're also proven, simple and easy to replicate. They're lower risk. And as a business person, you probably understand them. So instead of trying to transform the way we communicate, how about you just take a business model that you know works and then replicate it? It might sound less inspiring or amazing. But it's also MUCH more likely to help you make lots of money online. Because it has done the same thing for countless other people. There's nothing wrong with look at a business model that works well and then simply replicating it precisely, knowing that it will do the same for us. It's quicker, smarter and more effective.
And in this next section, we're going to take that notion to its most extreme conclusion: by literally copying and pasting someone else's business. With their permission of course!
PLR Products: The Fastest Way Imaginable to Start Making Reliable Income Online
The business in question simply revolves around selling PLR products. PLR stands for 'Private Label Rights' and is a type of license – meaning that you have certain rights when it comes to how you can use the product that you're buying.
Specifically, a PLR license gives you the right to a) resell and b) edit a product. These are normally digital products – remember we mentioned them in the last chapter – which means things like eBooks or online courses. That means you can buy them just once and then sell them as many times as you like to keep making profit. All you need is the resell rights. PLR products give you that and then go one step further by also giving you the right edit the product and make it your own. This is a big deal in the world of internet marketing and it's a very regular practice in fact. Thus, you can find plenty of private label rights products that are just sitting there waiting for you to make money from them. Better yet, the creators expect you to do that and as such, they have made their products with that use in mind and they will often provide a ton of extra materials and freebies that you can use in order to do this even more successfully.
Other Details
- 20 Articles (TXT, DOC)
- 1 Ebook (PDF), 46 Pages
- 10 Graphics (PNG)
- 1 Salespage (HTML)
- 13 Ecovers (PNG)
- Promotional Ad Material (Emails, Banners)
- Resource Report, Cheat Sheet, Mindmap, Social Media Images, Legal Page, Sales Video
- Year Released/Circulated: 2017
- File Size: 150,132 KB
License Details:
[YES] Can be packaged
[YES] You Can Use This Product Yourself
[YES] Can be sold as it is not less than $7 price tag!
[YES] Can pass on the Resell Rights privilege to your customers.
[YES] Can Add This Product to a Membership Site or Bundled Within a Product Package as a Bonus.
[YES] Can be used to create audio/webinar/video products
[YES] Can Give Away The Product (NOT The Source Code Files) To Your Subscribers, Members or Customers as a Bonus or Gift.
[YES] Can change sales page and/or graphics
[YES] Can be added to paid membership sites
[YES] Can sell master resale rights
[NO] Add to a free membership sites
[NO] You can't just pass away the product to anyone
[NO] Contents of the product can be edited, modified or altered.