Salespage Snapshot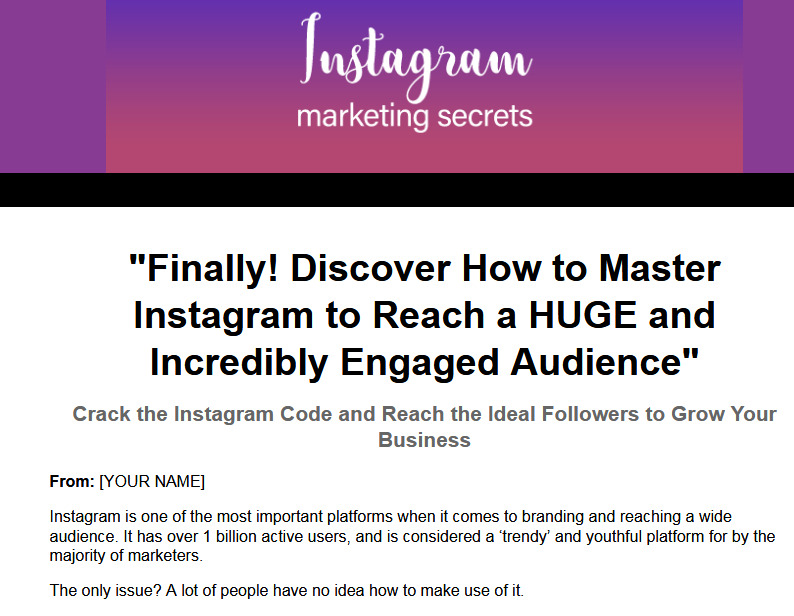 >> Click Here To View Sales Page...
Table of Contents
Introduction 5
Chapter 1. The Value of Instagram ….. 9
Knowing the Instagram Audience . 9
Knowing Your Niche and Value Proposition . 10
Chapter 2. Getting Set-Up and Creating a Plan . 15
How to Set Up a Profile … 15
Switching to a Business Account 17
Request Authentication … 18
Chapter 3. Gaining Traction for Your Channel .. 19
Choosing What You Want to Be . 21
Chapter 4. Growing Your Audience – Best Practices, Tips, and Tricks. 23
Description …. 24
Mentions … 25
Hashtags … 26
Geotag 28
Tagging People ….. 28
Medium and Presentation ….. 29
Timing . 30
Social .. 30
Chapter 5. Taking Beautiful Pictures (And Other Options) 31
Taking and Editing Better Photos 31
Shooting Great Video 34
Smart Use of Filters .. 34
How to Succeed on Instagram Without Taking a Single Photo or Video 36
Use Stock Footage ….. 36
Share Other Photos …. 37
Drawings … 37
Chapter 6. Instagram Live, Stories, and More … 38
Stories ….. 39
Instagram Live ….. 40
IGTV .. 41
Promotions …. 42
Ads …. 42
Another Way to Promote . 43
Chapter 7. Integrating Instagram With Your Larger Marketing Strategy. 45
Chapter 8. Monetization .. 48
Shopping on Instagram … 48
Bio ….. 49
Instagram Stories 50
Sponsors . 50
Conclusion ….. 52
Sample Content Preview
Chapter 2. Getting Set-Up and Creating a Plan
So that's the big picture, now let's focus in on the details. It's time to actually build your Instagram account.
How to Set Up a Profile
First things first: decide if you want a personal account or a business account. A personal account is useful if you plan on building a personal brand.
In other words, if you have a personal blog where you write about fitness and occasionally sell affiliate products, then you can go ahead and create a personal account to begin with.
In truth though, a business account will make the most sense in the vast number of cases – and even if you create a personal brand, you will likely wish to switch to a business account at some point down the line. That's because it will give you more access to more controls and features that will help you to grow your account.
That said, the only drawback is that you can change a personal account into a business account at any time, but not make the transition the other way. So if you are on the fence for any reason, then starting with a personal account might make more sense. There's very little difference in terms of what the user sees between a business account and personal account, so for the remainder of this section the assumption will be that you're going with a business account.
Getting set up is extremely easy. Download the app on a phone or tablet (the iPad Instagram app is currently extremely lacking, as is the website). Sign up using a business email to avoid linking your Instagram with your personal Facebook account.
You will then be prompted to provide some details. Where it says 'Full Name', enter the name of your business. This is what will be displayed on your profile – and isn't necessarily the same as your account name.
The username on the other hand is what other accounts might search for, and what they will use to tag you using @YourUsername.
For the sake of consistency, it's a very good idea to choose a username that matches your profile name, and ideally that also matches your branding across the web. The aim is to try and make sure your brand is everywhere. So someone can enjoy your content on Facebook under one name, then visit your Facebook page under the same name, and then see you on their Instagram feed under the same name. This looks more professional, it avoids confusion, and it helps more people to find your content when they are looking for it.
From here, you'll also be able to add your bio and your profile image. In both cases, the objective is to ensure that people know from a glance exactly what you're all about. You can include a link to your website here too, and it's a good idea to use a shortened URL from Goo.gl (https://goo.gl/) or from Bitly (https://bitly.com) so as not to use up too much of your 150 character limit. The profile picture should be representative of the kinds of images you'll be posting.
Switching to a Business Account
At any time, you can switch to a business account. To do so, hit the settings button in the top right of the UI while you are on your
own profile page (it is located in the hamburger menu). Now choose 'Account' and then 'Switch to Business Account'. Here, you will be given the scoop on what this means for your profile. Basically, you'll be able to get stats and metrics from your users, as well as using the promoted posts option. You'll be given the opportunity to pick a category for your business (for many reading this, the answer will be 'blogger') and to choose your business name and number. You can also connect to a Facebook page.
Request Authentication
If you've ever seen a celebrity or a notable brand on Instagram, then you may have noticed a small blue icon next to their name. This denotes that the account has been 'verified', which essentially means that it is 'really them'. This has several advantages, firstly allowing you to make your account seem more professional, and secondly giving it a little extra color to stand out in search.
This is very much worth applying for, as it will give you a number of additional tools you can use in your marketing. You'll need a form of identification to do this, and of course some form of notoriety in order for Instagram to grant you the badge.
Chapter 3. Gaining Traction for Your Channel
Now you have an account, it's time to start growing it. You'll begin with your very first post, and from there the most important thing is consistency. If you go two weeks without posting a single thing to your Instagram, then any momentum you build up will get lost. You'll find that your posts don't show so highly, and that you lose the subscribers you had previously gained.
How often you post is going to depend on your goals, the nature of your content, and more. But the basic rule for this is to post pretty frequently. The ideal is one to three times daily, and the average for most businesses comes in at 1.5 times daily. You should consider the absolute minimum to be twice weekly, but you should definitely aim to go higher.
In short, posting more frequently means creating more opportunities for new followers to discover your page. Not only that, but it means that your existing followers will feel more engaged with your brand as they keep seeing it come up and keep getting reminded that you exist. Engagement is absolutely critical to success when it comes to internet marketing. Something else to consider here, is that in one recent survey, it was found that the average user misses 70% of all posts uploaded. That means that if you post an image, then only a subset of your viewers will see it. Therefore, you'll need to post twice a day for the majority of your visitors to see at least one post. Going much higher than three times daily though can start to negatively impact on your growth. That's because some of your images will inevitably be less successful and some of your visitors can end up feeling too bombarded by content.
Choosing What You Want to Be
That is not all we mean by consistency though. Just as important is being consistent in what you upload. What kinds of videos and images? What is the theme? How will you make them look? Aim to have a consistent look AND a consistent tone.
One piece of advice that is shared fairly often, is to try and make your images look as consistent as possible on your page. That means that you should have a particular style that you stick with, and you should aim not to vary too greatly from that.
Take a look at the feed of a particular photographer that you like, or a fitness brand. What you'll notice is that all their pictures use a similar filter, that they are composed in a similar manner, and that they're on the same topic.
Sticking to just one topic is absolutely essential. This is why it's so important to have a business account that is separate from your personal account. If you don't, then people who follow you for your fitness pictures/motivational quotes/business advice, will quickly get fed up of seeing photos of you in the pub or photos of your dog. That will lead to people unsubscribing.
This is somewhat acceptable for a personal brand. If you have a very successful blog or YouTube channel and people are interested in you personally, then occasionally showing a little bit of your lifestyle and personality won't hurt. On the whole though, you should absolutely aim to post predominantly on the precise topic you have chosen.
Think about your target audience – the demographic you will ultimately be selling to. What are they interested in and what will they respond well to?
And think about what you are passionate about. There are lots of angles you can choose for most niches, so pick the one that speaks to you AND your audience. Then stick with it.
Chapter 4. Growing Your Audience – Best Practices, Tips, and Tricks
At this point, you should now have a business account that you are posting high quality pictures to on a consistent basis. Simply doing this will not guarantee success however, as at this point we still aren't really providing an audience with any way to find our page!
There are a few different tricks then that can help you to ensure that your Instagram account isn't just a great one, but one that grows organically. We'll talk more about promotions shortly, but for now these are some easy things that you can do regularly to ensure you see consistent growth.
Other Details
- 20 Articles (TXT, DOC)
- 1 Ebook (PDF), 53 Pages
- 2 Graphics (JPG, GIF, PNG)
- 1 Salespage (HTML)
- Checklist, Resource Cheat Sheet, Mindmap, Optin Page, Social Media Images, Email Swipes
- Year Released/Circulated: 2019
- File Size: 48,083 KB
License Details:
[YES] Can be sold
[YES] Can be used for personal use
[YES] Can be packaged with other products
[YES] Can modify/change the sales letter
[YES] Can be added into paid membership websites
[YES] Can put your name on the sales letter
[YES] Can be offered as a bonus
[YES] Can be used to build a list
[YES] Can print/publish offline
[YES] Can convey and sell Personal Use Rights
[YES] Can convey and sell Resale Rights
[YES] Can convey and sell Master Resale Rights
[NO] Can modify/change the main product
[NO] Can modify/change the graphics and ecover
[NO] Can be given away for free
[NO] Can be added to free membership websites
[NO] Can convey and sell Private Label Rights