Salespage Snapshot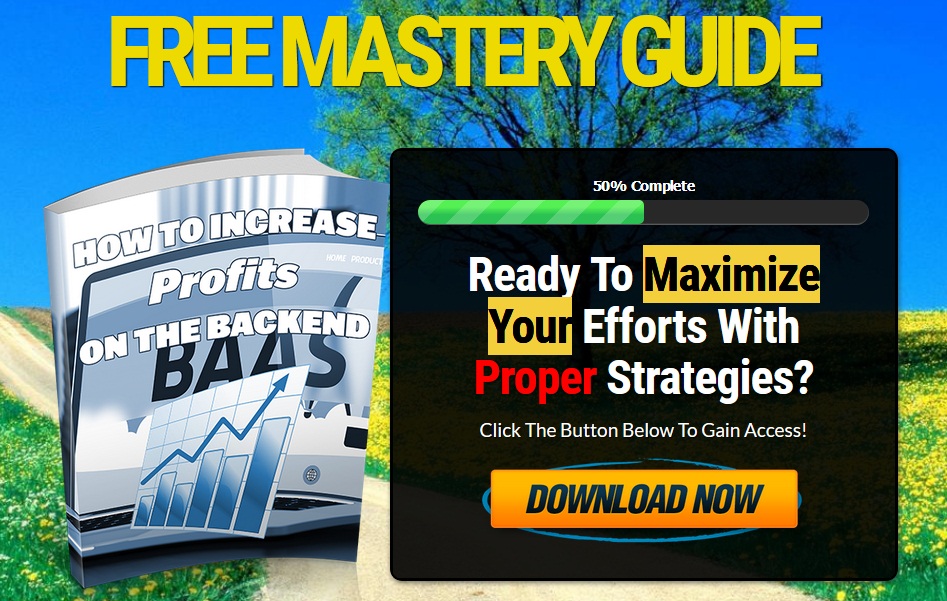 >> Click Here To View Sales Page...
Sample Content Preview
THE PLANNED SALES FUNNEL
A sales funnel is the way that you can get an unidentified visitor to self-identify himself/herself and to join your marketing program. The first step is to turn anonymous visitors into real live email addresses that have given you permission to contact them. Without knowing who is visiting your site, you'll never be able to execute a successful sales funnel. That's just the mouth of the sales funnel. After that, you should have some steps set up to place people in particular demographic groups that you then intend to market to in some way.
Whether it is a new or an old customer, they should all be in some area of your sales funnel. Your sales funnel should include backend offers at regular intervals, in emails, in forms, in various types of promotions. It should include various email campaigns. It should track the sales of your offers and how to upgrade people to other lists if they self-identify themselves as big spenders.
THE DOUBLE OPT-IN FORM
When people first visit, your priority is to get them to register via a frontend offer. This can be a free report, ebook, discount coupon, or some other offer that is given to them in appreciation for subscribing to your email list. Once they've entered the mouth of your sales funnel, the double opt-in form, then you have a perfect right to market to them in any way that you choose, frontend or backend.
The double opt-in form also works great as a way to start the process of marketing to new clients because it weeds out spammers and fake email addresses. In order to receive the freebie, the customer has to verify his/her email address by going to his/her inbox and clicking a link to verify. This then verifies the account, and he/she is fully registered and is sent to the download area where he/she can see the freebie.
WITHIN THE FREEBIE, DO A BACKEND OFFER
While your first few emails should remain friendly and casual, whatever it is that you've offered them as bait to sign up, it should include some backend offers. If it's a report, you should include a description on some good tools or services that you're selling or on other products, even affiliate offers. Ask for referrals too for anyone that might like a free copy of whatever it is that you are giving away.
Next, add their name to a particular marketing campaign. If they haven't self-identified themselves yet, just add them to a generic email list for low-How To Increase Profits On The Backend income offers and start to send out these emails once a week or as often as they allow you to. You can set this all up through aWeber.com to automate it.
MARKET SOMETHING UNTIL IT SELLS
Once people are in a sales funnel and on an email list, you just continue to market to them per your plan until a sale is made. If they are your existing customers, they've already identified who they are and how much they are willing to spend. If they spend a lot, put them on an email campaign that offers them larger frontend and backend offers. If you don't know whether they'd be willing to spend more, offer them a low-income frontend offer with a high-income backend offer, just in case.
HAVE MANY, MANY OFFERS IN YOUR FUNNEL
If you want to do backend offers, you have to have many products in your inventory. They don't specifically have to be your own products; they can be affiliate products. However, you need sufficient inventory to mix and match your offers so that people won't get tired of seeing the same offer every time and get more resistant to being marketed to out of pure boredom.
THE THREE-TIERED SYSTEM
In your inventory should be three categories of products: low-, mid-, and high-range products. The reason for this is that you are going to cycle through the entire line up of products in whatever demographic your customer is in. If they self-identify themselves as being willing to buy in the mid-range, then you can shift them out of the low-range products and start cycling them through the mid-range products, and so on.
This three-tiered system works well because it allows you to keep track of what part of the sales funnel they are in, what they've already bought, and what you still need to market until it sells. After that, it's just a matter of learning when to give incentives to have them buy more on the backend.
GAIN TRUST WITH YOUR LOW-END PRODUCTS FIRST
Some strategies work best with different tiers of products. You can't really do an immediate backend offer the moment someone buys a low-end product, How To Increase Profits On The Backend unless it's very subtle, like something that is included within the content of a freebie. Otherwise, it's not enough time for customers on that tier to really ascertain the quality of your products and to trust that you will deliver what you say you will deliver.
Other Details
- 1 Ebook (PDF), 12 Pages
- 1 Squeeze Page (HTML)
- 2 Ecovers (PNG)
- Year Released/Circulated: 2019
- File Size: 2,524 KB
License Details:
[YES] Can sell and keep 100% of the sales.
[YES] Can edit the squeeze page.
[YES] Can be bundled into another paid package and sell at a higher price.
[YES] Can be used as a bonus to another product you are selling.
[YES] Can be sold in a Dime sale event.
[YES] Can be added into a paid membership site.
[YES] Can pass on the Master Resell Rights privilege to your customers.
[YES] Can be given away for free AGAINST an email address (lead generation)
[NO] Contents of the product can be edited, modified or altered.