Salespage Snapshot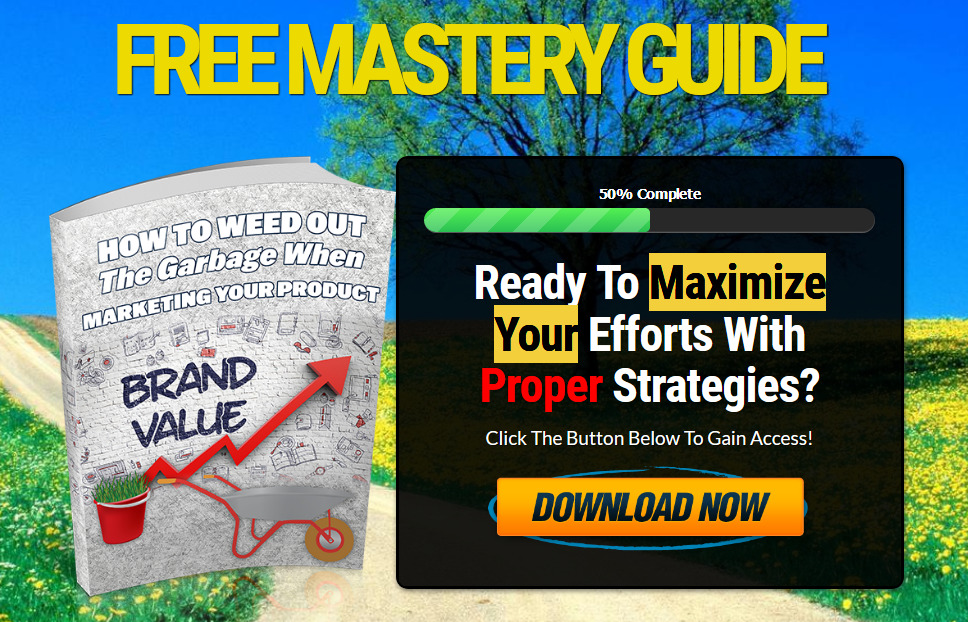 >> Click Here To View Sales Page...
Sample Content Preview
ANALYZE YOUR MARKETING ENVIRONMENT
Marketing is based on the concept of having an absolute understanding ofthe environment in which you promote your product. Your product must fulfill your customers' needs in a way that is a better value than what your competition has to offer. It cannot be said enough, you need to know as much as you can about your competition, future market growth, the marketing environment and your target customers. This knowledge will help you weed out the garbage within your strategy for marketing your product.
KNOW YOUR COMPETITION
In this day and age, the opportunities for businesses have dramatically increased, as has the speed at which products are built and presented to the marketplace. Therefore, the necessity for being painstakingly familiar with your competition is also increased.
Here are a few ways to effectively compete in the marketplace without a lot of garbage:
– Know your competition. You competition may not always be who you think it is. For example, if you sell peanuts your obvious competition is other brands of peanuts, but you must also consider as competition chips, snack mixes, candy, popcorn and gum. There are three levels of competition.
The first level of competition comes from specific brands that are direct competitors to your product and geographic location. In most cases, this competition will offer a product that is transposable with yours in your customers' eyes. You must strive to offer better quality, convenient distribution and more special features to stay ahead of this level of competition.
The second level of competition comes from companies in a different business category or more remote location that offers products that are similar to the products that you have to offer. Competitors at this level may not provide the exact same products as you, but they will pick off the most profitable pieces of yourbusiness.
The third level of competition comes from other businesses in competition for the "same-occasion" profits. For example, if you sell gardening supplies, which is a hobby, you will be in competition with other companies who provide hobby supplies. In addition, since gardening is a form of home improvement, you may be in competition with other providers of home improvement supplies.
– Know all of the strengths and weaknesses of your competition. You need to know as much about how your competition's business and operation details as reasonably possible. Study all of their available promotional material, brochures and advertisements. If possible, visit their location and make a couple of incognito purchases. Talk to some of their customers and investigate their pricing. Find out what they are doing that works and what they are doing that does not work. You can copy to good and capitalize on the bad. You should know the market share of each of your competitors and compare it to your own. You should know how your target audience feels about the products offered by your competitors. You should be aware of the financial strength of your competition, which will affect their budget for promotions, advertisements and other things. You should know the speed and ability of your competitor's novelty for new products. Every competitor has decisive strengths and weaknesses that are points of potential advantage for you.
– Always know your competitors' next move. You should take some time to consider the actions that your competition has planned for the next year or so. You must have knowledge of and understand their objectives, resources and marketplace strengths in order to estimate your competitors' future activities. This intelligence is important to your company inmany ways such as your annual forecasts for spending, profits and sales, your direction for future growth, your introduction, success and support of new products, trends of business categories, products and markets as well as your advertising and promotional programs. Competitive intelligence is the difference between reaching your company's goals and losing business that you can never recover.
– Know the spending trends of your competition. Competitive spending trends can significantly influence your marketing plan for your products. The amount of money your competition is willing to spend greatly impacts your ability to obtain attention from your target marketing audience, your introduction of a new product, your commitment to programs and key accounts as well as the success of the products you currently offer.
KNOW YOUR CUSTOMERS
You should know who your customers are and who why they chose to buy your product. Once you have your distribution, advertising and promotion if effect, you can focus on what influences your customers such as demographics, culture, needs and desires or lifestyle. If your target customer is your end user, then all of these factors will play a role in identifying and appropriately classifying your customer base.
Nevertheless, ifyour customers are not the end user there may be other important influences. For instance, packaged goods such as foods and household products are generally purchased by a master distributor in large amounts and sold to local distributors.
sell to the wholesale buyer for a store chain. Then individual stores buy and stock the product and the customer can make a purchase.
Circumstances where other influences on the customer may be in effect include:
– The profitability of the product plays an important role. The larger the profit margin per item compared to other products in the competitive categories, the greater the chances are of being accepted regardless of the quality of the product.
– Customers are usually influenced bythe deals and discounts that you have available for your product. Deals and discounts can drastically increase the sales volume, sales velocity and profit margin of your product.
– Promotional support and advertising is important to any successful marketing campaign. Multi-media television, print and radio mixed with PR support, customer coupons, contests and sweepstakes are effective promotional programs that can be run up to four times a year, anymore would be throwing your money out with the garbage.
– The offer of free merchandise is a great influence to most customers especially among grocery and retail stores.
– Customers are greatly influenced by the relationship that they have with companies with which they do business. This is why it is important to be a good sales person.
The more exact you are in identifying your target customers; the more effective your marketing efforts will be at obtaining sales from regular users. As mentioned before there are two types of target buyers channel buyers and end users.
Other Details
- 1 Ebook (PDF), 15 Pages
- 1 Squeeze Page (HTML)
- 2 Ecovers (PNG)
- Year Released/Circulated: 2019
- File Size: 4,280 KB
License Details:
[YES]Can sell and keep 100% of the sales.
[YES] Can edit the squeeze page.
[YES] Can be bundled into another paid package and sell at a higher price.
[YES] Can be used as a bonus to another product you are selling.
[YES] Can be sold in a Dime sale event.
[YES] Can be added into a paid membership site.
[YES] Can pass on the Master Resell Rights privilege to your customers.
[YES] Can be given away for free AGAINST an email address (lead generation)
[NO]Contents of the product can be edited, modified or altered.