Salespage Snapshot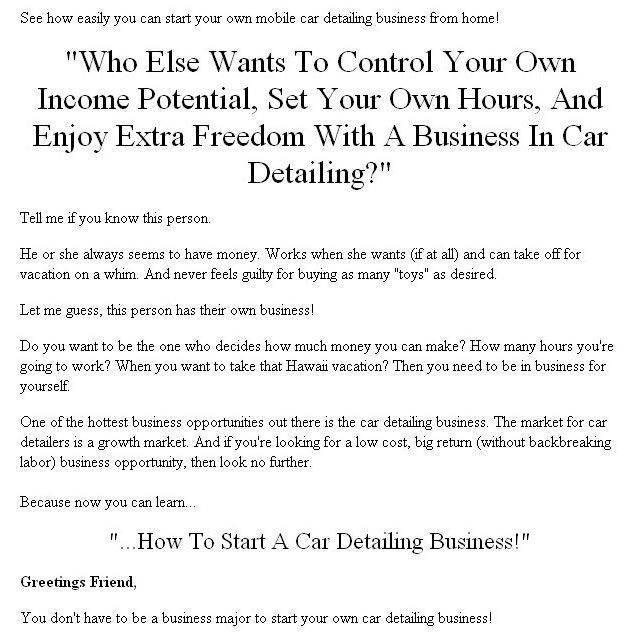 >> Click Here To View Sales Page...
PLR Ebook Table Of Contents
Introduction                                         3
Getting started                                     3
Initial considerations                                 4
Is business ownership right for me?                         5
Reasons to start your own business                         6
Different business types                                 6
Know your market                                     9
What are your business strengths?                        11
Know your competition                                12
Location is everything                                14
Identify your target market                            14
Marketing plan                                          15
Registrations permits and licensing                        16
Merchandising and inventory                            17
Common mistakes for a new business                        18
Writing your business plan                            22
Getting the loan                                    23
Dynamics of a car detailing business                        25
First things first                                    25
Buying your supplies                                26
List of preferred car detailing products                    27
Purchasing your equipment                            30
Know your products and services                        33
The finer details in car detailing                                               34
Environmental car damage                            39
Preferred tools of the trade                            41
Cleaning the battery                                44
Going mobile: Batten down the hatch                        45
Define your standard of quality                            46
Prep your employees                                46
Growing your car detailing business                        47
Personalize your customer's experience                    47
Price is critical                                    48
Time to reassess                                    49
Ready to make the commitment?                        50
Ebook Sample Content Preview
Introduction
You've decided that you are interested in starting your own business and you need a little bit of help in getting started. The car detailing market is a growth industry. With careful planning and knowledge of your market, car detailing is a good choice!
This ebook will be your comprehensive guide to starting a car detailing business. A multi-billion dollar industry, the car detailing business can be initiated and started even in your own home.
Perhaps you already own a car wash. You might want to consider adding to your existing service. A car detailing business will add greatly to your current income.
Getting Started
There are many car detailing business options available to you.
When you are first starting out and with limited funds, consider a pre-packaged business opportunity. This comes complete with manuals, equipment, custom signage, and a trailer or truck mounted unit. It is a "business to go!"
With a franchise comes on-going support but this comes at a cost. You pay ongoing fees and payments that are known as royalties. The fees all vary, so investigate this possibility thoroughly.
Once you have your plan and are ready to begin you will need to decide on the type of business that interests you.
This ebook has been written to assist you with your decision.
Now comes the fun part!
Where do you begin? With the car detailing business your possibilities are endless. If you choose to go mobile or have a secondary mobile service available you could branch out even further.
The car detailing business often features great add-on profit centers. These can include:
•    Gold plating services
•    Dent repair services
•    Windshield repair services
•    Pin stripping and graphic services
•    Wood grain and interior paneling services
•    Vinyl and leather repair services
•    Paint touch-up services
•    Engine steam-cleaning services
•    Accessories services
•    Rust proofing services
•    Odor elimination services
As you can see, there is a lot to consider in starting a car detailing business. We will go into more detail about providing services after we cover the essentials.
Other Details* Sales Page:
Included, HTML
* File Format:
MS Word Doc, PDF, RTF
* Number of Pages:
53
* Download File Size:
276 KB