Salespage Snapshot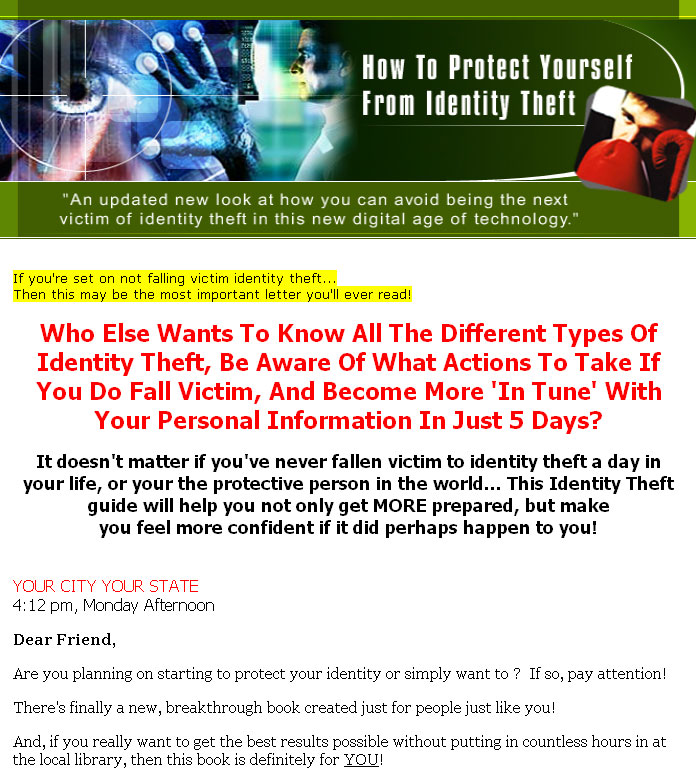 >> Click Here To View Sales Page...
PLR Ebook Table Of Contents
INTRODUCTION    4
CHAPTER 1: WHAT IS IDENTITY THEFT?    5
TYPES OF IDENTITY THEFT    6
IT CAN AFFECT ANYONE    7
NOT AS DIFFICULT AS YOU THINK    9
CHAPTER 2: METHODS OF IDENTITY THEFT    10
DUMPSTER DIVING    11
MAIL STEALING    13
SHOULDER SURFING    14
ATM SKIMMING    15
CHECK FRAUD    17
TELEPHONE SERVICE FRAUD    18
TELEPHONE SCAMS    19
CREDIT CARD THEFT    20
PHISHING    21
CHAPTER 3: PREVENTING IDENTITY THEFT    24
PROTECTING YOUR MAIL    25
MORE KEY TIPS…    26
PROTECT YOUR PERSONAL INFORMATION    29
AVOIDING A PHISHING SCAM    30
ADDITIONAL PREVENTATIVE MEASURES    32
CHAPTER 4: WHAT TO DO WHEN ID THEFT OCCURS    35
STEPS TO TAKE IN RECOVERING YOUR IDENTITY AND LINE OF CREDIT    39
CHAPTER 5: YOUR LIABILITY AS THE VICTIM OF ID THEFT    42
ACTUAL IDENTITY THEFT VICTIM CASES    43
HOW WILL YOU BE AFFECTED?    47
CREDIT CARD LIABILITY    48
ATM AND DEBIT CARD LIABILITY    49
CHECK LIABILITY    51
IT'S YOUR RESPONSIBILITY    51
LIABILITY AGREEMENTS    52
CONCLUSION    54
RESOURCES    59
REFERENCES    61
PLR Ebook Sample Content Preview

INTRODUCTION
The day begins just like any other one normally would.  You're on your way to work in the morning and realize you need to make a quick pit stop at the gas station before you run out of fuel completely.  You fill up the tank and grab a coffee and newspaper once inside the store.  You offer the cashier your credit card and are stunned when she tells you that it has been rejected.  As the wave of embarrassment rushes over you, you fumble around in your pockets for enough cash to cover the entire bill.  On the way out you stop at the ATM to replace the money you had in your pocket and to your horror the screen tells you that your account has insufficient funds.  Panicked now, you arrive at the office and immediately check your online credit card and bank statements.  Your checking account is in overdraft which means there must be some kind of mistake as you know there was enough in there for the next mortgage payment and then some.  Your credit card statement shows thousands upon thousands of dollars worth of purchases over the last two weeks that you know you didn't make.  When you finally call the bank to find out what's going on they pass you over to a supervisor who tells you that the loan you recently applied for has been denied.  Because you've applied for credit at a number of other places within the last month they aren't comfortable in extending a loan to you based on your current debt load.
With your head spinning and thoughts coming at you a million a minute you finally realize…you have just become the latest victim of Identity Theft…
Other Details
* 50+ Page PLR Ebook
* Professionally Written Salesletter
* 50 PLR Articles
* 5 Part Autoresponder Email Course
* 1 Complete Adsense Website
* Professionally Designed Graphics Set
* Highly Targeted Keyword List
* Pre Written PPC Ads
* PDF and MS Word Source File For eBook
* PSD Files For Graphics