Salespage Snapshot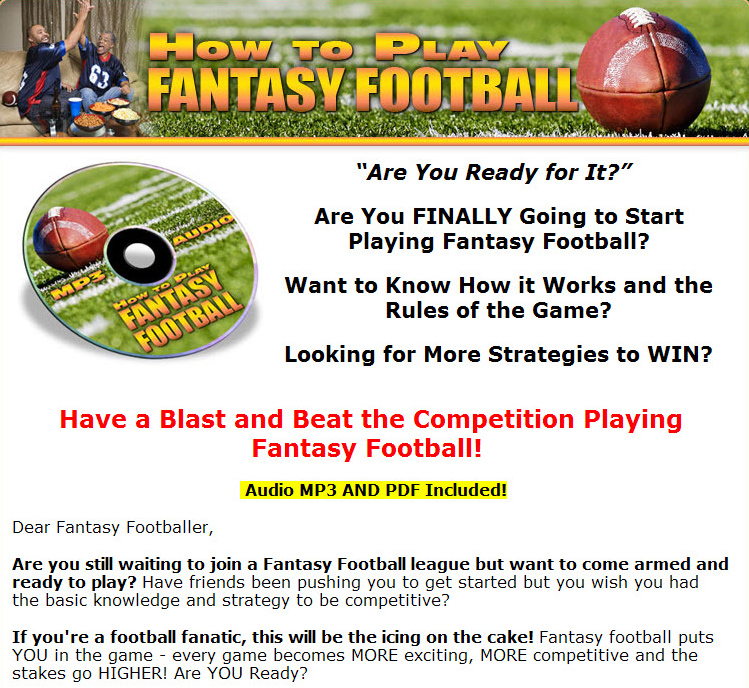 >> Click Here To View Sales Page...
PLR Ebook With Audio Table Of Contents
What is Fantasy Football?    4
What Are the Rules of the Game?    6
How Do You Score or Win a Game?    8
How Do You Pick Your Team?    10
How to Rank Players    12
How Do You Join a League?    14
Drafting Types and Rules    16
How to Prepare for Your First Draft    18
Tips for Preparing a Cheat Sheet    20
How to Get Your Favorite Players    22
How to Make a Trade    24
How to Setup Your Starting Lineup    26
Tips for Selecting Your Fantasy Football League    28
Where to Play Fantasy Football Online    30
Common Mistakes for New Players to Avoid    32
Ebook Sample Content Preview
What is Fantasy Football?
Fantasy football is a fun way of pretending that you own a football team. People get together with their friends and 'buy' various real-life football players to make up their teams. Points are scored by each player's statistical performance in their games on the field. So if you and your friends have several favorite football players who play in different positions on different teams, then you can make up your own team using these players. Competition can be of two different types; player against player, or team against team with the highest total number of points winning.
If you decide to go with the new style of fantasy football, then each week you'll be able to choose a team that you think will win. While you may choose a team every week, it cannot be the same team, but must be a different one for every week. Called 'survivor pool' or 'knock out pool', this type of fantasy football is very popular.
Survivor fantasy leagues is similar, with the owners being allowed to draft a new team each week, but each player is only available to them for one week of the year. Thus an added emphasis is placed on weekly NFL match-ups. The beauty of it is that should a player get injured, the negative impact is greatly reduced.
A different type of fantasy football is called Simulation Football. This can be played all year round since it relies on computer generated games and footballers. There is no reliance on real players or real games. You can play the basic GM league by putting together a team and then letting the computer do the biggest part of the work. Or you can opt for a more complicated version that is called "Create-a-Player" (CAP league). This is where top players put together a team of players created by other people. The main rule is that each player must be as good as possible. Different types of scoring determine the 'top' player.
Fantasy football encourages people to take a more personal interest in both the game of football and the players. Often, people who have become interested in fantasy football will go to see a game they would not otherwise have attended because one of the players are on their own 'team.' It has been good for the game, increasing general interest and with the advent of technology has become easier to play and much more popular than when it was first invented in 1962…
Other Details* Sales Page:
Included, HTML
* File Format:
MS Word Doc, PDF
* Number of Pages:
33
* Included Graphics:
Ecovers, PSD, JPG
* Download File Size:
36,785 KB