Salespage Snapshot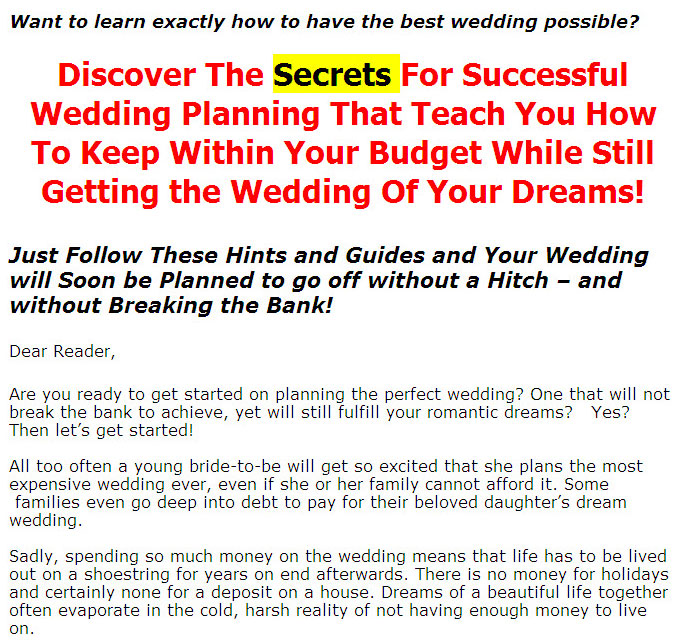 >> Click Here To View Sales Page...
PLR Ebook Table Of Contents
1. When is the Best Time of Year for a Wedding? ……………….. 2
2. Where to Hold Your Wedding …………………………………….. 3
3. Formal or Casual Wedding Choice? ……………………………….. 4
4. Clothing to Suit the Style of Wedding …………………………………. 5
5. Saving Money on Wedding Ceremony Costs ………………………… 7
6. Types of Wedding Receptions …………………………………………….. 8
7. Venues for Wedding Receptions …………………………………. 9
8. Food for Your Wedding Reception …………………………………………….. 11
9. Best Music for the Wedding Reception ……………………………………. 12
10. Wedding DJ vs. Live Band ………………………………………………………… 13
11. Unusual Wedding Reception Ideas ……………………………….. 14
12.How to Save Money on the Wedding Reception ……………………………… 15
13. History of Wedding Traditions and Symbolism ………………………….. 17
14. Overseas Wedding Traditions ……………………………………………….. 18
15. Pros and Cons of Tropical Island Weddings …………………………………. 19
PLR Ebook Sample Content Preview
1. When is the Best Time of Year for a Wedding?
Many brides like to choose a date for their wedding that has a special meaning, such as one year to the day after her loved one proposed, but this cannot always be accommodated due to a number of factors. It is sometimes best to remain practical as to the date and season of the year, because you may hate the thought of having a wedding in bitterly cold weather or the steaming heat of summer.
The date you choose should be one that will allow all the bridal party to be present. People have lives and they cannot always adjust their schedule to attend a wedding. What about the people on the guest list that you would like to have sharing the celebration with you? They have to be considered as well.
Other things you need to consider will be stuff like does your wedding theme match the season – beach wedding and winter do not go together! How comfortable are you going to be getting married in the dead of winter? How cost effective are the dates you have chosen, high season for weddings is usually summer to early fall or May to August. Everything from venues to caterers and beyond costs a fortune.
You may have a secret desire to marry at a particular time. Here again unfortunately the voice of reason must be heard. If you or your fiancé have a career that necessitates you being in the office, choosing a date at that inopportune time is not going to help. For example, a finance person like a tax accountant is never going to get away in the spring time. The period between November to April is known to be a slack time for the wedding trade. You could cut your costs in half if you have the wedding at this time. Why follow the crowd and plump for a May wedding that will cost a fortune?
Another factor to be considered is the kind of honeymoon you want to have. If you want to go skiing then it has to be a winter wedding, unless you are willing to wait for your honeymoon. Big mistake, something will keep coming up and you may never get around to it! If you want to go exploring a brand new country, check what the weather will be like at that end. Tramping around in high temperatures will not a perfect honeymoon make!
Other Details* Sales Page:
Included, HTML, MS Word Doc
* File Format:
MS Word Doc, PDF
* Number of Pages:
21
* Included Graphics:
Ecovers, PSD
* Download File Size:
3,068 KB