Salespage Snapshot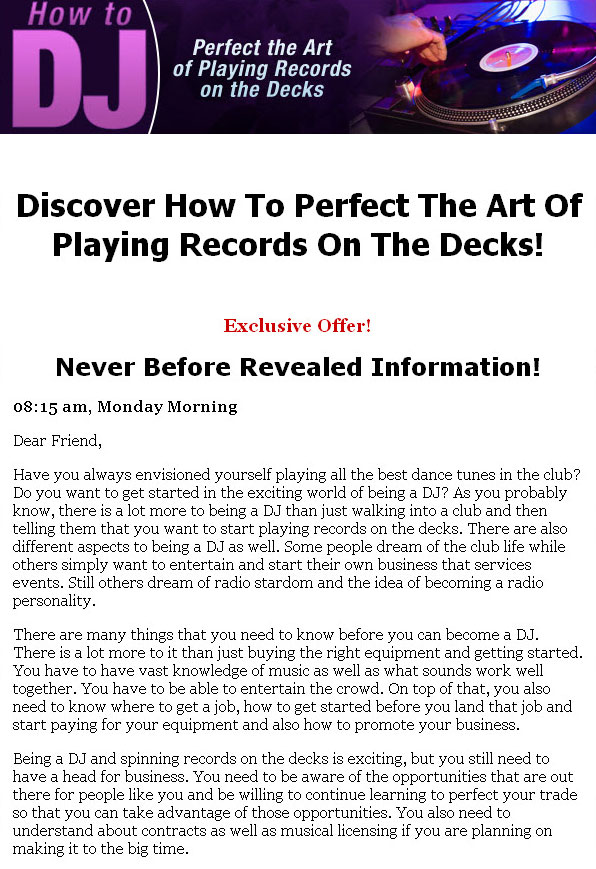 >> Click Here To View Sales Page...
PLR Ebook Table Of Contents
Chapter 1 – What Is A DJ?    3
Chapter 2 – Learn All About Music    4
Chapter 3 – Getting The Right Equipment To Use    6
Chapter 5 – Learning To Become A Performer    11
Chapter 6 – Developing Games For Events    14
Chapter 7 – Getting Your First Gig    15
Chapter 8 – How To Promote Your Business    17
Chapter 9 – Rules For DJ Contractors    19
Chapter 10-How To Get A Club Job    21
Chapter 11-Getting A Mechanic License To Play Music    22
PLR Ebook Sample Content Preview
Chapter 1 – What Is A DJ?
When you think of a DJ, you may think of someone who plays songs on a radio, someone who plays songs at a wedding or someone who spins records on decks at clubs.  DJ is an acronym for a disc jockey, a term that began in the 1950s when radio personalities first came into the picture.  Although music was played over the airwaves for decades prior, the DJ was a personality figure who appealed to teenagers.  The 1950s was the first decade where the value of marketing to teenagers came to light.  As a result, those who played popular songs on the radio not only had to play the top songs, they had to also have personalities that the teens admired so that they would listen in to their broadcast.
The DJ has been an institution in the radio industry over the past 50 years, although the role has changed dramatically, especially over the past 20 years.  In the 1980s, new technology made it possible for people to become a DJ for a wedding as well as other events.  Hiring a DJ to play music at a wedding over amplifiers was considerably cheaper than hiring a live band.  As a result, there was a whole new venue opened up for those who had considerable knowledge of music and the money to purchase the equipment.
House music was also born in the 1980s.  This consisted of mixing various different types of music, usually from recordings, and making them into a unique sound of their own.  This can be done in a variety of different ways, although a good DJ who plays in a club will use vinyl records to create their own sound.  Vinyl records and turntables, once considered a relic of the past after the advent of  the CD and CD players, made a comeback in clubs.
Putting it simply, a DJ is someone with a considerable knowledge of music, a large collection of music and who knows how to play the music in a way that others will want to listen to the music.  Someone can be a DJ on the radio, a DJ in a club or a DJ playing for weddings and parties.  Although you should go to school for broadcasting if you want to get on the radio, you do not have to have any type of degree to start your own business as a DJ who plays at weddings and other events.  You do need a following in order to become a DJ for a popular club.
Other Details* Sales Page:
Included, HTML
* File Format:
MS Word Doc, PDF
* Number of Pages:
22
* Included Graphics:
Ecovers
* Download File Size:
551 KB