Salespage Snapshot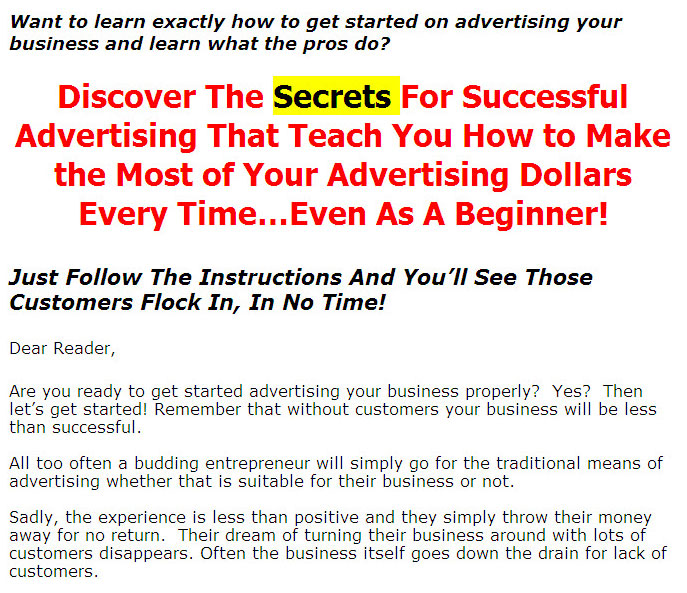 >> Click Here To View Sales Page...
Ebook Table Of Contents
1. Online Business Advertising Overview ……………… 2
2. What is Direct Mail Advertising? ………….. 3
3. Advertising and Design Services ………………….. 4
4. Advertising on Other People's Websites………………………………….. 6
5. All About Brochures and Flyers …………………………… 8
6. Making the Most of Your Advertising Dollar ……………………. 9
7. Pros and Cons of Advertising on TV ………………… 12
8. Should Your Business have a Website? …………………….. 14
10. Cost Effective Ways to Advertise …………………… 15
11. Pay Per Click Advertising ………………………………….. 16
12. Advertising in the Local Paper ………………………… 18
13. Find Free Advertising ……………….. 19
14. Importance of SEO in Online Advertising ………………… 21
15. Cyber Space Advertising………………………………………. 22
PLR Ebook Sample Content Preview
1. Online Business Advertising Overview
At the moment, Google appears to be king of the Internet. Google certainly knows how to do business. With its help many entrepreneurs have flourished over the last decade and continue to do so. Most small businesses would not be where they are today without the help of Google.
Take the case of AdWords and AdSense that make it simple for online businesses of virtually all sizes to put ads and/or receive payments for hosting ads. These are the two prime Google services that have helped drive the unbelievable growth of many online businesses. There's no doubt Google will keep delivering such ingenious services in the future.
Surely, any company generating an optimistic ROI or return on investment by using Google must keep partnering with Google. But for an increasing number of thriving online businesses out there, the authority of Google isn't good news. This might sound very shocking, but it's actually a natural progression. Are you wondering why? The relentless competition between most of the online businesses that bid for Google's core services have driven the price of business operating up. For many businesses, advertising with Google isn't profitable any longer. There is ample evidence for this.
So, do you understand how small online businesses are able to address today's advertising conundrum to compete for consumers? The ones in the arena of SEO can offer useful advice on how costs could be lowered to improve the results. Then again, this advice can help improve the overall results for many small scale online businesses. Let's therefore assume you already follow this direction and still aren't profitable by utilizing Google. In that case, it's time you focused more of your attention on some new strategies.
What are those new strategies? Here are some that are gaining rapid grip. The first one is YouTube. Yes, indeed it is the funkiest home-video broadcasting website that might seem to be a silly place to promote an online business. Don't underestimate it. YouTube is getting a massive quantity of traffic every day. Secondly, video is much better compared to printed words when it comes to producing unforgettable effects on visitors. Finally, the viral impact (the phenomenon of spreading/sharing of messages between peers is not to be misunderstood) is among these reasons catering to the overall successes of YouTube. Above of all, it's FREE.
Other Details* Sales Page:
Included, HTML, MS Word Doc
* File Format:
MS Word Doc, PDF
* Number of Pages:
23
* Included Graphics:
Ecovers, PSD
* Download File Size:
2,827 KB