Salespage Snapshot: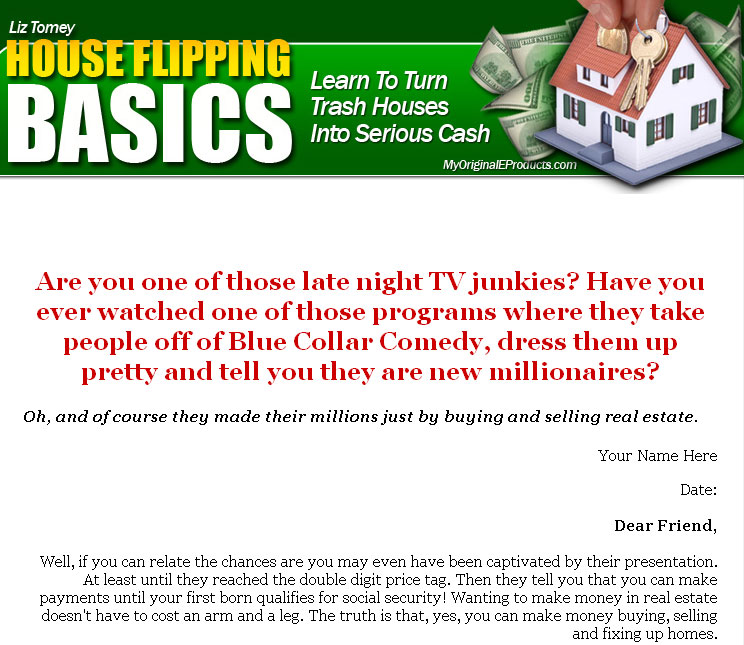 >>> Click Here To View Full Sales Page…
Sample Content Preview
What Is Leverage and Why Use It
Making the Most of Fixer Upper Leverage
When starting out in a fixer-upper business, you will first have to consider many things. It is never indicative to success to jump into any business venture prematurely and without proper planning. You will first have to learn as much as you can about the business before jumping on the bandwagon.
Depending on how your business is financed, buying and selling these properties may involve very little or a lot of money. One good way to leverage your interests is to employ the use of other people's money and resources.
Most people think that success in this field of business involves a lot of hard work. Yes, hard work is an essential element to success in this field. However, knowledge is also important. And if you are to succeed, you will need to use your wealth of knowledge to the limit.
An example of how good strategies can help your success is to understand how leveraging can make dealing with fixer uppers profitable and easier on the budget.
The truth of the matter here is that you can get other's money to work for you. You can earn more without plunking your cash in as investment. While it seems counterintuitive – who, in his right mind, would ever hope to get good returns on investments when he or she hasn't put in any investments at all, one must think – it truly is possible to get other people's money, time, and expertise to work for your own benefit.
Using Other People's Resources
One way to think of OPM (Other People's Money) working for your benefit is think how most people expect to make earnings from fixer upper ventures.
First off, most people would want to purchase the property itself. They could do this through a couple of ways. They could purchase the land out of their savings or take out loans to pay for the property.
This method, while good in itself, has some limitations. If you use your savings to buy property for a venture – and for some unforeseen reason, the venture goes bust and you are unable to sell the property, then you may have practically thrown your life savings out the window.
You can make other people's money work for you here. For example, what if you take a 95% seller's financing plan. This means you only pay for around 5% of the property's value. Then, you proceed to lease the area to tenants. The money you make from the rentals can be used to pay for the loan.
In the end, theoretically speaking, you would have only paid 5% cold cash for the property, and made the property itself – with the help of its tenants – pay for the property the rest of the way. If the property costs $100,000, then that means you only pay $5,000 to own the property after some time – with extra income to boot. Not a bad proposition now, is it?
This is, in effect, having other people pay for something you will own in the future, and is one of the smart ways to make investments.
You could also use other people's resources such as time and expertise when trying to make money from fixer upper homes. For example, if you aren't well-versed in renovating properties, why not have other people do it, and make a profit at the same time.
How? Take for example a home that is sold by a distressed owner – house unkempt, needing repairs. Now, as a fixer upper yourself, the first thing you would want to do is think of how you can purchase and renovate the place, and then sell it on the market.
Other Details
- Ebook (PDF), 36 Pages
- Salespage (HTML)
- Ecover (JPG)
- Year Released/Circulated: 2008
- File Size: 497 KB
License Details:
• You have full master resell rights to this product.
• You MAY resell this product and give resale rights to your customers.(Suggested value:$47)
• You MAY offer this product as a bonus to a PAID product.
• You MAY include this product on a PAID membership site.
• You CANNOT give this product away for free.
• You CANNOT include this product on a free membership site.
• You CANNOT sell this product or give it away on Ebay or any other auction site!
• You CANNOT change ANY of the content.