Salespage Snapshot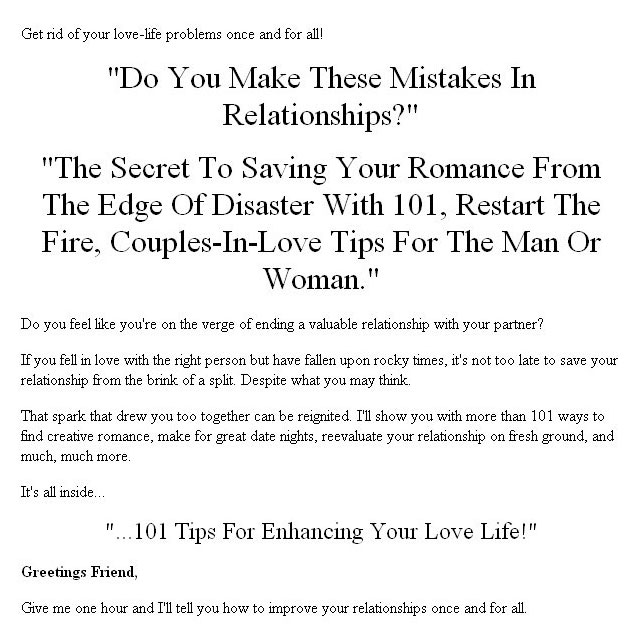 >> Click Here To View Sales Page...
Table Of Contents
Introduction                                                                                         2
The Face of Romance – Week in the Life of a True Romantic              3
Little Things Mean a Lot                                                                      6
Primary Colors of Romance                                                                 7
The Romance and Science of Kissing                                                  9
Romance Fundaments – Primary Flirting                                             10
A Special Gift of Roses and Their Meanings                                       11
Guide your Man to Take the Romantic Lead                                       14
Nurture Romantic Rituals                                                                   15
The Many Expressions of Love                                                           16
New Hope for a Tired Relationship                                                     17
Be More Affectionate                                                                          25
Show Random Acts of Affection                                                         26
Simple Ways to Enhance your Love Life                                             28
Honor your Long-Distance Relationships                                            33
Create a Romantic Nickname                                                              35
Creative Planning
– Fun and Games
– Meals
– Dress
– Atmosphere                                                                                     37
Creative Date Night Ideas                                                                    40
Just for Summer                                                                                   42
The Art of Writing a Love Letter                                                          44
Place your Love Notes in Creative Places                                             46
Openly Express your Love                                                                    47
PLR Ebook Sample Content Preview
INTRODUCTION
Romance in a relationship is the chord that makes the heart beat strongest.  Without it, love can weaken and even disappear.
"101 Tips for Enhancing your Love Life" is a personal journey exploring the many faces of romantic love.
Differences exist between the sexes; we all know this to be true.  Each living on a different planet, men and women have their own ideas about what is romantic.
What makes romance so powerful and so necessary to our life?  Is it that romance is the language that only the heart knows best?
When we show the one we desire most that they are special to us, we are being romantic.  We can do this in so many different and unique ways.
Any good relationship requires effort to keep it alive.  Your unique way of being romantic is your personal anchor to securing the heart of another.
Romance the one you love with confidence!  This ebook will be your personal guide!
THE FACE OF ROMANCE
You may be in a loving relationship, but, you don't know the first thing about how to romance from the heart.  Sure, you can say, "I love you," just fine, but, all those wonderful, romantic ideas just seem to escape you.
Below you can take a page from a true romantic's book.  You can simply follow the guidance and do the do things, or, you can adapt the suggestions below to your own nature.  Either way, you will be well on your way to being the true romantic!
Other Details* Sales Page:
Included, HTML
* File Format:
MS Word Doc, PDF, RTF
* Number of Pages:
41
* Download File Size:
217 KB