Salespage Snapshot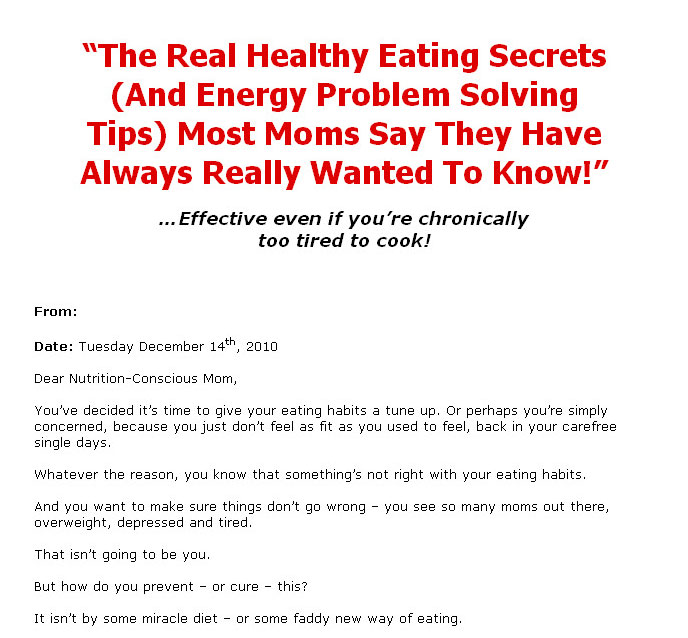 >> Click Here To View Sales Page...
Table Of Contents
Which Of These Moms Are You?    3
Very Bad Things    5
Plastic And Microwaves    5
Cooking Utensils    6
Pesticides    6
Trans Fats Demystified    7
Additives And Allergies    10
Food Additives    10
Allergy Or Sensitivity?    10
The Overweight Mom    12
Not Enough Exercise    13
What Is A Normal Portion?    15
Are You An Evening Snack Addict?    15
The Truth About Potato Chips    17
Hormonal Conditions    23
Eating The "Wrong" Foods – Even When They're "Right"    24
The Overwhelmed Mom    27
Identify The Real Culprit    29
Other Factors That Can Detract From Your Diet    31
Eating For Two    35
What Should You Eat During Pregnancy?    38
Passing It On    39
6 Tricks For Picky Eaters    40
Ebook Sample Content Preview
Healthy Eating Secrets Guide for Moms
Congratulations on downloading this Special Report.  Doing so means you're a mom who is concerned about what she is eating, and you want to be the best, healthiest and most energetic you possible. That means you've already won half the battle, nutritionally speaking!
And the good news is, it doesn't matter whether you downloaded "Healthy Eating Secrets Guide For Moms" because you are concerned about food additives, just need a little more energy, have finicky kids who won't eat, or you're trying to lose weight or eat healthily during pregnancy – there's something in this report especially for you!
So before we go any further, let's narrow down your eating goals – and challenges.
Which Of These Moms Are You?
A.  You're a certified nutritionist and avid organic gardener.  You grow much of your own produce, calculate your family's protein, vitamin and mineral needs to the last milligram, eat a lot of raw foods, create every meal from scratch – and never, ever eat junk food.
B.  Eating healthily is a priority for you, and you always make sure your family enjoys lots of fresh vegetables and fruits, along with whole grain cereal products and adequate protein.
C.  You eat healthily as often as you can – but your schedule is so busy that take-out food is part of your lifestyle. And you do have one or two little food passions – like Cappuccino or chocolate – that you just can't give up completely.
D.  You'd love to eat more organic – or even just plain fresh food – but you just can't afford it. You do your best to make sure the kids get what they need, but you have to admit there are more French fries and Mac-'N'-Cheese dinners than you like.
E. You guiltily buy vegetables and fresh fruits, but you throw out more than you eat.  Let's be honest – your favorite food group is refined carbs and sugar.  You mean to eat healthily – you're just so exhausted all the time, it's much easier to give yourself a quick boost with a cup of coffee and a cinnamon bun than it is to prepare a healthy salad with tuna…
Other Details* Sales Page:
Included, HTML
* File Format:
MS Word Doc, PDF
* Number of Pages:
41
* Included Graphics:
Ecovers, PSD
* Extras:
Promotional Email Message
* Extras:
Followup Emails
* Extras:
Affiliates Programs
* Extras:
Articles
* Extras:
Squeeze Page
* Extras:
Blog Posts
* Extras:
MS Word Doc, PDF Report
* Number of Pages:
15
* Download File Size:
26,937 KB