Salespage Snapshot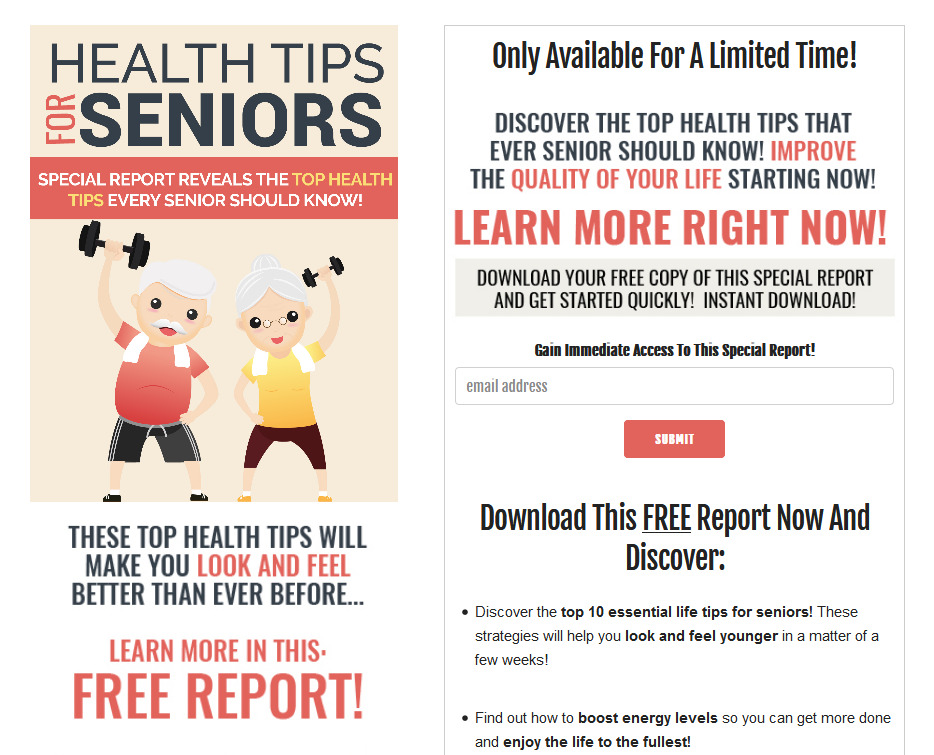 >> Click Here To View Sales Page...
Table of Contents
Table of Contents 3
Introduction 5
Tip #1: Healthy Weight 7
Tip #2: Stay Positive 9
Tip #3: Find Purpose 11
Tip #4: Get Active 14
Tip #5: Eat Well 17
Tip #6: Train Your Brain 20
Tip #7: Get Enough Sleep 22
Tip #8: Relax 24
Tip #9: Focus on Prevention 25
Tip #10: The Skin You're In 27
Resources 29
Sample Content Preview
Tip #2: Stay Positive
Your mind is a powerful thing and staying positive and hopeful, despite the obstacles you'll face, will help you not only learn to cope with the changes in your life, but it will reduce stress and anxiety which will lead to a longer lifespan.
Here are a few ways to get started:
Be Grateful: Consider keeping a gratitude journal that documents your day-to-day life, paying attention to the blessings in your life and its many joys.
It's easy to take things for granted, so by taking steps to faithfully acknowledge the good times will help you cope when times get tough. Look for the silver lining in problem areas and remember that every lesson in life helps you grow!
Express Your Feelings: Don't bottle up your emotions. It's normal to feel nervous or worried about the future, but burying your feelings can lead to bitterness, anger and anxiety. 
By being open and honest with those in your life that you trust the most, you'll be better equipped to process those emotions in a healthy way.
Let It Go: There's no point in stressing about the things you can't change, right? Instead, identify the areas in your life that are beyond your control and learn to let them go. 
I know, easier said than done, but if you put an honest effort into trying to let go, you'll not only minimize your stress levels but you'll free up time to improve the areas of your life that are in your control.
Tip #3: Find Purpose
As we age, it's common for us to get stuck in old habits and routines.  Unfortunately, allowing ourselves to become a creature of habit can restrict us in exploring new hobbies, passions and interests that improve the quality of life.
One of the keys to healthy aging is continuing to find meaning, purpose and newfound joys in your life.  It keeps us focused and balanced, our minds sharp and our souls nourished.
Here are a few ways to get started:
Reconnect with Old Friends:  Think about the people you've grown apart from over the years.  Who brought you joy? Who made you laugh?  Who do you miss?
Consider the different people that you can reconnect with. Not only will you be able to rehash old memories and fun times, but you'll be able to make new ones.
Pick Up a New Hobby:  Consider taking a class or workshop in an area that you've always been interested in, or re-explore a long-neglected hobby from days gone by. 
Become Social:  Consider joining Facebook or other social media platforms that make it easy to connect with friends and family.  It's a great way to stay up to date with loved ones from all over the country.
Play Games:  There are hundreds of game-based apps that you can download to your digital devices, or you can play online.  Websites like https://guideforseniors.com/blog/senior-online-games/ offers a list of various interactive games that will offer hours of enjoyment!
Expand your Knowledge:  Learn something new, such was a language, crafts, painting or an instrument.  New activities bring joy to life and can help you maintain a healthy brain and memory. 
Travel: Consider the many places you've always wanted to visit but never had the chance to.  Perhaps now is a great time to plan that dream trip! 
Take a Walk: Explore nature and connect with the beauty that surrounds you.  It's a great way to free your mind, gain inner peace while also getting that fresh air and exercise that your body needs!
Write a Memoir:  Everyone has a story that others would love to read. What is yours? Writing a memoir is a great way to revisit some of your favorite memories and will help you reconnect with what truly matters.
Tip #4: Get Active
Just because you're getting older doesn't mean you should transition into a sedentary lifestyle. In fact, it's quite the opposite because the key to longevity is to become active as possible!
No matter how old you are, you will benefit from regular exercise. Not only will it help you stay mobile and flexible, but it can help you effectively manage health problems, boost your immune system and vitality, improve your range of motion and help with mental health. 
Here are a few tips:
Check with your family doctor prior to starting any exercise program or workout routine. 
Make sure that there are no health conditions that may impede your ability to exercise.  Discuss options with your doctor including how long or how often you should exercise as well as the different types of exercises that are safe based on your medical history.
Start walking!  It's a great way to stay fit while not requiring any expensive equipment.
Plus, you can start slow and increase your speed and distance as your body adjusts. And if you're concerned about being out on your own, check with your local community about senior-walks or meet-ups.
Don't Over-Do It: Start off slow, regardless of what exercise you are participating in. Don't over-exert yourself. 
Vary Your Physical Activity: Improve your endurance, strength, flexibility and balance by varying your exercise. Consider light aerobic activities, gardening, walking, water aerobics or yoga sessions designed for seniors.
Tip: Consider purchasing a Fitbit or other fitness tracker that keeps track of your steps, distance, calories burned and more. It's a great way to keep an eye on how much you are doing while also staying motivated.
Other Details
- 2 Ebooks (PDF, DOC), 29 Pages
- 7 Part Autoresponder Email Messages (TXT)
- 1 Squeeze Page (HTML)
- Year Released/Circulated: 2019
- File Size: 3,162 KB
License Details:
[YES] Can be sold
[YES] Can be used for personal use
[YES] Can be packaged with other products
[YES] Can modify/change the sales letter
[YES] Can modify/change the main product
[YES] Can modify/change the graphics and ecover
[YES] Can be added into paid membership websites
[YES] Can put your name on the sales letter
[YES] Can be offered as a bonus
[YES] Can be used to build a list
[YES] Can print/publish offline
[YES] Can convey and sell Personal Use Rights
[YES] Can convey and sell Resale Rights
[YES] Can convey and sell Master Resale Rights
[NO] Can be given away for free
[NO] Can be added to free membership websites
[NO] Can convey and sell Private Label Rights