Salespage Snapshot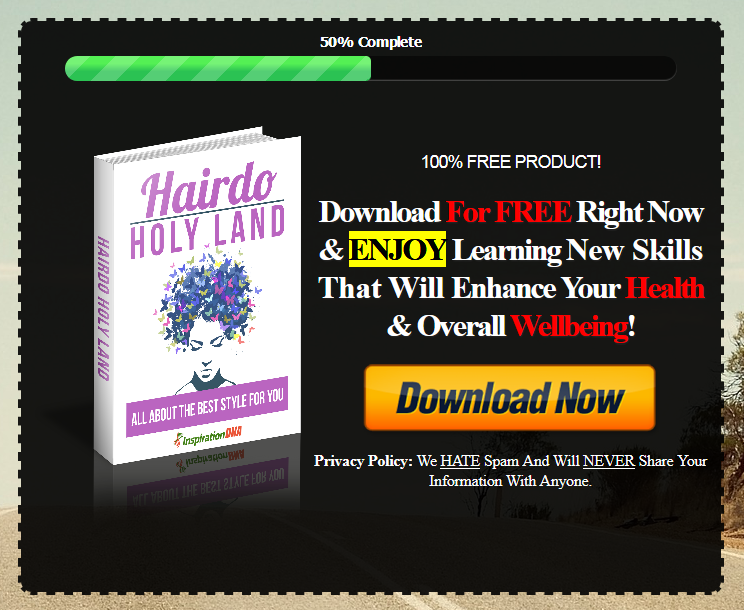 >> Click Here To View Sales Page...
Table of Contents
Foreword
Chapter 1:
Hair Style Basics
Chapter 2:
Examine Your Face Shape
Chapter 3:
Best Styles For An Oval Face
Chapter 4:
Best Styles For A Long Face
Chapter 5:
Best Styles For A Square Face
Chapter 6:
Best Styles For A Round Face
Chapter 7:
Best Styles For A Heart Shaped Face
Chapter8:
Learn To Love Your Style
Wrapping Up
Sample Content Preview
Chapter 2:
Examine Your Face Shape
Are you thinking of a new haircut or style? There are a lot of things you have to think about when selecting a fresh hair style, like: how much time you wish to spend maintaining a certain style, whether the texture of your hair will accommodate the hairstyle you've selected and lastly the shape of your face.
Face Shapes
This chapter will address picking out the correct style for your face shape.
The 1st thing to ascertain is the shape of your face and the simplest way to achieve this is:
Pull your hair back off your face and fasten it. Look directly into a mirror and outline your face with lipstick either right on the mirror or a sheet of transparent paper. A different choice is to take a photograph of you with your hair firmly tied back and outline the image.
Now examine the image closely and compare it to the assorted types of face shapes (circular, egg-shaped, square, triangle, oblong, heart, diamond). Although at first it could seem to match a couple of different shapes it's more than likely your face will be nearly resemble one shape over all others.
Circular Face – The round face has the same width brow as the lower face. Think about a circle which is the same width at the top as it is at the base. To boot round shaped faces have big cheeks.
You can stretch the face and minimize the fullness with a haircut that frames the face. As well as framing the face a side part or slender off center part helps downplay fullness. Long, streaming
strands that cover the side of the face will temper the check bones and produce a longer well-defined illusion.
Square Face – The best length is 1 1/2 inches beneath the chin or shoulder length. In addition layered hair helps to cushion the jaw line. Think about parting your hair down one side with a side sweep to produce a different angle.
Face framing layers and a side part may likewise weaken an angular bone structure. Think about a shagged layered cut with a deep side part to counterbalance the strong angular characteristics.
Egg-shaped Face – think about an egg-shaped, the top and bottom are the same sizing with longer sides. Egg-shaped shaped faces may wear any style; all the same I advise that you have your hair away from the face and not to have too broad bangs.
All the same, regardless the length of your cut, you'll look better with layers near your cheekbones, lips or chin, essentially whatever feature you wish to highlight. Prevent short layers that add height on top of your head. This will make your face look long.
Heart Face – even as the name implies the face is wide at the cheekbones and brow and narrow at the jaw line. A side part with bangs and chin length or longer with layers will stretch the face. By ending the hair at the chin it renders the illusion of an egg-shaped face rather than a pointy chin.
Diamond Face – are broadest at cheekbones, and have a narrow forehead and jaw line of roughly equal widths. Think about a hairdo that adds width at the chin area like chin length bob cuts or shoulder length wisplike kicked out looks.
Haircuts that are styled tucked away behind the ears likewise work well to flaunt your wonderful cheek bone structure work well too. Likewise, think about square across bangs to shorten longer faces and side parts.
Oblong Face – Have high brows and long chins. In order to minimize the length of the face prevent hairdos that add a lot of volume at the top. Bangs are likewise great to shorten a long face.
Chapter 3:
Best Styles For An Oval Face
If you have an egg-shaped face shape, stop for a minute and congratulate yourself. You've landed the most versatile face shape. You may wear virtually any hairdo. So what are the best hairdos for egg-shaped faces?
Oval
Regardless the length of your cut, you will look finest with layers close to your cheekbones, lips or chin; fundamentally whatever feature you wish to highlight.
Jennifer's Aniston's haircut looks amazing on an egg-shaped face. The long layers hit at the cheeks and the chin. The hair is longer in the back and shorter in the front so it does not weigh down Aniston's face. If you're petite, you need to prevent super long hair in the front as you run a risk looking like you're eleven years old.
As so many styles work for you, bear in mind these rules for coming up with the perfect hairdo for your personality and hair texture:
Rule 1: Stay away from dated hairdos. If you have not altered your style in 10 years, discover a fresh photo and get your hair cut. A foul hairdo may age you by many years (some celebrities prove my theory).
Rule 2: do not fight your natural hair texture. You may straighten out curly hair, but it takes time and cash. Why not invest in a great haircut for your curly hair as an alternative? If you have hyper- thin hair, do not try to grow your hair past your shoulders without the help of extensions, your hair will be dead and flat, regardless how much product you place in it. As an alternative, cut in layers
and keep the length above your shoulders. Discover inspiration in shoulder-length hairdos.
Rule 3: If you're offbeat, get a funky hair cut and color. If you're a crazy busy mother, cut your hair so it's fashionable, yet does not require a quarter-hour a day of styling. Make certain your hairdo suits your personality and your life-style.
Other Details
- 1 Ebook (PDF), 31 Pages
- 2 Graphics (PNG)
- 1 Salespage (HTML)
- Year Released/Circulated: 2018
- File Size: 3,062 KB
License Details:
[YES] Ebook Can be given away against an email address
[YES] Can sell the WHOLE product and keep 100% of the sales
[YES] Can sell the WHOLE product with Resale Rights
[YES] Can sell the WHOLE product with Master Resale Rights
[YES] Can edit the Squeeze & TY + MRR Upsell Pages
[YES] The WHOLE product can be packaged with other products you sell
[YES] The WHOLE product can be offered as a bonus with other products you sell
[YES] The WHOLE product can be added to paid membership sites
[YES] The WHOLE product can be offered through auction sites
[NO] WHOLE Product can be given away
[NO] WHOLE Product can be added to free membership sites
[NO] Ebook can be modified in any way
[NO] Can sell with Private Label Rights