Salespage Snapshot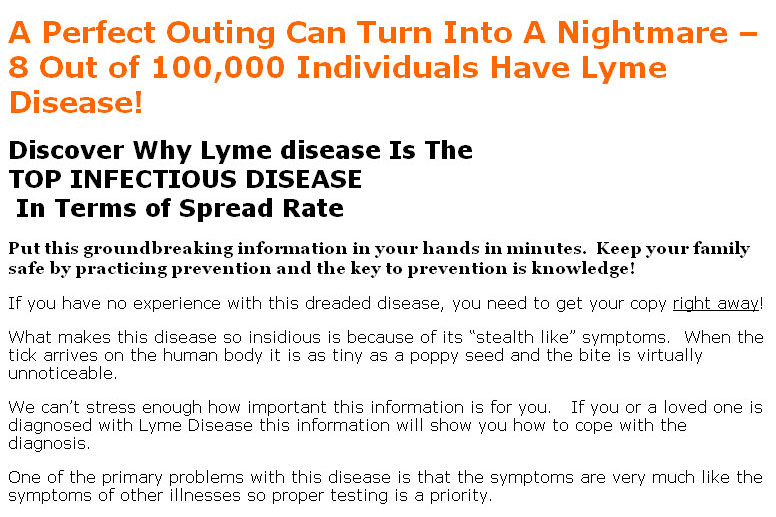 >> Click Here To View Sales Page...
PLR Ebook Table Of Contents
What is Lyme Disease
Testing for Lyme Disease
Lyme Disease in Children
Lyme Disease in Women
Acute or Chronic
What Treatments Are Available
Diet and Nutrition
Antibiotics and Lyme Disease
What is a Rife Machine
Four Types of Rife Machines
Hyperbaric Oxygen Chamber
About Ozone Therapy
Hyperthermia
Problems With Common Therapies
Resources
Ebook Sample Content Preview
What is Lyme Disease?
Lyme Disease 101 – What is Lyme disease?
Lyme disease is a bacterial disease transmitted mainly through tick bite. The illness is also called borreliosis and spirochete bacteria from the genus Borrelia are the main cause. Lyme disease comes from a range of deer ticks or blacklegged ticks like Borrelia burgdorferi, Ixodes dammini, Amblyomma americanum, Ixodes scapularis and many more. Both man and animal can acquire the disease. There are at least 37 Borrelia species while 12 are related to the condition.
In the United States, Lyme disease is the top infectious disease in terms of spread rate. Out of every 100,000 individuals, 7.9 have Lyme disease. 49 states also report having cases of the disease. Other countries like Canada, the United Kingdom and other European nations also have Lyme disease as the most common tick-borne illness. The type of tick also varies depending on the geographical region. Other animal species like flies, mosquitoes, fleas and lizards are also suggested to successfully transmit Lyme disease to human beings.
Other Details* Sales Page:
Included, HTML, MS Word Doc
* File Format:
MS Word Doc, PDF
* Number of Pages:
65
* Download File Size:
200 KB