Salespage Snapshot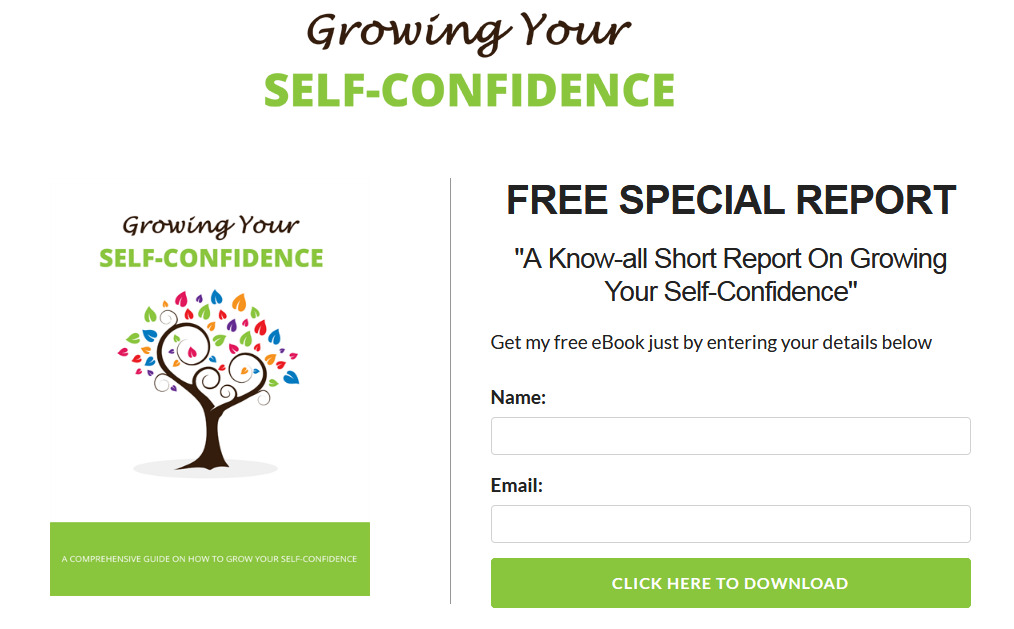 >> Click Here To View Sales Page...
Table of Contents
Introductory . 4
Chapter 1: A Step in Building Your Self Confidence .. 6
Chapter 2: A Philosophy to Increase Your Self Confidence … 8
Chapter 3: Building Confidence and Self Esteem ….. 10
Chapter 4: The Roots of Low Self Confidence…. 12
Chapter 5: Thoughts on Improving Self Confidence 14
Chapter 6: What To Do When You Need to Boost Your Self Confidence .. 16
Chapter 7: Advises to Help You in Increasing Self Confidence .. 18
Chapter 8: Get Self Confidence From Within ….. 20
Sample Content Preview
Chapter 1: A Step in Building Your Self Confidence
Everything has to start somewhere. Unless you start revamping your self-confidence, you will have to agonize endlessly with the very thing you are fearful of- low self-confidence.
Our self-confidence is the accumulation of all our reactions to the experiences that life brought us, the manner by which we were guided by the older people in our environment and how we and the society view us. Many factors are contributors to our personal understanding of confidence.
One determining factor is how well we expect ourselves and the circumstances of our lives should be. Many tend to fall into the trap of creating unrealistic expectations. In the process, their losses are becoming too painful that they eventually suffer the effects of creating lower self-confidence.
Others, on the other hand, lean more on playing safe and thus create more achievable goals that are easier to attain. And because achievements add largely to the development of self-confidence, these people benefit from knowing that they are somehow capable of doing something.
You may already have heard the phrase – "it's all in the mind". And to many psychological and emotional conditions, we can actually say that everything is all in the mind. They rooted and develop from the mind and so, the antidote might as well come from the same source.
You can always condition yourself to feel the way you want or to feel the way you don't want. You can suppress emotions and in the process, help emotions materialize. Say you want to feel hatred of yourself over not being good enough. If you make yourself believe in that hatred and you truly are convinced that you are not good enough, you will only get two products- one, genuine hatred and two, lower self-esteem.
The majority of us are caught unaware with our words. We sometimes fail to check ourselves of the things we are registering in our subconscious mind.
You may not have deliberately said it recently but since you are used to hearing yourself mumble- "I am a looser", or "I'm not worthy of anything", your subconscious self might as well believe that these are the facts.
Even now as we speak, many out there believe in these statements.
They are not mere words. They are for real and they will actually dig deep in your subconscious mind, which will then be integrated into your being. If you believe in these then there is no way that you won't believe in their direct opposite.
Central to building self-confidence is one's belief in himself. Whatever you set your mind to believe will all be taken as factual. Thus, you only have to manipulate the values that you would like to acquire. Otherwise, no amount of waiting can make you change. The motivation must come from you. Suggestions may come from outward sources but in the end, it will be you and yourself that will set out to do the battle.
Changes must begin from you. You may start with talking to yourself using positive statements like "you are great" (for you truly are a great individual waiting for your talents to be tapped). Or "you are beautiful" (because believe in this or not each one of us were created beautifully to give glory to our Maker).
You can't stay long in your madness over having low self-confidence. Somehow, you have to change your perspectives and live a different life that looks forward to better things.
Chapter 2: A Philosophy to Increase Your Self Confidence
Everyone takes pride with all the things that we possess. May it be the achievements that we had, or the present living that we were able to produce, each one of us has become an achiever on our own.
Many of us may have denied this truth though. But you see, it is obvious- everybody is capable of doing anything only if we give our hearts into it and we set our minds in doing it. No one is deprived of the capacity to enjoy life's successes. Only those who deprive themselves of these gifts are the sufferers. Are you among them?
Leave your answer hanging then whisper it to yourself. Whatever the output is, see to it that you would change things for the better.
If you can say that you are confident enough then good! But don't settle yourself with what's enough. There will always be gaps and you should cease the opportunities for improvement.
If, however, you answered no then don't tarry. Wasting your life to senseless whimpers of negativism would obviously cause you to regret everything at every moment you depart.
How painful it would be to know that you were equipped with everything you need to achieve but dared not use them.
There was once a young eagle who happened to be raised in village of chickens. He was oriented to chicken living and was raised to believe that he is one of them. For long, he has been watching the eagles hover in midair with their display of magnificence.
For each time that he stands in awe of these airborne eagles, he wishes that he was born like them. He dared not to spread his wings though yet every day, his heart cries for soaring the heights eagles soar. He failed to discover his potentials and real self and thus, he died a chicken- ever longing to become one of those to which he truly belongs.
Every one of us is an eagle. We are all capable of flying to the maximum of our potentials. Unless we spread our wings and dare to discover our real self, we will forever be bounded by our failure to transcend heights and become the real people that we were meant to become.
Now, if we would only realize the eagle that is sleeping within us then we could have all lived a life of happiness and contentment.
We were all born entitled with achievements and successes. The Universe is too good for us that she took time to secure everything that we would need to soar. Don't waste this very opportunity by putting loads in your back so you would be delimited and thus, incapable of flying.
Be like an eagle who has unearthed himself from the mud of being a chicken. Chickens are meant for slaughter. In the same way, if we choose to be chickens then we would have to accept the reality that our purpose would be defeated. That is, to give glory to the Universe who has kept us in her arms and fed us with everything we needed.
Other Details
- 1 Ebook (PDF), 21 Pages
- 1 Salespage (HTML)
- 3 Ecovers (JPG, PNG)
- Year Released/Circulated: 2017
- File Size: 1,206 KB
License Details:
[YES] Can be sold
[YES] Can be used for personal use
[YES] Can be packaged with other products
[YES] Can modify/change the sales letter
[YES] Can be added into paid membership websites
[YES] Can put your name on the sales letter
[YES] Can be offered as a bonus
[YES] Can be used to build a list
[YES] Can print/publish offline
[YES] Can convey and sell Personal Use Rights
[YES] Can convey and sell Resale Rights
[YES] Can convey and sell Master Resale Rights
[NO] Can modify/change the main product
[NO] Can modify/change the graphics and ecover
[NO] Can be given away for free
[NO] Can be added to free membership websites
[NO] Can convey and sell Private Label Rights