Salespage Snapshot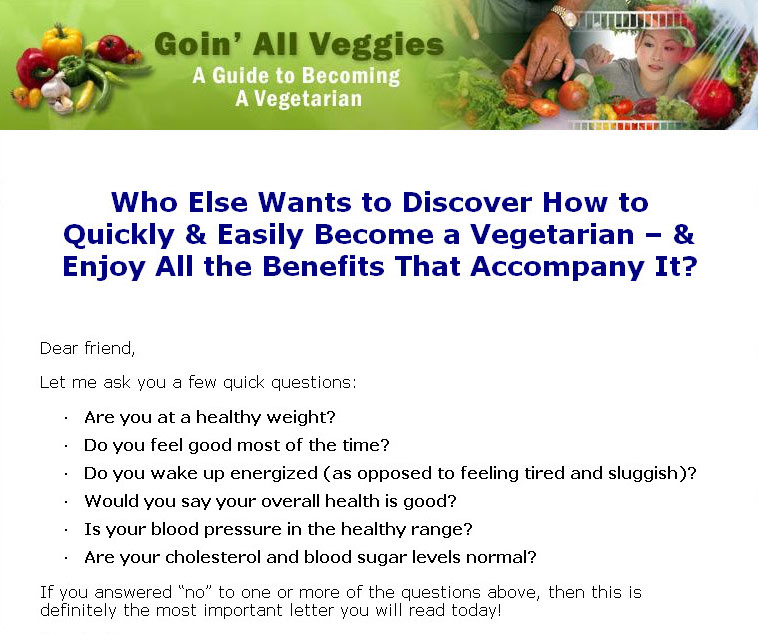 >> Click Here To View Sales Page...
PLR Ebook Table Of Contents
GOIN' ALL VEGGIES    1
A GUIDE TO BECOMING A VEGETARIAN    1
TABLE OF CONTENTS    2
INTRODUCTION    3
CHAPTER 1    5
YOU ARE WHAT YOU EAT    5
You Really are What You Eat    6
What Did Our Ancestors Eat?    6
Why Did Humans Start Eating Meat?    7
The Tradition of Eating Meat    8
CHAPTER 2    9
VEGETARIANISM & ANIMAL WELFARE    9
PETA    9
Animals & Growth Hormones    10
CHAPTER 3    13
VEGETARIANISM & THE HEALTH EFFECTS    13
Heart Disease    13
Cancer    14
Improved Digestion    15
Weight    16
Kidneys    16
Osteoporosis    17
Detoxification    17
CHAPTER 4    20
MAKING THE SWITCH    20
Stuff You Need to Start Cooking Vegetarian Style    21
Breakfast & Brunch    23
Smoothies    26
Appetizers & Side Dishes    28
Main Courses    31
PLR Ebook Sample Content Preview
Introduction
If you've eaten meat your whole life, switching to a vegetarian diet might be something that could be difficult to switch to.  You might also wonder why you should even consider switching.  Many people figure that they have been eating this way their whole, life so why switch now?
There are many reasons that you might decide to switch to a vegetarian diet.  First of all, check yourself out in the mirror.  The majority of Americans are not a healthy weight and this can be the number one reason for them to switch.  Also, as yourself a few questions:
•    Are you a healthy weight?
•    Do you feel good most of the time?
•    Do you wake up energized? Or tired and sluggish?
•    How is your overall health?
•    Is your blood pressure in a healthy range?
•    Are your cholesterol and blood sugar levels normal?
If you find that "no" is the answer to most of these questions then you should consider what you are eating on a daily basis.  If you find that you feel worse after eating, you may be wondering if food is supposed to make you feel this way.
The answer is no.  Your food should nourish and feed your body.  It should leave you feeling refreshed and energized.  The body is a machine and it needs good fuel.  The fact of the matter is that most people are overweight and obese.  This is because we eat too much meat and too much fat.  Problems such as high blood sugar, Type II diabetes, high cholesterol and other health related problems are caused by our diet.  All of these problems can be prevented by changing your diet.  This eBook will show you how to do that and the difference that eating vegetarian can do for you in a short period of time.
Other Details* Sales Page:
Website Included, HTML
* File Format:
MS Word Doc, PDF
* Number of Pages:
33
* Included Graphics:
Ecovers, PSD
* Download File Size:
5,873 KB

* Private Label Rights Terms & Conditions :

[YES] Can be given away
[YES] Can be packaged
[YES] Can be offered as a bonus
[YES] Can be added to paid membership sites
[YES] Can be added to free membership sites
[YES] Can sell this product
[YES] Can be offered through auction sites
[YES] Can sell Resale Rights
[YES] Can sell Master Resale Rights
[YES] Can sell Private Label Rights