Salespage Snapshot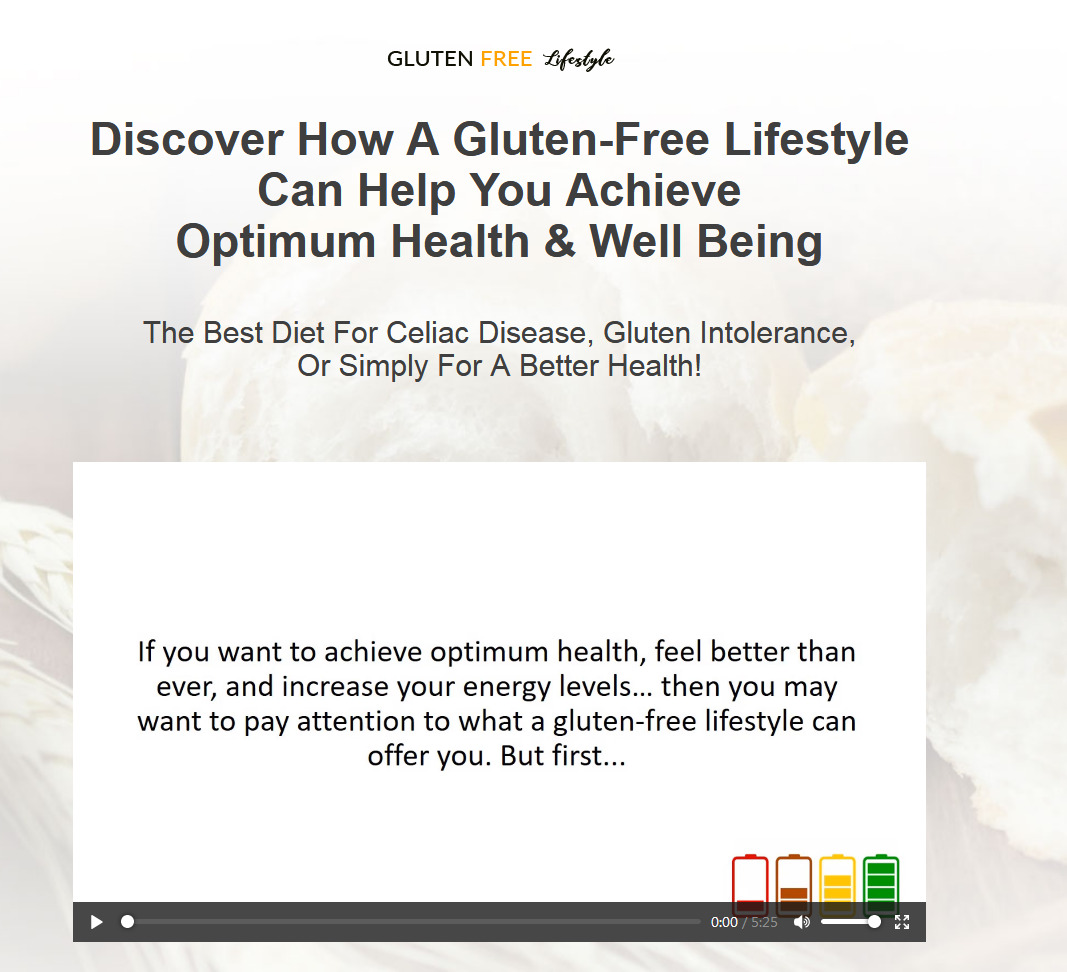 >> Click Here To View Sales Page...
Table of Contents
Introduction ……… 5
Chapter 1 – Wheat and Celiac Disease – The Downside of Gluten 9
Chapter 2 – Shopping Gluten-Free …. 16
Have a Plan …… 17
You at the Supermarket …… 20
Chapter 3 – Getting Started with the Gluten-Free Life …. 26
A Gluten-Free Kitchen …….. 28
Cleaning Out the Bathroom 29
You and Booze 31
Gluten and Your Medicine Cabinet …….. 31
Gluten-Free Pantry … 32
Necessary Foods in Your Pantry … 34
Chapter 4 – Dining Out and Being Social …. 37
What's For Dinner? .. 38
You've Met Mr. or Ms. Right …….. 40
You're the Host ……… 41
Finding a Restaurant 42
Make Gluten-Free Friends . 43
Chapter 5 – Avoiding the Pitfalls of Gluten-Free … 45
Traveling Gluten-Free …….. 50
Chapter 6 – Emotional Obstacles to Having Celiac Disease …….. 52
When You Are Tempted to Cheat . 55
Taking Control of Your Emotions 58
Chapter 7 – Gluten, ADHD and Autism ……. 61
Gluten-Free and Autism ….. 64
Beware of Chocolate . 65
Chapter 8 – Adapting Your Diet to Gluten-Free ….. 69
Baking Your Favorite Treats the Gluten-Free Way …. 69
Making Good Substitutions in Your Recipes …. 72
Conclusion 74
Sample Content Preview
Chapter 2
Shopping Gluten-Free
When you begin to shop gluten-free, it can be a bit confusing and overwhelming. You might panic about missing out on your favorite meals. It may seem that there is nothing for you to eat. You'll quickly find, however, that is not the case. You won't miss anything.
Finding delicious foods that are gluten-free is easier than you think. You are likely to find a few tasty food options that you haven't considered. Once you know what to watch out for, you'll master the supermarket aisle like a gluten pro.
Besides, if one or more member of your family is gluten-intolerant while the rest are able to eat wheat, don't prepare separate meals. Gluten-free meals are NOT a punishment, and anyone suffering from celiac disease or gluten intolerance should not be made to feel guilty or different. Omitting gluten from your diet is eating healthy, and that is something your entire family should be doing.
Have a Plan
Your trip to the market starts with a list. Walking up and down the aisles can lead to serious temptations. Supermarkets are deliberately designed to tempt you and lure you into buying things you don't need. You don't want to roam randomly. Before you leave the house, before you even create your shopping list, plan your meals.
Don't approach meal-planning negatively, as in, "Oh, I can't eat pasta … bread … cookies." Eating gluten-free is not about subtracting and deprivation. It's all about eating better. Plan the meals you enjoy and think in terms of substitutions. How can you improve this recipe? For example, if you want to prepare pasta, do so. Simply plan on using zoodles (zucchini noodles) or gluten-free pasta in your preparation.
Feel like baking some cookies for the kids? All you need to do is substitute wheat-free flour in your recipe. We'll discuss substitution later in this book. One or two gluten-free cookbooks will provide you with inspiration and help you understand how delicious gluten-free meals can be. They are an excellent investment.
Think in terms of variety. The greater the variety of food you eat, the more nutrition you consume. And don't forget about herbs and spices, most of which are quite nutrient-packed. Shopping gluten-free will expand your food world.
There are many places to purchase gluten-free products. (Aren't you lucky!). There are the around-every-corner supermarkets, specialty stores, health food stores, outdoor farmer markets, and online. By all means, make yourself available to all of these options. However, make the supermarket your main shopping place. There are reasons for that.
First, gluten-free is catching on, and most markets now carry gluten-free products or have an entire gluten-free aisle. The deli section is likely to offer a number of gluten-free items. By shopping at the regular market, you won't feel that you are shopping "differently," and that is psychologically important. You're not different, you're just smart.
Any farmer's market, of course, is a treasure trove of healthy produce, so you definitely want to be there whenever possible. As for specialty health food stores and online shopping, keep that in reserve as a valuable last resort for any product you can't find in stores.
Now that you've planed your meals, you are ready to create your shopping list. Keep in mind that prepared and pre-packaged foods frequently have hidden sugars and gluten. If you are unsure, contact the manufacturer for more details. In addition to bringing your shopping list, you should also have a gluten-free food/ingredient list for interpreting difficult labels.
We recommend that if possible, you shop without young children, whose sticky little fingers invariably reach for chocolate, cookies, and other snacks with abandon. You need to maintain control of the shopping situation.
You at the Supermarket
Okay, you are at the supermarket, wheeling that shopping cart down the aisle. Now, what?
All supermarkets tend to be laid out in the same way, so it's easy to avoid "dangerous" aisles and sections. When shopping gluten-free, you'll be spending most of your time circling the perimeter of the store, and not the aisles.
The produce section is usually near the entrance, so that's where you want to head first. Stock up on fresh, in-season fruits and vegetables. This is a chance to pick up produce you haven't tried before and broaden your food selection. Salads are always healthy, tasty, and gluten-free, but take care with croutons and dressing.
The bread aisle can be tricky and tempting. You need to forego most bread offerings and look for gluten-free bread. However, even here you need to be careful. Anything labeled "gluten-free" may be filled with additional fats and sugars. In addition to studying labels carefully, make a note of the expiration date. Gluten-free breads usually have fewer preservatives and may expire more quickly.
You've made it to the deli. You feel pretty safe here, as cheeses don't contain gluten. Technically, they don't, but many low-fat cheeses may contain fillers that are wheat-based. As for cold-cut, they are likely to contain wheat-based fillers. More about that later, but ask the person behind the counter before making any purchases.
You should be able to make good use of the bulk food section. The good news is there are many types of gluten-free, wheat-free flours from which to choose. Gluten-free flours can function and taste differently from regular flours, so you should become familiar with how these flours are best used. A gluten-free cookbook can be very
helpful in helping you create the delicious desserts you thought you'd never enjoy again.
Some of the most popular, gluten-free, wheat-free flours are as follows:
1. Coconut flour – a great baking flour
2. Corn flour – made from corn and used in baking and coating.
3. Oat flour – when made of natural oats, oat flour is gluten-free. Great for cookies and baking.
4. Brown rice flour – this is easy to digest. In addition, pasta made with brown rice flour is your best alternative to the standard white-flour pasta. There is white rice flour, as well, which is gluten-free. However, the white type of rice flour has been polished of most of its vitamins B and important minerals. It won't harm you, but you won't get the same nutrition that you would with brown rice flour.
5. Almond flour – made from healthy nuts. Almond flour can be used in almost any kind of baking.
6. Tapioca flour – this isn't really a baking/cooking flour. It is frequently used as a thickener for sauces and to create a roux.
7. Chickpea flour – this healthy flour contains needed fiber and minerals. It is best used for pancakes and waffles.
8. Sorghum flour – this is a heavy flour. When used in baking, it is frequently combined with tapioca flour.
9. Cassava flour – this flour contains few nutrients other than vitamin C, but it can easily be used for baking.
10. Amaranth Flour – this is a nutrient-packed flour that, like sorghum, can be mixed with another flour for baking.
11. Buckwheat flour actually isn't a flour, but a very healthful seed. Great for making pancakes.
12. Teff flour – another flour that can be used with other gluten-free flours for baking.
13. Cricket flour – this is actually made from roasted crickets, but don't let that keep you from trying it. It's nutrient-dense and has a nutty flavor.
14. All-purpose gluten-free flour – this is made from a combination of the above flours and can be used for all-purpose baking.
As you can see, gluten-free cooking offers you lots of choices, and you should experiment to see which flour works best for you. Flours made from coconut or almond can lend a delightful flavor to your baked goods.
A word of caution: When flours are displayed in bulk, there can be some cross-contamination when a customer uses the same scooper to bag glutenous and non-gluten types of flours. If that is a serious concern, get your gluten-free flour from a market or a health food store that has a separate gluten-free section, or order through the internet.
You and your cart, which is getting pretty full, have made it to the dairy section. Notice that you are still wandering the perimeter of the market instead of roaming the aisles.
Milk and dairy do not contain gluten, but be careful of additives. Yogurts and ice cream can contain all types of flavoring, so read the labels carefully. And, as previously stated, any item labeled "diet" or "low fat" is likely to contain gluten fillers.
If you're in search of snacks, you are likely to end up in one of the aisles. Check ingredient labels carefully. As an alternative, prepare your own tasty snack by mixing gluten-free granola with chopped nuts or dried fruits.
When you arrive at the meat and fish section, you are in a gluten-free zone, except for the prepared and coated meats, which you will ignore. Focus on lean meats and fish to prepare tasty and healthy meals.
Other Details
- 1 Ebook (PDF), 79 Pages
- 2 Graphics (PNG)
- 1 Salespage (HTML)
- 1 Promotional Ad Material (Emails)
- Checklist, Mind Map, Landing Page, Lead Magnet, VSL
- Year Released/Circulated: 2019
- File Size: 44,954 KB
License Details:
[YES] Can be sold
[YES] Can be used for personal use
[YES] Can be packaged with other products
[YES] Can modify/change the sales letter
[YES] Can be added into paid membership websites
[YES] Can put your name on the sales letter
[YES] Can be offered as a bonus
[YES] Can be used to build a list
[YES] Can print/publish offline
[YES] Can convey and sell Personal Use Rights
[YES] Can convey and sell Resale Rights
[YES] Can convey and sell Master Resale Rights
[NO] Can modify/change the main product
[NO] Can modify/change the graphics and ecover
[NO] Can be given away for free
[NO] Can be added to free membership websites
[NO] Can convey and sell Private Label Rights