Salespage Snapshot: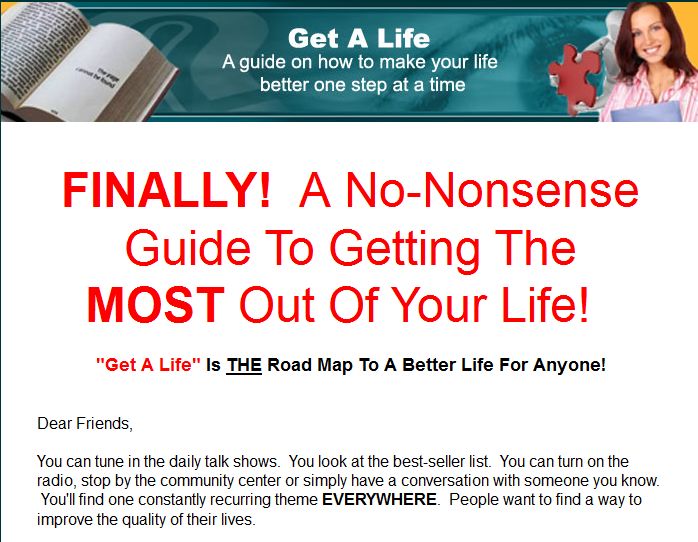 >>> Click Here To View Full Sales Page…
Table of Contents
INTRODUCTION
WHAT DOES IT MEAN?
GOALS
SATISFACTION
WHY CHANGE NOW?
READINESS
WILLINGNESS
ABILITY
WHERE ARE YOU NOW?
EMOTIONALLY
PHYSICALLY
FINANCIALLY
SPIRITUALLY
WHERE DO YOU WANT TO BE?
EMOTIONALLY
PHYSICALLY
FINANCIALLY
SPIRITUALLY
HOW DO YOU GET THERE?
SET REALISTIC GOALS
FIND A MENTOR (OR TWO)
FIND LIKE-MINDED FOLKS
OTHER THINGS TO CONSIDER
VOLUNTEERING
EDUCATION
UNCLUTTER THE CLUTTER
OCCUPATIONAL CONSIDERATIONS
LET IT GO
FOR THOSE STARTING OVER
MOVE AWAY
OLD FRIENDS AND ENEMIES
START RELYING ON YOURSELF
ONCE YOU GET THERE….
HELP OTHERS
KEEP ON PLUGGING AWAY
BE PROUD!
Sample Content Preview
INTRODUCTION
If you have ever read the various life stories of people who have turned their lives around you may notice one common denominator: most people have a single "a-ha!" moment when they decide that they are going to turn their lives around and from then on make a concerted effort to do so. It may be as simple as a person deciding to start exercising, or as involved as someone joining AA in an attempt to get support for their decision to stop drinking. Whatever the instance, and whatever the reason, every single person has the ability to turn their lives around, and this includes you. Perhaps you have a relatively good life but you simply do not feel as though you are living life to the fullest. Maybe you feel as though your life has spiraled out of control and you are frustrated because you don't know which way to turn in order to regain control. With some effort, it is possible to turn everything around and start living the life you want to live.
WHAT DOES IT MEAN?
If you're wondering what in the world it means to "get your life together," first consider that everyone has a little room for improvement in their lives. Although it is true that not everyone needs to make a rigorous effort to get everything in their lives under control, most people have a point in their lives when things just seem to completely turn upside-down. This is the time when many people take a look at their lives and decide that something needs to be done.
Other Details
- 51 Articles (TXT, DOC)
- 1 Ebook (DOC), 56 Pages
- 3 Audios (MP3)
- 19 Graphics (PSD, JPG)
- 1 Salespage (HTML)
- 1 Keywords List (EXCEL)
- blog theme, wmpgetyourlifetogether, GetALife-Video_powerpoint
- Year Released/Circulated: 2009
- File Size: 171,053 KB