Salespage Snapshot: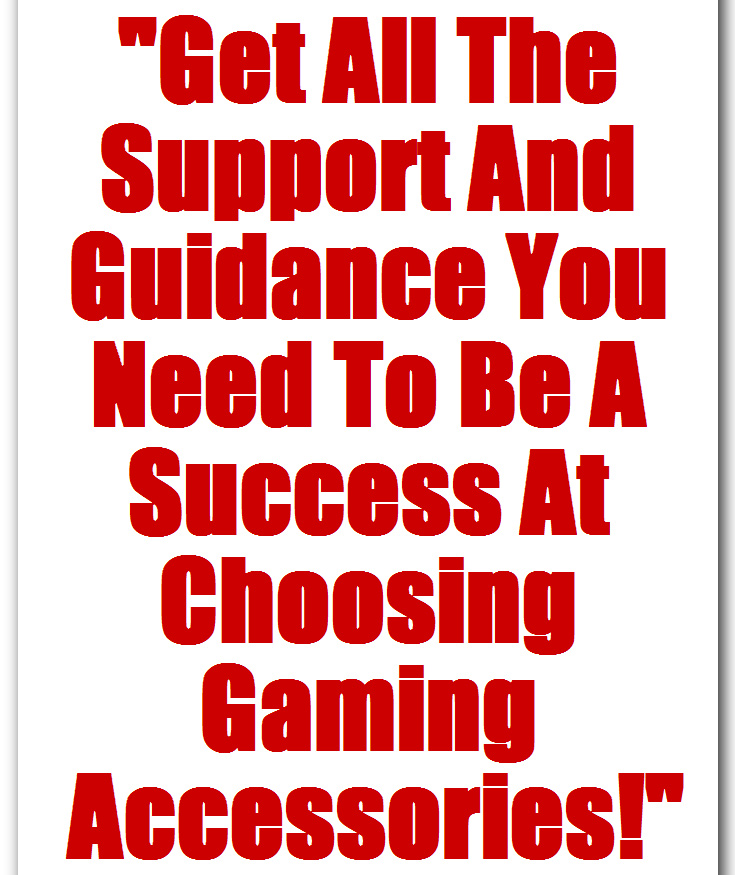 >>> Click Here To View Full Sales Page…
Table of Contents
Foreword
Chapter 1:
Accessory Basics
Chapter 2:
Wii Accessories
Chapter 3:
Playstation Accessories
Chapter 4:
Xbox Accessories
Chapter 5:
Computer Accessories
Chapter 6:
Where to Get Free Accessories
Sample Content Preview
Chapter 2: Wii Accessories
Synopsis
The Nintendo Wii is a very popular video game console. If you do not own one, chances are that you likely know at least one person who does. One of the awesome things about the Nintendo Wii is the fact that it encourages movement and activity. It is not like other video game systems that allow a person to sit and only move their thumbs while playing, That is why many parents began getting this console for their children. Since the Wii is motion controlled it has many numerous accessories. Basically, no matter what type of game you are playing, there is an accessory for it.
Different types of accessories for the Wii have different purposes. Some games will actually require you to have certain accessories in order to be able to play them. If you do not know much about Wii accessories and would like to learn more, continue reading the next chapter as it will go over different types of Wii accessories and their benefits.
Accessories for Nintendo Wii
As states before, there are numerous accessories for the Wii. Most of them are designed to enhance a gamers experience or make the game feel more realistic. There are also Wii accessories to make certain activities more convenient such as typing or surfing the web. The following are some different types of accessories and what their purpose and benefits are:
Exercise Accessories:
The fact that the Wii encourages people to be active is probably one if its best selling points. There are a lot of games for the Wii that are focused on improving the health of the person playing the game. For example, there are many different exercise games for the Wii. These types of games can be entertaining and healthy for the person playing them but you will usually need accessories to be able to play them. These accessories may be a bit expensive but it is well worth the investment. This is especially true if you are someone who is not really in shaoe and play a lot of video games anyways. You might as well better your health while you do what you love, right?
Shooting Accessories:
There is a large amount of people who enjoy games that are centered on warfare and shooting. These games can be quite entertaining on their own, but with certain accessories they can become amazing. Using shooting accessories for the Wii can make a gamer feel like they are actually living the experience. There are different types of wireless guns you can get for the Wii. Some of them even have motors In them that make them vibrate so when you pull the trigger it feels like you have actually fired a weapon. These accessories come in different forms as well. For example, different games will have different weapons, you may play some with a shotgun and you may use a pistol in another. You need to make sure that your accessories will be compatible with your game before purchasing them.
Sports Accessories:
As mentioned before, a large amount of Wii games focus on making a person move so there are a great deal of sports games for the Wii. You will need different accessories when you switch from one sport to the other. There is a Wii accessory for just about any sport you can think of. You can play most of these games without paying for the extra accessories but they will not be as entertaining. Think of how cool it would be being able to fish from your living room while using a rod that makes the entire experience feel real. Other games like tennis and golf can also be made much more entertaining with the use of gaming accessories. There is even a baseball bat you can use when playing certain sports games on the Wii.
There are also accessories for the Wii that are not used for actual game play. The following are a couple examples of these types of accessories:
Style:
Some people like their consoles to be stylish. Wii has several accessories that can accommodate their needs. There are many different cases and covers for controllers that come in different colors and designs. This offers gamers the ability to personalize their Wii's.
Cleaning:
You will need to clean your games from time to time. It is important that you use the correct type of cleaner while cleaning your games. Only use products that are designed to clean games. Many people make the mistake of using things that are not designed to clean games and end up damaging their games, do not be one of these people.
No matter what your needs are interest are, there is sure to be a Wii accessory that will give you exactly what you desire. Remember, gaming accessories are the secret to unlocking the full potential of a video game.
Chapter 3: Playstation Accessories
Synopsis
Playstation also offers a wide array of accessories for their consoles. Most of these accessories are designed to make a gamer's experience more intense and full of excitement and entertainment. There are also Playstation accessories that are meant to make transportation and use of the console more convenient.
Serious gamers know that there is much more to gaming then owning a gaming system. If you want to unlock the full potential of a Playstation, you must purchase certain accessories. Do not be a fool and fall for knock off accessories either. These accessories will often times be over priced and be low quality items.
The following chapter will provide you with some information on Playstation accessories and why they are important for a proper gaming experience.
Accessories for Playstation
There is a massive number of different accessories that are available for Playstations. Each one has a different purpose and a different set of benefits that it can offer. The following are a few examples of the different types of accessories you can get for a Playstation and the benefits of the accessory.
Controllers:
It is important that you find the right controller for your type of game. Certain controllers come with different modes. These modes can alter the way that a controller reacts. For example, you can have a certain mode set up for racing and a different mode set up for first person shooter games. You will likely have the sensitivity much higher on the shooting mode than you would on the racing mode. This allows the player to fine tune their controller for their experience while still offering the convenience of being able to switch to other games and change their controller settings rapidly.
Another thing to look into is whether you want a wired or a wireless controller. Both have their own set of benefits. For example, wireless controllers do not restrict where a person can go with their controller but they constantly need new batteries. On the other hand, wired controllers restrict where you can take the controller but never need batteries.
Transportation:
There may come a time that you will need to transport your Playstation. It is important to make sure that you have the right accessories while moving your Playstation. There are carrying cases that are designed specifically for the use of carrying around Playstations. They are designed with compartments that securely hold your Playstation. They are also designed with special padding that keeps your Playstation from being damaged if it gets bumped by something else during transport. If you are a person who is constantly transporting your Playstation, you should seriously think about getting one of these cases. It is much cheaper to buy a transportation case compared to buying a whole new Playstation.
Playstation Move:
Playstation move is an accessory for Playstation that allows games to be played with motion. This makes the gaming experience feel more realistic and enjoyable, just as with the Wii. These accessories are wireless and should be handled with care. If they are constantly dropped or smacked into things they will not work properly for very long. They can be quite pricey as well so take care of them!
Cameras:
Some people choose to use their Playstation for more than just gaming. For example, some people use Playstation's online network to communicate with family and friends. This experience can be made even more enjoyable by using a camera. This will allow whoever you are speaking with to be able to see you while you talk to them. Some people may live so far away that this is the only type of face to face conversation that is possible for them.
No matter what you are looking for, Playstation has an accessory that will fit your needs. Boost your gaming experience to its full potential and begin collecting the accessories that you need for the best gaming experience possible.
Other Details
- 1 Ebook (PDF), 28 Pages
- 1 Salespage (HTML)
- 1 Ecover (PNG)
- Year Released/Circulated: 2016
- File Size: 521 KB
License Details:
[YES] Can be used for your personal use
[YES] Can be given away
[YES] Can be sold
[YES] Can be packaged with other products
[YES] Can be offered as a bonus with other things you sell
[YES] Can be added to paid or free membership sites
[YES] Can be offered through auction sites
[YES] Can sell with Resale Rights
[YES] Can sell with Master Resale Rights
[NO] Can sell with Private Label Rights
[NO] Ebook can be modified in any way