Salespage Snapshot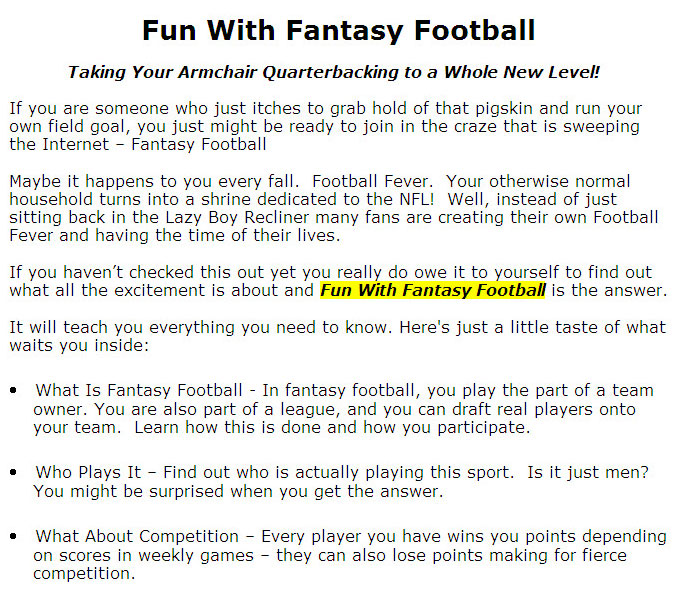 >> Click Here To View Sales Page...
Ebook Table Of Contents
What is Fantasy Football
Who Plays It
How Is it Played
What About Competition
How to Create a League and Find Players
Conducting a Draft
Who is the Winner
What Are Bye Weeks
What Is a Free Agent Pool
How Does a Waiver System Work
Other Ways to change Players
Auctions
Creating a Strategy
What Does it Cost
How Long Is the Season and How to Win Prizes
PLR Ebook Sample Content Preview
What is Fantasy Football?
Football, on its own, is a great way to unwind: with some chips and drinks, a good couch, and a lazy afternoon, you can hog the TV and cheer for your favorite team. Or, if you can afford it, you can buy tickets to the big game, buy your snacks at the stadium, and join the rest of the world as you scream for victory.
There's another option, though, for football fanatics. Thanks to the Internet and the obsession of football fans everywhere, fantasy football is now available for eager beavers to try their hand at managing teams and winning their own games. If you constantly shout at the TV screen for the coach to pick your player of choice and throw someone off the field, here's your chance to actually do your own picking and dumping in the virtual arena.
Getting into Your Fantasies
If you have ever played a fantasy stock market game, you will understand the dynamics of fantasy football. In fantasy stock market games, you play around with real stocks, and base your earnings or losses on how well the stock performs in the market at a given time. In fantasy football, you play the part of a team owner. You are also part of a league, and you can draft real players onto your team, whether from the National Football Leagues (NFL) current roster of players, or from the NCAA.
You get your players via a draft or an online auction and you get your points based on how well your players perform on the real playing field. There are different ways that leagues can be divided: they can be ranked according to points, or teams can play against other teams in a round robin each week. When the fantasy football year ends, points are tallied, and playoff brackets, as well as league rankings, are determined.
Other Details* Sales Page:
Included, HTML, MS Word Doc
* File Format:
MS Word Doc, PDF
* Number of Pages:
57
* Included Graphics:
Ecovers, PSD
* Download File Size:
3,218 KB