Salespage Snapshot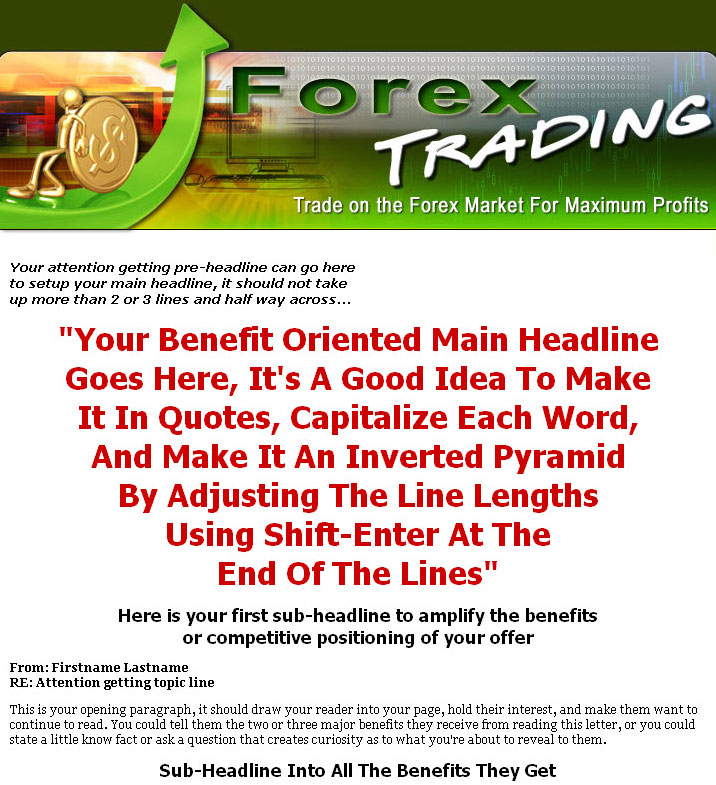 >> Click Here To View Sales Page...
Ebook Table Of Contents
Understanding Forex Trading    3
Which Forex Currencies Should You Trade?    3
Multiple Forex Time Frames Is Best    4
3 Forex Pairs For Beginner Forex Traders    5
Choosing a Forex Trading System    6
Forex Trading Hours    6
Forex Trading In Lots    7
Forex Trading Means No Commission    8
Forex Trading Platform Choices    8
Forex Trading Tools    9
Hiring A Forex Broker    10
How The Forex Market Works    10
Is Forex Trading Too Risky?    11
Making The Most Out Of Forex    12
Managing Your Money In Forex Trading    12
Why Forex Traders Like The Majors    13
The 90 Percent Risk In Forex Trading    14
The Liquidity Of Forex Trading    14
The Pip In Forex    15
The Spot Market In Forex    16
Understanding the Forex Drawdown    16
Trading Forex And The Process    17
Using the Web For Forex Trading Help    18
What Is A Forex Spread?    18
What Time To Trade Forex    19

Sample Content Preview
Understanding Forex Trading
Forex trading is one of the many forms of trading that you can do as an investor. Forex is not for everyone. It is learnable and fully understandable by anyone, though. After educating yourself about Forex, you can then make a better decision about whether or not this is the type of business you should be interested in. Many people find that Forex is right for them, but it really depends on the amount of risk you are willing to take and the amount of research and education you are willing to do.
What Is Forex?
Forex is a term that stands for Foreign Exchange. It is sometimes just FX, too. These terms all describe the process of trading the currencies in the world. Unlike the stock market, in the Forex markets, you do not trade ownership in a business. Rather, you are trading the value of money, based on the ups and downs of the currencies of the market. It sounds interesting because it is.
The Forex market is the largest market in the world. It is larger than any of the stock markets. Each day, more than three trillion United States dollars trade on the Forex market. This outstanding amount of activity can be a good thing, but it can also be quite worrisome, depending on whom you speak with. It is important to know that much of the Forex market trading that occurs is speculative trading. It is not just a market based on people changing money hands based on their needs to have another currency. In fact, only a very small portion of Forex trading is in fact from the government or companies out there who need to trade currency for their needs. Most of the trading does not occur for conversion, but for profit of investors.
Other Details* Sales Page:
Included, HTML
* File Format:
MS Word Doc, PDF
* Number of Pages:
19
* Included Graphics:
Ecovers
* Extras:
eBay Sales Page
* Download File Size:
1,125 KB