Salespage Snapshot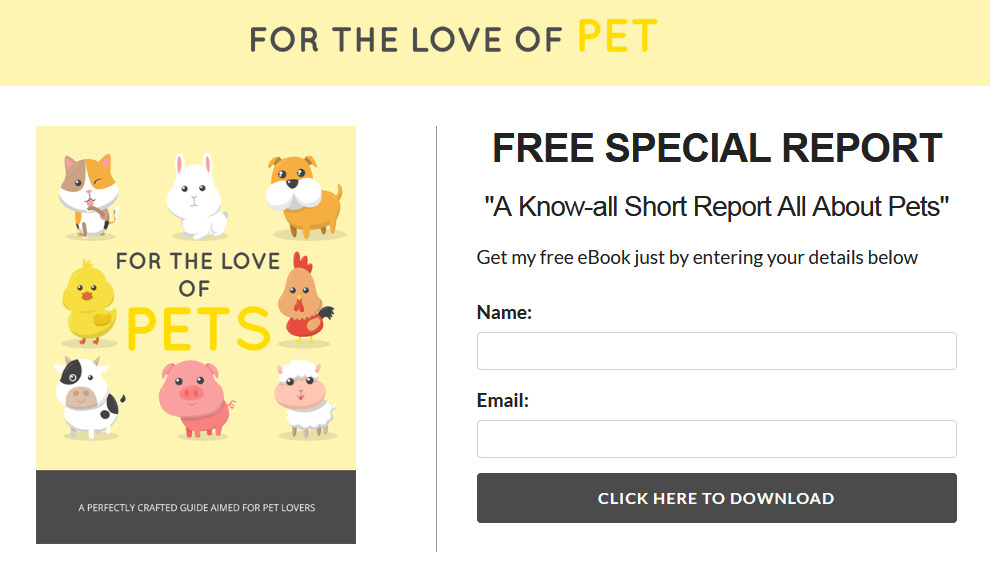 >> Click Here To View Sales Page...
Table of Contents
Introductory . 4
Chapter 1: Getting Your Pet Through An Animal Rescue Group . 6
Chapter 2: Picking The Right Food For Your Pet … 8
Chapter 3: The Advantages Of The Microchip For Your Pets …. 10
Chapter 4: The Importance of Pet Vaccinations .. 12
Chapter 5: Teaching Kids And Pets To Co-Exist Peacefully 14
Chapter 6: Keeping Your Pet Safe In The Warm Weather Months … 16
Chapter 7: Indoors Or Outdoors – What is Best For Your Pet … 18
Sample Content Preview
Chapter 2: Picking The Right Food For Your Pet
Pets are wonderful creatures to share our lives with, and they need just as much care as humans.
All pets need to be fed properly, though we always have the question of what that might be. There are individuals who give their pet's human food, while others strictly give pet food. We will concentrate on dogs, cats, and rabbits for proper feeding.
Rabbits
How many times have you heard that rabbits like their vegetables? This is true. Most rabbits need a steady diet of rabbit food that includes lettuce and carrots. Most of the time we raise our rabbits on pellets, however, this may not be fibrous enough and can cause obesity. A steady diet of hay, vegetables, and pellets will lead to a healthy rabbit.
Dogs
Is it wise to feed your dog human food? Most dogs are related to the wolf family a very carnivorous bunch, which means they need to have meat in their diet. This does not mean human food is the correct food for them. It is best to find a dog food product where the first ingredient is meat. Make sure it is real meat and not some processed substitute.
Feeding your dog human food is a bad idea because it can be too greasy for them and block their arteries. Dogs have very sensitive digestive tracks so they are susceptible to diarrhea and upset stomachs if you change their food. It is best to find a dog food you prefer and that is healthy for them. You also want to keep them on the same food.
Changing food can cause problems. If you feel you need to change food, you should slowly integrate the new food with the old until you have fully replaced the old. This should take two weeks or a little more. Dogs when full grown should be fed once a day at the same time.
Cats
Cats are great hunters if you let them explore the outdoor world. They will often find mice, birds, and other animals to gain protein. Like a dog, your cat needs a consistent diet. You should find a cat food that has the proper amounts of protein. Cats can also have a very sensitive digestive system. Finding the right food may be difficult and take a few tries. If they have a smelly litter box, you will need to change their food.
This is a sure sign they are not receiving a proper diet. When you change their food, you will want to integrate it slowly over two weeks. Cats also need the vitamins from milk, though our processed milk can be too rich for them, they do sell milk for cats in the pet stores. Another idea is occasionally giving them a small piece of cheese to help with their dietary needs, however you should try and find pet food that fits all of their needs.
Grass is also available for indoor cats and may be a needed to get rid of hairballs. Cats eat grass when they have an upset stomach. The grass will allow the cats to rid themselves of the problem and can help them cough up hairballs.
Picking the right food for your pet will often mean not feeding them human food, but checking the ingredients of pet food found in the stores. You want to keep you pet just as healthy as you would want to keep yourself.
Proper nutrition for any animal is important to having your pet around for many years. Some types of pets are more susceptible to disease, like dogs with heart problems, but they can be monitored through proper care.
Chapter 3: The Advantages Of The Microchip For Your Pets
Every pet owner wants to keep his or her beloved cat or dog as safe as possible. You do everything you can do make sure your pet is well cared for and healthy. If you have an indoor pet, you may not think that keeping identification tags is important, but it is. What if your fuzzy feline accidentally slips out of the door at night and you search to no avail? What do you do, especially if your dog or cat has no identification? Placing a collar with an identification tag is important, but collars sometimes become lost.
When you consider the fact that many animal shelters only keep dogs and cats for seven days, you want to make sure that your pet is properly identified. That is where the microchip comes in handy. The microchip is the newest way to identify lost pets and helps ensure that your lost pooch or feline finds his or her way back home. The technology of the microchip has become so popular that most animal clinics and animal shelters have the ability to scan a cat or dog for microchip identification. If you opt for the microchip, you should know that it is a painless procedure for your pet.
Your vet will insert a tiny microchip about the size of a grain of rice directly under your pet's skin using a hypodermic needle. The microchip is usually placed behind the neck. The microchip contains special digital number that has been entered on a national microchip database. That information will give the person your contact information.
When you pet is lost, a veterinarian or animal shelter can use a special scanner to retrieve the microchip information. It is that easy.
Pet owners love the idea of the microchip because it is permanent. You cannot remove the microchip and unlike a collar or tags, it cannot be lost or destroyed. This is one of the best features of pet microchip, especially for cats. If you place a collar on a cat, more than likely it will be a breakaway collar. If your cat climbs a tree, or is caught on something, the collar breaks
off. If your cat does not have a microchip, it will be very difficult to identify your cat if it is found.
There are a few important things to remember about pet microchips. First, if your pet gets lost, you should never just sit back and wait for a call, even if your pet has a microchip. Not all veterinarians and shelters are equipped with this technology.
You need to take the time to call around and place "lost pet" flyers around your neighborhood. In addition, you need to make sure you take the time to update your contact information should you move. It does little to no good to have your pet implanted with the microchip if the information on the national database is incorrect. Your veterinarian can give you information on how to update this information.
It is important to get your pet implanted with the microchip at a young age. Puppies can have the microchip at age six weeks. Even small breeds of dogs can handle this procedure. Kittens can also undergo this procedure at six weeks.
The insertion of the microchip is not painful and feels like a regular vaccination shot. You can have your pet implanted with the microchip at your veterinarian office and can expect to pay between $30 and $50 for this service.
Other Details
- 1 Ebook (PDF), 19 Pages
- 1 Salespage (HTML)
- 3 Ecovers (JPG, PNG)
- Year Released/Circulated: 2017
- File Size: 1,499 KB
License Details:
[YES] Can be sold
[YES] Can be used for personal use
[YES] Can be packaged with other products
[YES] Can modify/change the sales letter
[YES] Can be added into paid membership websites
[YES] Can put your name on the sales letter
[YES] Can be offered as a bonus
[YES] Can be used to build a list
[YES] Can print/publish offline
[YES] Can convey and sell Personal Use Rights
[YES] Can convey and sell Resale Rights
[YES] Can convey and sell Master Resale Rights
[NO] Can modify/change the main product
[NO] Can modify/change the graphics and ecover
[NO] Can be given away for free
[NO] Can be added to free membership websites
[NO] Can convey and sell Private Label Rights