Salespage Snapshot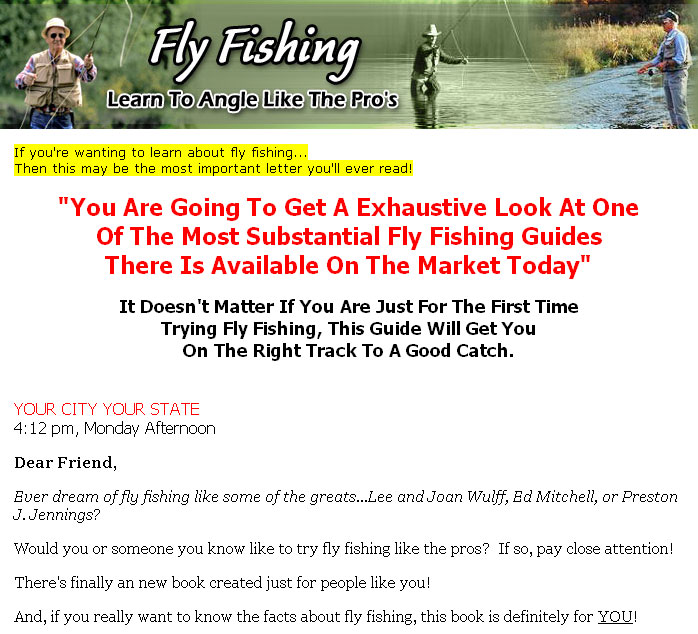 >> Click Here To View Sales Page...
Ebook Table Of Contents
Introduction                            3
Terminology                            4
Getting the Gear                        13
Vests                            13
Waders                            14
Rods                                17
Reels                            19
Lines                            21
Putting Together Your Rod & Reel            22
Knots                                24
Casting Basics                            32
Overhead                            34
Roll Cast                            35
Hauling                            36
Reach                            37
Side Arm                            38
False                                39
Spey                                39
General Tips                        40
D-I-Y Flies                            41
Where the Fish Are                        50
Destinations                            52
Fly Fishing Ethics                        58
Conclusion                            60

PLR Ebook Sample Content Preview
INTRODUCTION
It's a beautiful day in early spring.  You are standing beside a beautiful river flowing through the mountains of Colorado.  In your hands you hold your gear.  You are brimming with excitement as you imagine what you will catch today.  You are getting ready to fly fish and you can't wait to get started!
People have been fly fishing for years.  In its beginnings, people would use flies to fish with for food, but then it turned into a sport and now anglers fly fish for both food and sport.
Fly fishing is a traditional angling method that uses artificial flies for lures that are made of materials like fur and feathers.  The flies are fastened onto a hook and are meant to imitate a fish's natural food source.  The rods are light, but the lines are heavy providing the weight and momentum for casting.
Fly fishermen use a series of casting moves meant to imitate the bug on water.  The techniques are wide and varied.  When casting much of the rod's movement comes from the angler's wrist.
Fly fishing as a sport is something many people find amazingly enjoyable.  Most fly fishing is done in certain places like Colorado, Montana, and Wisconsin.  The fish most often caught are trout and salmon, although anglers can catch a variety of fish with their flies.
In this book, we'll explore a variety of topics with regards to fly fishing.  Some of the information will be geared towards beginning fishermen, but experienced fly fishers can benefit from this information as well.  A refresher course is always good in any sport!
We'll look at the gear you'll need, ways to tie flies, and the best places to find an excellent fishing spot.  You'll learn about places to buy your gear from and what to look for when you are buying that gear.
This author is an equal opportunity person and no disrespect is meant to women who like to fly fish when I use the term fisherman.  Because most of the time we say the word "fisherman", don't fret gals, I'm talking about you too!
New and experienced anglers can both benefit from this great book.  So, let's explore the joys of fly fishing!
TERMINOLOGY
Just as with any sport, there are some terms that are synonymous with the sport itself.  While most people think of flies as pesky insects, fly fishermen know that flies are something else altogether.  Flies to a fisherman are what is most important to make their hobby enjoyable and challenging.
To a beginner, fly fishing terminology might be confusing, so in this section, we'll present you with some new terms and what those terms mean so that when we use them later in this book, you'll know what we're talking about.
Back cast – The portion of any fly cast that extends beyond the person doing the casting.
Bass Bug – Name used to describe a large number of surface bass flies usually tied with hollow hair (such as deer hair).
Bass Bug Taper – A special weight forward floating fly line with a short front taper so that the generally wind-resistant bass bugs can turn over
Blood Knot – The most widely used knot for tying two pieces of monofilament with similar diameters together; the best knot for construction of a knotted tapered leader; also called the barrel knot.
Breaking Strength – Amount of effort required to break a single strand of unknotted monofilament or braided line, usually stated in pounds (example: 6 lb. test).
Caddis – One of the three most important aquatic insects imitated by fly fishermen; found world wide in all freshwater habitats; adult resembles a moth when in flight; at rest the wings are folded in a tent shape down the back; the most important aquatic state of the caddis is the pupa, which is its emerging stage
Casting Arc – The path that the fly rod follows during a complete cast, usually related to the face of a clock…
Other Details
* 60+ Page PLR Ebook
* Professionally Written Salesletter
* 50 PLR Articles
* 5 Part Autoresponder Email Course
* 1 Complete Adsense Website
* 5 Part Press Release
* Professionally Designed Graphics Set
* Highly Targeted Keyword List
* Pre Written PPC Ads
* PDF and MS Word Source File For eBook
* PSD Files For Graphics