Salespage Snapshot: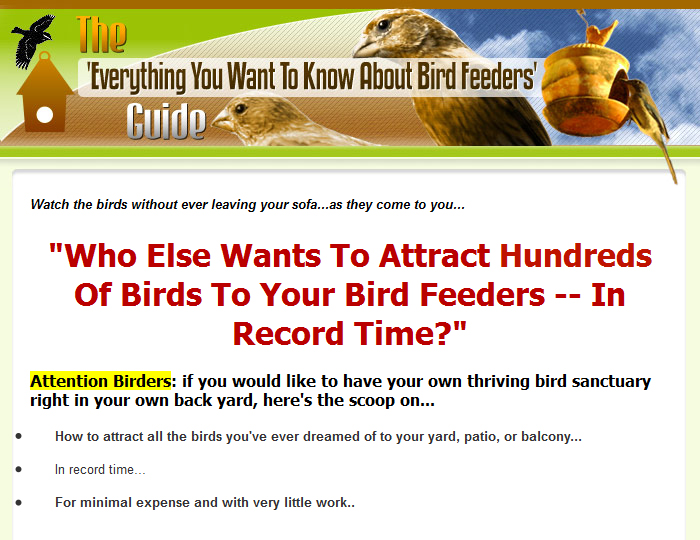 >>> Click Here To View Full Sales Page…
Table of Contents
INTRODUCTION 7
What will you get out of this book?8
BIRD FEEDERS – WHAT THEY ARE .9
THE REASONING BEHIND BIRD FEEDERS .11
HOW TO CHOOSE THE RIGHT BIRD FEEDER 13
What types of birds do you want to attract to your garden 13
How durable is your bird feeder .14
Is maintenance easy .15
How much seed will the feeder hold .15
Do you live in the colder climes or the more warmer ones .16
Are you on the migrating paths .16
Do you want to squirrel and raccoon proof your feeder 17
Money: how much are you willing to part with 17
WHERE CAN YOU BUY YOUR BIRD FEEDER? .18
The Internet 18
The Pet Store .18
A Specialty Store 18
A Garden Shop 19
Department Stores: Garden Section 19
The Hardware Shop 19
HOW LONG SHOULD YOUR BIRD FEEDER LAST .20
WHY HAVE A BIRD FEEDER 22
MAINTENANCE 23
For Normal Bird Feeders 23
For Hummingbird Feeders or Oriole Feeders .23
The Area around your Bird Feeder .24
Water Troughs and Bird Baths 24
SEASONAL OR ANNUAL 25
TYPES OF DIFFERENT FEEDERS .26
Platform feeder .26
Hopper 27
Seed Tube feeder28
Thistle or Nyjer feeder.29
Nectar Tube feeder .30
Hummingbird feeder .31
Oriole feeder .32
Suet feeder .33
Window bird feeder 34
Ground feeder .36
Squirrel proof feeders .38
Counterbalance .38
Domed Cover 39
Extended Feeding Port 39
Electric Rotator 39
Caged Bird Feeder .39
Cover for your Pole 39
Additionally… .39
Metal feeders 40
Wooden feeders 40
Copper feeders 40
Which feeders for which birds .40
Hopper Feeder 40
Platform Feeder 41
Seed Tube Feeder 41
Seed Tube Feeder with platform 41
Nectar Tube Feeder .41
Suet Feeder 41
Ground Feeder 41
Nyjer Feeder .41
WHERE TO PLACE YOUR BIRD FEEDER .42
WHAT TO USE AS BIRD FOOD .43
Your basic bird food menus 43
Bird seed mixes .43
Seeds .44
Suet 44
Fruits 44
Nectar .45
Mealworms .45
Grit 46
Water .46
What not to feed birds .47
Chocolates 47
Old seeds or mixes 47
Desiccated coconut 47
Seeds with pesticides 47
Nectar with colored dyes .47
Which seeds for which birds .48
Sunflower .48
Black Oil Sunflower Seeds .48
Safflower .48
Corn 48
Millet .49
Nyjer 49
Peanuts .49
Milo .49
Seeds 49
Sunflower .50
Black Oil Sunflower 50
Safflower .51
Corn .51
Millet 51
Proso Millet 52
Nyjer 52
Peanuts .53
Milo .54
WATER 55
GET YOUR KIDS INVOLVED 57
Building your own birdfeeder .58
Platform Feeders .58
Finch Feeder .58
Sunflower Seed Feeder .58
Pine Cone Suet Feeder 59
Easy Suet Feeder .59
Oriole Orange Feeder .59
Oriole Nectar Feeder 59
Milk Carton Feeder 59
Coconut Feeder .60
Easy Orange Feeder .60
Hummingbird Feeder .60
Coffee Can Feeder .60
Suet Log Feeder 61
Simple Ground Feeder 61
Bird feed recipes 61
Bread Suet recipe 61
Suet Balls .62
Bird Cake .62
Hummingbird Nectar 62
Rice Recipe .62
Fruit Cocktail 62
Fruit Suet .63
Rendered Fat Cakes .63
Lard and Peanut Butter Suet .63
Oriole Ambrosia 63
Bird Feeder Shish Kebabs 64
Identifying birds .64
Binoculars 65
ATTRACTING BIRDS .66
Check List .66
What You Can Do .66
Food .66
Water .67
Plant Cover .67
Housing Accommodation .68
Cats 68
Most common garden birds 68
DISCOURAGING LARGE BIRDS 70
BAFFLES 72
So, what can you do? 73
BIRD FEEDING CONTROVERSIES 75
PRECAUTIONS .77
Bird diseases 77
What to do to prevent bird diseases 77
Keep alternate or extra feeding stations 78
Signs to look for, warning you of possible bird disease .78
Known common bird ailments 78
Window collisions 79
How to prevent collisions 80
What to do if you find a stunned bird .81
Cats .81
BIRD FLU 84
MAKING YOUR GARDEN BIRD FRIENDLY 85
Food 86
Cover .87
Nesting sites 87
Bird Houses 87
Dead trees /Logs .88
Bird Baths .88
Trees and other shrubs 88
A few trees that birds favor .88
A few shrub varieties for your birds 89
Flowering Nectar plants 89
A SMALL NOTE 90
Sample Content Preview
Bird Feeders – What they are
If you have a rough idea of what a bird feeder is (besides my niece that is), then you're probably on the right track.A bird feeder is simply something upon which you can place food for birds to enjoy.The variety in bird feeding comes from the different types of bird feeders that are available. They can range from simple do-it-yourself bird feeding platforms to state of the art bird feeders with devices and accessories that outshine the birds themselves.
For detailed descriptions on some of the different types of feeders available, you can skip ahead to the section entitled "Types of Different Bird Feeders". For a description on how to build your own bird feeder go to the section called "Building your own bird feeder".
Basically though if you've just started this bird feeding lark (excuse the pun) you can start out in a simple manner and progress from there. Of course you always have the option of plunging into the deep end of the pool and that's alright as well, every journey starts with the first step and it's really up to you what your first step is going to be. For myself I started at quite an early age at my grandparents' farm where I built my first bird feeder by myself – a cleaned out old paint-can lid nailed firmly to a convenient fence post!
At that age, the highlight for me was to actually go out and put the food on the plate and watch for the cardinals to come and eat. If I was really lucky I got to see a woodpecker or two along with a few juncos and chickadees. It was from this rather simple bird feeder that I graduated to a slightly more sophisticated one in my parents' backyard.This time I had a piece of wood for a platform and a pole on which to place it.
Although this was still quite rudimentary it did the job and I'm convinced that this was the starting point for my addiction to bird watching and all things birds. From there I progressed to begging my parents for a pair of binoculars and saving up enough pocket money to buy the scraps and things necessary to build myself a "better" bird feeder.
Naturally with such enthusiasm there was always more than one bird feeder around and at times our backyard was inundated more by my dubious building efforts than by actual birds. I never gave up however and through many a trial and error (along with quite a few trips to my local library to gather more information) I found out what worked best. For instance I found that hummingbirds needed nectar and appropriate feeders, that woodpeckers liked peanuts and suet, and that northern cardinals like feeding close to the ground. Most other birds, I found out, liked the platform method as did any and every squirrel that it was my luck to confront.
I also found out that if I didn't place my feeders in the right place, the neighbor's cat, along with the squirrels, would have easy access to them. With the squirrels this was more of a food problem where they would generally hoard away all my bird seed.And although the same applied to the cat in that it was a food problem, this problem involved a diminishing of the bird population as opposed to a diminishing of my supply of bird seed! So I learnt quickly and speedily and went on to become a firm birder which is where we find ourselves now as I try to explain to you exactly what a bird feeder is.
Other Details
- 30 Articles (TXT)
- 2 Ebook (PDF, RTF), 90 Pages
- 7 Part Autoresponder Email Messages (TXT)
- 1 Salespage (HTML, RTF)
- 3 Ecovers (JPG)
- File Size: 12,616 KB