Salespage Snapshot: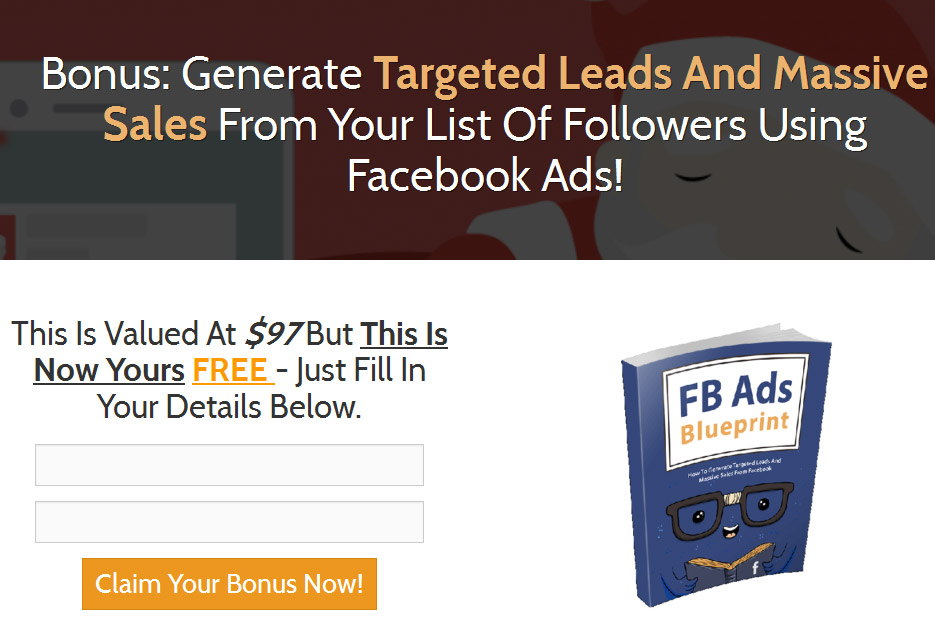 >>> Click Here To View Full Sales Page…
Table of Contents
Introduction …….. 5
Chapter 1: Building Your Business With FACEBOOK 6
Chapter 2: Starting Up Your FACEBOOK Ads 14
Chapter 3: Getting Into Business 16
Chapter 4: FACEBOOK Ads, Good, Bad, and Ugly ….. 29
Chapter 5: FACEBOOK Ads Tips and Strategies …….. 34
Wrapping Up …. 44
Sample Content Preview
Chapter 2: Starting Up Your FACEBOOK Ads
FACEBOOK Social Ads work virally, but rather than being spread in a random fashion, they are placed on FACEBOOK members' pages, based on their profile data – which can make them a powerful sales aid for marketers – especially in this current decade, where mobile devices are now replacing personal computers at the rate of 4 – 1.
However, like any data system spread via the net, there are rules, restrictions and random factors that can greatly inhibit or enhance their success. In this Special Report, we will explore the ins – and outs – of FACEBOOK Social Ads.
What this Report is Not…
It is not a complete guide to FACEBOOK Ad Creation. Instead, it focuses more on the nuances you will not pick up from FACEBOOK's easy "Advertising Creation" walk-through… and drawbacks to watch out for.
How FACEBOOK Ads Work
Adrian enjoys and loves fishing, and publicly says so in his FACEBOOK profile.
A successful Fishing Club wants to promote its weekend fishing site, so it purchases a FACEBOOK Ads.
FACEBOOK uses Insight, a powerful demographics tool, to place the Ad via a feed on Adrian's profile, after extracting the information, is passionate about all things fisherman and lives within a close geographical radius of the Fishing Club, so is a likely candidate to view the ads Since it's his passion, Adrian always pays attention whenever there's a picture of a fish in an ad – and he also notices the Fishing Club provides accommodation for those needs a stay in so he clicks the "Like This" button and views the Ads. FACEBOOK then finds more ads using this specialized search data – voluntarily provided by Adrian – to place other fishing activities in his Ad feed. (It also adds special needs-related ads, since this was one of the keywords the ad used.)
But there's more: Adrian has 384 friends on FACEBOOK. 10 of these friends are also connected to his via fishing activities. They read that Adrian "likes" our Fishing Club and has become its FACEBOOK Fan. Trusting his judgment and recommendation, they click on the link… You can see instantly by this example that the combination of becoming a fan and having ads served by profile-targeted feed considerably increases your chances, as an Advertiser, of having your ads read by the right people.
Furthermore, assuming that a percentage of Adrian's 10 fishing friends do read the geo- targeted1 Ad, 8 of them opted to stay in at the accommodation but all of them select "Like". Even with this hypothetical example, you can instantly see the potential for our well-marketed fishing club to spread virally… all within a highly focused group more likely to buy. Before you know it, our fishing club has a real following.
Chapter 3: Getting Into Business
The FACEBOOK Platform
FACEBOOK's platform allows almost anyone to develop widgets and applications, which are placed in the Applications directory, where anyone can grab an App and "place" it on their Profile page. It also gives "click and point" ability for people to include or exclude things on their profile (including Ads they like – or don't like!)
FACEBOOK users report liking the feel of control they have over Ads that appear in their right-hand sidebar. If a particular subject or Ad annoys them, they can choose not receive similar ones.
They can "Like" your Ad (leading to more – and to its repetition)… or "Report" it, if they deem it misleading or inappropriate (or even if they're just in a cranky mood that day!) Remembering this should help you target your audience even more carefully.
Keep 3 things always in mind, however, when you prepare to create your Ads…
Social relevance
Social enjoyment
Social interest
FACEBOOK also allows you to announce and promote events, create a Group Page or create a company, business or personal Fan Page.
You can link your FACEBOOK Ads very easily to any of the above – and therein covers one of FACEBOOK Ads' biggest advantages!
And now let's have a quick look at the process…
FACEBOOK Ad Creation – The Process
The actual ad creation itself is an incredibly simple, 3-step process. FACEBOOK virtually walks you through it every step of the way, and even a beginner can quickly get the hang of it: However, it always pays to know how FACEBOOK ads work in the real world, as well as familiarizing yourself with all the factors that affect FACEBOOK Advertising success or failure, so you can plan your Advertising campaign wisely, well in advance.
The basic process runs like this: You either visit FAEBOOK Advertising directly – or click on the "Create an Ad" link that will appear regularly in your FACEBOOK page right-hand sidebar (along with all the other Ads targeted to your preference that you usually see).
Are They Free?
No. But FACEBOOK Social Ads are a less expensive option than Google AdWords – and if you want to reach that segment of your potential niche market who operates solely on mobiles, or who spend all their days on FACEBOOK, they are essential. (Don't forget that FACEBOOK Mobile is going to play a huge part in displaying your ads!) You can choose either pay-per-click (PPC) or pay-per-impression (PPM). You are charged a pre-arranged amount for your PPC ad every time someone clicks on it.
With PPM, you are charged per impression (an `impression' being the number of times your ad appears).
You pay lump sums in advance by purchasing "credits". Your clicks or impressions are then deducted from these credits. (You can purchase credits in as small an increment as $20.) Your ad will run as long as you still have credits remaining. You can top up your credits to keep it running, or let it run out and edit/tweak your Ad further.
There are no fixed costs for Ads, but FACEBOOK actually helps you determine what a good rate to set would be, based on criteria you enter in their targeting formula. (You can also set your Ad to end at a specific point… or run continuously.)
How Do You Track Your FACEBOOK Social Ads?
Without the ability to track an Ad, its effectiveness drops dramatically.
Fortunately, FACEBOOK has a platform named FACEBOOK Insights, which allows you to view the number of clicks and impressions your Ad receives in real time.
How Should I Target my FACEBOOK Ads?
There's no cut-and-dried answer to this, except to make sure your keywords are actually suited for the way FACEBOOK operates… and the way it dispenses ads (based on keywords in user profiles). Start with targeting by country – other options will be presented to you, based on the country you select (and you can actually select up to 25, though this will preclude you from being specific as to city). You always have to keep in mind that this is a social network: Find Groups or Fan Pages similar to your own interests, and see what keywords they seem to be using… But remember, above all, FACEBOOK for its users is all about easy entertainment – not concentrated searches.
Other Details
- 1 Ebook (PDF), 44 Pages
- 12 Videos (AVI, MP4)
- 1 Salespage (HTML)
- 6 Ecovers (PNG)
- 9 Promotional Ad Materials (Emails, Banners)
- Affiliate Program, Legal, OP2.0
- Year Released/Circulated: 2017
- File Size: 139,054 KB
License Details:
[YES] Can sell and keep 100% of the sales
[YES] Can be bundled into another paid package and sell at a higher price than $7
[YES] Can be used as a bonus to another product you are selling for minimum $7
[YES] Can be sold in a minimum $7 Dime sale event
[YES] Can be added into a minimum $7/month PAID membership site
[YES] Can pass on the Master Resell Rights privilege to your customers
[NO] Can be given away for free
[NO] Contents of the product can be edited, modified or altered