Salespage Snapshot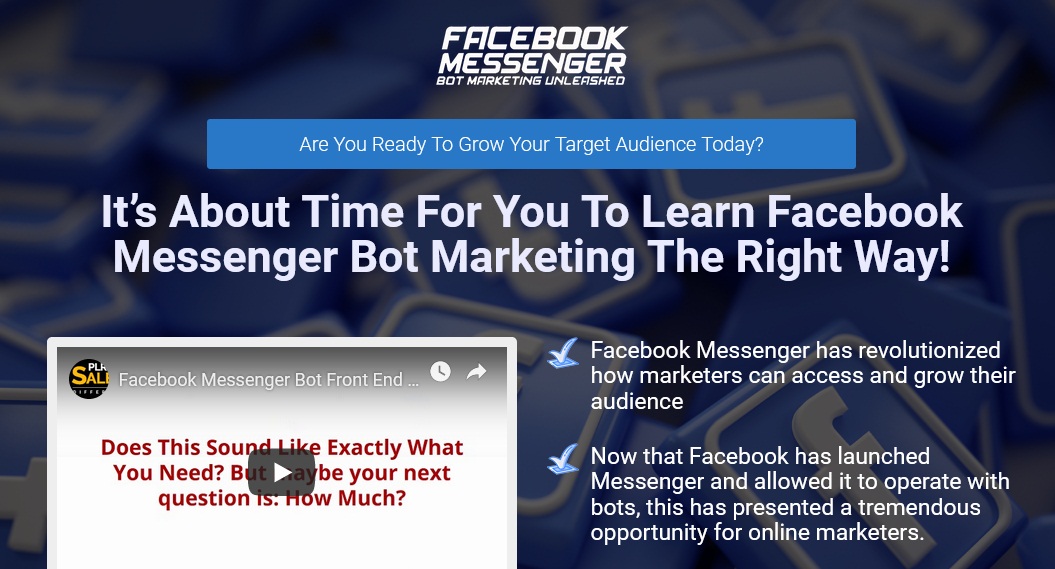 >> Click Here To View Sales Page...
Sample Content Preview
More Direct Inbound
Event-specific
All these factors add to increased value/qualification of prospect and increases chance of conversion tremendously
All these factors also increases chances of BRAND EQUITY building quite a bit.
A more in-depth look at FB messenger bots
Don't let the word "bot" throw you off. I can understand why people have all sorts of misgivings regarding this word. After all, when we hear of this word, we instantly think of unpleasant things. We think about spyware being sent by zombie computers all over the world and people's computers being hijacked by malicious software.
We also think about hackers installing bot software on sensitive computers to perpetrate crimes or denials of service attacks. Also, when we think about bots, we think about malicious and seemingly autonomous pieces of code that create all sorts of havoc.
Finally, people looking for a date online are very familiar with bots and they don't have a very favorable view of them. In dating apps like Tinder and Grindr are often susceptible to fake dating profiles. When people try to connect with seemingly attractive users, they get lead on a wild goose chase thanks to some sort of automated script.
After they've wasted quite a bit of time "talking" to these accounts do they realize that they're actually talking to a bot. The bot simply just reacts to whatever keywords they type in with some pre-canned script or dialogue.
The key is to get the other person to continue talking until they've "softened up" to want to click a link. That link can go to an online strip show or a paid dating service. In other words, dating bots are just simply fancy schemes in spamming people.
As you can well imagine, given all these descriptions, a lot of online consumers don't exactly have a very favorable view of automated communication software aka "bots". But the good news is that bots aren't all bad. Facebook Messenger bots are proof of this.
Facebook Messenger bots take advantage of the Facebook Messenger platform automation features Facebook made quite a stir when it announced that it has re-designed its messenger service. You can install it separately or you can install it as part of your Facebook app on your mobile device or computer.
Whatever your installation is, Facebook Messenger is designed in such a way that it can be automated. By using scripts, you can program your Facebook Messenger app to send pre-determined text to people contacting it. It's like calling customer service number and being asked to press different buttons depending on the nature of your inquiry.
But instead of voice prompts, you do this with keyword or phrase "prompts". For example, if you run an online shoe store and people are interested in Nike Air shoes with certain attributes, they can type in the brand name and the model or any other identifying information and then you can set up Facebook Messenger bot to give your perspective customer key information like availability, price and variations that may be in stock.
Facebook Messenger bot common features
There are many different types of Facebook Messenger bots currently in existence, but regardless of their seeming differences, they do have common features.
• Purely inbound
Messenger bots will only send you a message if you message them first. If somebody goes to your Facebook page and clicks on the messenger icon because they're interested in your online catalogue or your service description, they can click the messenger button and leave a message.
In other words, they initiate the relationship. You don't use your bot to message people who have no prior relationship with you. It's all inbound, not outbound.
• Trigger specific
Since Facebook Messenger bots are inbound, they filter inquiries based on certain key phrases. In many cases, Facebook page operators would give a short menu of trigger words to potential customers engaging with their Facebook Messenger bot.
For example, to use the online shoe store scenario, I can put on my Facebook page "contact us today. Type "availability" or type "shoe type/brand" to get more information." Basically, I'm giving a "cheat sheet" to prospective buyers on how to use my Facebook Messenger bot.
When they type in that information, they'd get information back. If they type the wrong information and it doesn't prompt the right feedback, I can put a generic "catch all message" that notifies them that I read all engagements and once regular business hours resume, I will get in touch with them through Facebook Messenger.
• Facebook Messenger is rule driven
Another great thing about Facebook Messenger bots is that you can automate them based on rules. So, depending on how the customer responds to the information you send them, which in of itself is a response to their initial inquiry, you can create a decision tree that sends different messages depending on the prompt.
This is not much different from calling a call center in India or the Philippines. When you call a call center, you are routed by an initial screening system and depending on your question or inquiry, you are sent to other specialists.
This is especially true if you are looking to resolve credit card issues, billing statements or financial transactions. There is some sort of decision tree involved and you can use a similar approach with your Facebook Messenger bot.
Facebook Messenger bot limitations
As awesome as the common features of most Facebook Messenger bots may be, bots do have quite a number of limitations. If you're excited about using this Facebook messaging technology to expand your business, you might end up overextending yourself or you might assume an overly optimistic assumptions about current bot technology.
It's a good idea to be as realistic as possible because as amazing as chat bots are, they do have serious limitations.
Other Details
- 20 Articles (TXT, DOC)
- 2 Ebooks (PDF, DOC), 33 Pages
- 7 Graphics (JPG, PNG)
- 1 Salespage (HTML)
- 10 Ecovers (JPG)
- 2 Promotional Ad Materials (Emails, Banners)
- Year Released/Circulated: 2019
- File Size: 217,282 KB
License Details:
[YES] Can be sold
[YES] Can be used for personal use
[YES] Can be packaged with other products
[YES] Can modify/change the sales letter
[YES] Can be added into paid membership websites
[YES] Can put your name on the sales letter
[YES] Can be offered as a bonus
[YES] Can be used to build a list
[YES] Can print/publish offline
[YES] Can convey and sell Personal Use Rights
[YES] Can convey and sell Resale Rights
[YES] Can convey and sell Master Resale Rights
[NO] Can modify/change the main product
[NO] Can modify/change the graphics and ecover
[NO] Can be given away for free
[NO] Can be added to free membership websites
[NO] Can convey and sell Private Label Rights