Salespage Snapshot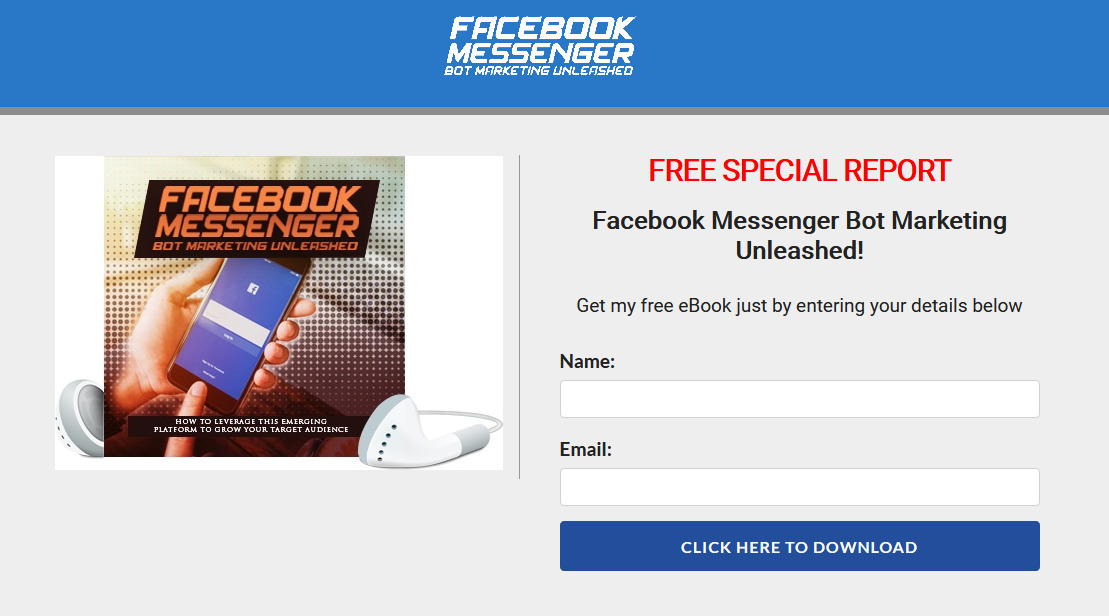 >> Click Here To View Sales Page...
Sample Content Preview
Once their Facebook Messenger app opens, and they respond to your initial message, you can then filter them through different logic trees so as to give them the message that they're looking for, at precisely the time that they are more likely to act on it.
Use the customer chat plug-in on your website for a direct one-to-one connection
Let's face it. You can always direct people to go to your knowledge base. The problem is that is very dull, lifeless and also mechanical. It's as if you're telling them to buzz off. As you probably already know, that is not a good idea when it comes to sales and marketing.
You want people to feel that your brand is alive. You want people to feel that your brand truly cares about their needs. You're looking for a one-to-one human interaction based around their problems. Unfortunately, it is very hard to get that message across if you just direct all inquiries to either your knowledge base, to your general blog link, or to a contact page that says that you are unavailable at certain times.
You leave your prospective customers hanging. When you tell them, we are available 24 hours, just click on this link for automated chat interaction, people start looking at your brand in warm terms. You become more human if you communicate loud and clear that you truly care about them and their concerns.
This works wonders as far as gaining competitive advantage goes. Please understand that for the most part, your customers are probably telling your prospects to just read a knowledge base or to just read a blog post that puts them at a competitiveness of damage, and it makes your brand look good.
Use your direct messenger link on paid ads for instant, automated Messenger chat sessions. One of the most powerful ways to acquire new customers on Facebook, is to link your paid Facebook ad to your automated Messenger chat session. This means that when people respond to your ad, they probably would have a very narrow set of questions.
You then set up a wide range of different answers to answer that fairly narrow range of questions. This way, you are marketing like you're shooting in a barrel; you know what to expect. It's not like people clicking on that link will have a very wide range of all inquiries.
By limiting the focus of your ad, and framing the ensuing discussion in a fairly narrow way, you maximize the chances of that chat session leading to a positive outcome. Maybe you can get people to download a white paper. Maybe you can get people to sign up for your mailing list. Perhaps you can get them to convert on an actual low-dollar order page.
Whatever your short-term objectives are, you can set the terms of engagement, and direction of the commercial conversation by simply showing the right ad and tying it with the right logic tree as far as your Facebook Messenger chatbot programming goes.
Promote your chatbot direct address on your total presence on Facebook
What do I mean by your total presence on Facebook? Believe it or not, if you do anything on Facebook, it is a form of marketing. Seriously, even if you are on a Facebook page, and you're leaving a comment, that's marketing. When people respond to you and you engage in a discussion, that is a marketing opportunity.
Everything is about marketing, and believe it or not, it does have an impact on your brand. If you tell people to buzz off, if you are unresponsive, if you're rude or disrespectful in any way, your brand will suffer. This is why it's a good idea to always tie whatever brand presence you have on Facebook with your chatbot link.
It shouldn't take too many clicks to get to your chatbot link. In fact, whether you are commenting on blog posts that use the Facebook comments plug-in, or you are commenting in specific areas on Facebook pages, or you are engaging with people in groups, call them to action. By constantly saying, "If you want to get a hold of me, click on my profile," You are calling people to action.
Once they click on your profile, your chatbot link should be front and center, or at least should be easily noticeable. Once you get people to click on that link, you can then engage with people on a one-to-one basis. At least this is the impression they get.
This makes your brand come alive. You're not just another selection out there. You're not just another face in the crowd. Instead, you have set in motion a series of responsive engagements that make them feel that they matter. Your chatbot makes them feel that they are important enough to you.
They might not necessarily buy from that engagement, but that's besides the point. If your brand makes somebody feel good, and their interactions with other brands are old and all too mechanical, who do you think they'll come back to? Who do you think they will try to refer to their friends and family members?
This is a no-brainer. So do yourself a big favor and make your total brand presence on Facebook revolve around your automated Facebook chatbot.
Use your chat bot address on all your non-Facebook marketing campaigns
Whether you're marketing on forms, sending out guest posts, sending out press releases, or you're doing any kind of alternative content marketing and outreach, make it easy for people to find your Facebook Messenger chatbot adress.
People have all sorts of concerns. Just as they can find your brand in many different parts of the internet. There has to be some sort of centralizing reception point, or centralized contact point for your brand. This is where your chatbot address comes in. As the old saying goes, "All roads lead to Rome," have the same mindset when it comes to your non-Facebook marketing campaigns.
Other Details
- 1 Ebook (PDF, DOC), 7 Pages
- 1 Audio (MP3)
- 1 Graphic (PNG)
- 1 Squeeze Page (HTML)
- Year Released/Circulated: 2020
- File Size: 39,273 KB
License Details:
You're granted master resell rights, resell rights or to resell with personal use rights.
You may add this product to your PAID membership site
You may giveaway the product as a bonus when people buy through your affiliate link
You may edit the included opt-in / squeeze / landing page
You may giveaway the eBook for Lead Generation purpose
No, you may NOT edit the contents of the eBook
No, this product does NOT include private label rights. You are granted Master Resell Rights only