Salespage Snapshot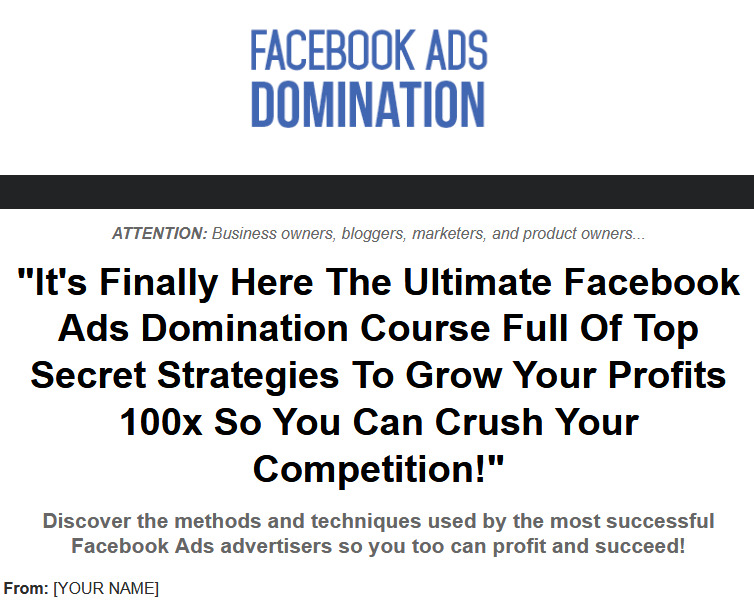 >> Click Here To View Sales Page...
Table of Contents
Chapter 1: How To Get Started With Facebook Ads . 6
What Exactly Are Facebook Ads? . 6
Why Should You Advertise On Facebook Ads? .. 7
How To Get Started With Facebook Ads 10
Chapter 2: Getting To Know The Facebook Ads Manager . 16
What Is The Facebook Ads Manager? . 16
How To Access The Facebook Ads Manager 17
How To Create An Advert On The Facebook Ads Manager 19
A Quick Tour Of All Tools On The Facebook Ads Manager 24
Need Help Navigating Your Facebook Ads Manager? . 28
Final Thoughts On The Ads Manager .. 29
Chapter 3: Facebook Ads vs. Boosted Posts … 30
What Are Facebook Boosted Posts? 30
How To Boost A Facebook Post . 32
Key Differences Between Boosted Posts and Facebook Ads .. 34
When To Use Boosted Posts Instead Of Ads 38
When To Use Facebook Ads Instead Of Boosted Posts … 38
Chapter 4: How To Optimize Your Facebook Ad Design 41
Why You Should Optimize Your Facebook Ad Design . 41
How To Optimize Your Facebook Ad Design … 43
Final Words 49
Chapter 5: Gain Maximum Exposure Using Custom Targeted Audiences .. 50
What Is A Custom Audience?.. 50
The 5 Types Of Custom Audiences You Can Create On Facebook .. 51
What Is A Lookalike Audience? .. 53
How To Use Custom And Lookalike Audiences To Get More Conversions .. 54
A Word Of Advice On Custom Audiences . 58
Chapter 6: How To Use Retarget Marketing With Facebook. 60
The Facebook Pixel's Role In Retarget Marketing … 60
How To Apply Pixel Data For Retarget Marketing .. 65
Facebook Retarget Marketing Versus Google Remarketing … 71
Final Thoughts About Retarget Marketing 73
Chapter 7 – Split Testing Your Facebook Ads For Optimum Performance .. 74
What Is Split Testing? . 74
What Are The Benefits Of Split Testing? . 75
Best Practices In Split Testing . 77
How To Split Test In Facebook Ads .. 80
Chapter 8: Boost Your Profits With Facebook Dynamic Ads . 84
What Are Dynamic Ads? … 84
How To Get Started With Facebook Dynamic Ads . 86
How To Create And Start A Dynamic Ad Campaign .. 90
How Facebook Dynamic Ads Can Boost Your Profits 93
Chapter 9: How To Lower Your Overall Facebook Ad Budget . 96
How To Make The Most Of Your Facebook Ad Budget … 96
How To Lower Your Overall Facebook Ad Spend … 98
Chapter 10: How To Create A Facebook Lead Capture Funnel 105
What Is A Lead Capture Funnel? .. 105
Why Are Lead Funnels Important? .. 107
How To Structure Your Funnel And The Right Ads To Use … 108
What's Next After Creating A Successful Lead Funnel? .. 112
Sample Content Preview
How To Get Started With Facebook Ads
Just like most things in life, there's a steep learning curve that comes with Facebook ads too. Let's take it one step at a time so you don't become confused as doing so will lead to money down the drain.
Step 1. Determine Your Goals
Before you get started with Facebook ads, you need to know the goals you want to accomplish with your adverts because that's going to be your goal post. You're going to be aiming for that, and you will set up your ads in such a way that your goals will be met.
Some example goals are:
– Do you want people to like your page?
– Do you want people to click through to your website?
– Do you want people to join your mailing list?
– Do you want people to attend an event?
– Do you want people to buy your product or try it out for free?
– Do you want people to download your mobile app?
Determining your goals will help you create the most suitable ad for your audience. On Facebook Ads, these are the different goals or campaign objectives you can choose:
(The different campaign objectives available in Facebook Ads)
As you can see in the screenshot above, the objectives are divided into 3 categories: Awareness, Consideration, and Conversion.
I'll discuss each objective here:
1. Awareness – this objective is great if you want to reach out to cold audiences or people who haven't interacted with your brand or website yet. You can choose between two options:
a. Brand Awareness – you can increase people's awareness of your brand
b. Reach – you can reach the most number of people in your audience with this objective
2. Consideration – this objective is great if you want people to start thinking about your brand or your business and encourage them to know more about what you can do for them. You can choose from 6 options:
a. Traffic – choose this objective if you want people to visit your website or increase engagement with your mobile app.
b. App Installs – if you want people to download and install your mobile app, this is the objective you should choose.
c. Engagement – if you want to boost your Facebook posts, promote your Facebook Page, get people to claim an offer on your Page, and get more people to attend an event on your Page, then you need to choose this objective.
d. Video Views – to get more awareness about your brand, you can create a video ad that showcases behind the scenes stories or customer testimonials.
e. Lead Generation – if you want to get leads or email addresses from people interested in your business, then use this objective. The Lead Generation objective makes it very easy for prospects to sign up for your service.
f. Messages – get people to send your business messages on Facebook messenger and even Instagram. This objective will help your business to answer questions from prospects, generate more leads and drive more transactions.
3. Conversion – conversion ads encourage interested people to buy your product or subscribe to your service. You can choose from 3 different options:
a. Conversions – if you want to send people to your website, Facebook app or mobile app, use this objective. To maximize, track and measure your conversions, you will need to install the Facebook pixel on your website.
b. Catalog Sales – to use this objective, you will need to create a catalog to show off your inventory. Once you have this setup, you can then create ads that will automatically show items from your catalog based on your target audience.
c. Store Visits – if you're running an offline business, that is, you have a brick and mortar store, then you can use this objective to get more people to visit and shop in your store.
Step 2. Know Your Audience
Now that you have defined your goals, you need to know your audience. Who are you hoping to target with your Facebook ads?
– Do you want to target women, men or both?
– Is your product or service going to be a fit for single or married people?
– Are 20-30-year-old sports fans going to be your target?
– Do you want to get the attention of people who like classical music in New York?
– Are you going to be selling your products just in the US or do you intend to ship to Europe, Asia and the rest of the world?
As we've mentioned before, there are literally more than 2 billion people you can target on Facebook right now. You just need to find a certain group of people who will benefit the most from your product.
If you don't know your audience, if you're going to target just about anyone, it can lead to astronomical advertising costs for you. So before you start creating your ads, at least have an idea of who will be most interested in what you have to offer.
Creating a customer persona is great for this purpose. Not only will you get to save a lot of money, but you'll also get better results with the right target audience.
Step 3. Know Your Budget
No matter how big or small your marketing budget is, Facebook ads will help you out. Even if you've only got $1 to $2 to spend on ads each day, you can still get your ads in front of a few hundred or a few thousand people. Of course, this will depend on your targeting, your ad placements, and your overall ad strategy.
In the beginning, expect to lose money while you optimize your ad sets. You can spend $5 on different adverts every day and see which one converts the best. You will do a lot of testing.
Trial and error is the name of the game. But when you find the winner, you're going to be winning big. And your $5/day budget is going to be a thing of the past.
Getting started with Facebook Ads might seem difficult at first, but once you get the hang of social media's number one advertising platform, you're in for a ride.
Read the next chapter to know more about the Facebook Ads Manager and how you can start using it to grow your business.
Other Details
- 10 Articles (TXT)
- 1 Ebook (PDF), 113 Pages
- 2 Graphics (JPG, GIF, PNG)
- 1 Salespage (HTML)
- Promotional Ad Material (Emails)
- Checklist, Resource Cheat Sheet, Mindmap, Optin Page, Social Media Images
- Year Released/Circulated: 2018
- File Size: 42,672 KB
License Details:
You're granted master resell rights, resell rights or to resell with personal use rights. Price for resell is strictly $7.00 minimum
You may add this product to your PAID membership site
You may giveaway the product as a bonus when people buy through your affiliate link
You may edit the included sales page and opt-in page
No, you may NOT edit the contents of the eBook(s) & videos
No, this product does NOT include private label rights. You are granted Master Resell Rights only
No, you may NOT giveaway the eBook(s) & videos for free.
Must be sold for at least $7.00 (videos $17)