Salespage Snapshot: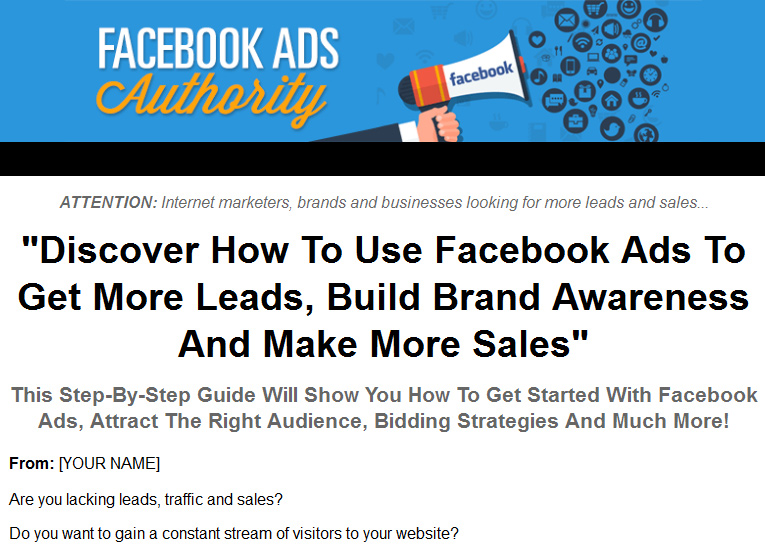 >>> Click Here To View Full Sales Page…
Table of Contents
Introduction …… 6
Introducing Facebook Ads 8
What You Will Learn 9
Getting Started With Facebook Ads. 10
Choosing Your Niche …… 11
Finding a Product To Sell 13
Creating Your Brand and Facebook Page . 16
Create a Buyer Persona .. 19
The Basic Demographics 20
The Persona.. 21
How To Create Your First Ad … 24
Facebook Power Manager ……. 28
How to Write Amazing Copy for Your Ad … 29
Facebook Image Guidelines …. 32
Facebook Audience Targeting. 34
Facebook Local Awareness ….. 37
Custom Audiences . 39
Setting Bids and Budgeting….. 42
Choosing the Right Budget …… 43
CPA and the Different Types of Ad Campaign.. 46
What is CPA? 46
More Types of Ads . 48
Facebook Remarketing … 49
Creating Your Pixel 50
Top Tips For Using Facebook Ads Effectively.. 52
Be Up-Front… 52
Target Strictly 53
Use Eye Catching Headlines … 53
Don't be Afraid to Generalize … 54
Copycat 54
Experiment …. 54
Use Facebook Generally. 55
Invest in High Quality …… 55
How to Adapt Your Strategy to the Unique Goals of Your Business……. 55
For Selling an Affiliate Product ….. 56
For Selling a Big Ticket Item 56
For Promoting a Website ….. 57
For Local Businesses . 58
Conclusion and Summary…….. 59
Sample Content Preview
Getting Started With Facebook Ads
What's the first thing you're going to need in order to start being successful with Facebook Ads? A Facebook account?
Nope!
What you'll need to begin with is even more fundamental than that. Specifically, what you'll need is a brand, a website and a product to sell. If you're going to use any type of advertising, then you of course need something that's worth advertising!
And that thing you'll be advertising needs to be compelling and exciting enough that you can find a large audience of people who want it.
So let's take a look at where we're going to get started: by choosing a niche. If you already have a niche, blog and product then you may consider skipping this chapter. My advice would be don't: we're going to be covering some fairly advanced concepts here and you might decide that you actually want to reconsider your current strategy once you've read it through…
Choosing Your Niche
Your niche is of course your subject matter. This is the topic you're going to be tacking with your blog and therefore, the industry that you're going to be looking at with your product. For example, you might decide that your niche is going to be fitness and that your product is going to be a weights bench. The two inform each other because you wouldn't want to have a website about sewing and sell weight benches from there! More importantly, this also informs your audience. That is to say that you'll now be aiming your website, your brand and your marketing at people who like to work out with weights. That means that you're going to be targeting more men than women and possibly sporty/athletic types. Alternatively, you might go the opposite way and decide to focus on women, the elderly or even teenagers.
And doing this would be wise.
Ultimately, the whole point of a 'niche' is to find a subject matter and a product that will have a relatively niche appeal. In other words: something that isn't going to be appealing to everyone. The reason that it makes sense to do that, is that this will allow you to focus on a smaller group and thereby spend less on advertising while also having a clearer value proposition.
We'll get into this in more detail later on but suffice to say that Facebook Ads use a PPC format. That stands for 'Pay Per Click' and what this essentially tells us, is that we're paying each time that someone clicks on the ad. The amount we pay is related to the maximum budget that we set when we created the campaign, as well as the number of other people targeting the same spot with the advert. When two advertisers both have ads that can appear in a given place on Facebook, they will enter a bidding war. The advertiser with the highest maximum spend will win and will pay the smallest amount that was needed to beat the competition.
So if there are two advertisers trying to advertise on the same spot and advertiser A has a 20cents maximum bid and advertiser B has a 50cents maximum bid, advertiser B will win and will pay 21cents for each click.
The more popular a niche, the more you'll pay to have your advert there.
And the more popular a niche, the more competing products you'll have to contend with. No doubt your audience has seen thousands of weights benches in their time and know precisely where to buy them. But have they seen one that is aimed specifically at women with a more feminine design? Have they seen one that is aimed specifically at older people with stiffer joints?
By going niche, you can solve a more specific problem and be the best choice for a particular person. This is better than trying to be the generic choice for everyone.
Pick a popular niche and then hone in on the specific demographic within that niche – the niche within the niche. Of course you also need to think about what topics you know well, what topics you're willing to write lots about and what topics you're passionate about. Trust me: if you try and sell a product you have no passion for, you'll be making things much harder for yourself.
Finding a Product To Sell
Once you have chosen your niche, you can now start looking for products to sell. Is this a requirement? Well, if you want to profit, then yes!
There's nothing wrong with building a blog or a brand with no products to sell. If you do this, then you'll be establishing yourself as an influencer, building trust and creating a massive audience that you will subsequently be able to sell to. In fact, you'll build more trust because your visitors will see that you're not just trying to get them to buy things from you! You can even use some adverts on your site in order to generate a little income without needing a product of your own necessarily.
But once you start paying for Facebook Ads, then you really do need to think about having a product you can sell. Now, you're paying for each visitor you get to the site and that is going to quickly add up once you get 1,000 clicks. The only way for Facebook Ads to be viable, is if you're earning more than you're paying and that means that the average spend for each customer needs to be more than they're paying to come to your site. That way, you can invest more and more into the advertising and see
your site grow bigger and bigger. Ads just don't cut it because you'll earn less per click than you would have to pay per click! So where do you get products from? There are a few options. One is to sell your own product from your site. This is the best option and especially if you have the patience and know-how to create a physical product like a gadget, a tool or an item of clothing. You can do this by creating the design and then finding a manufacturer to partner with. You'll need to order a minimum amount of stock upfront but one way to get around this is by using a crowdfunding site like Kickstarter to get the funds you need. Alternatively, you can take out a business loan.
Another option is to create a digital product. This will be something like an ebook, an online course or something else that requires you to send a file digitally rather than manufacture anything. Digital products have lots of benefits – including the fact that they don't require any upfront expense and also have no overheads. You can sell as many as you like and make 100% profit on each sale. The downside is that digital products don't have as much broad appeal as something like an item of clothing. eBooks are hard to explain to your gran and you can't make the argument that anyone 'needs' an ebook.
There are 'in-between' options too. For example, you can sell a book using POD publishing. This stands for 'Print On Demand' and essentially means that the book is printed only when someone orders it. That means there's no need for you to buy anything up-front; the books are printed only when they're needed and thus there's no risk and no upfront investment.
Another great option is to use dropshipping. Dropshipping means that you are selling something that a company owns and simply forwarding the orders on to the wholesaler. They then handle fulfillment but they do so in a silent manner, so that the customers feel as though they're buying directly from you. Better yet, some dropshippers will even offer a truly white-label service and actually allow you to put your logo on the products. For instance, they would let you sell their supplements range while using your own logo on the label. They might even allow you to choose ingredients for your own formula.
Otherwise, you can go the more traditional route and try reselling. This means buying a product in bulk from a wholesaler and then finding customers to sell it on to at a profit.
Finally, you might consider becoming an affiliate. Affiliate marketers promote products made by creators in exchange for commission on each sale. Sometimes this might mean that you're selling digital products with commission up to 75%! In other cases, you might sell physical products for considerably less. Amazon Associates for example offers its partners around 4-8% on sales. But this does come with the distinct advantage of selling through a very big and very well-known brand that people trust and likely already have an account with even.
You need this product, the right niche and a website to sell it from. Whatever way you eventually decide to go about finding your product, make sure that it is also something you really believe in and something that people will want to buy. Research your market and your audience and look at what's currently selling well in other stores and through other channels.
Other Details
- 20 Articles (TXT, DOC)
- 1 Ebook (PDF), 61 Pages
- 2 Graphics (JPG, GIF, PNG)
- 1 Salespage (HTML)
- Social Media Images, Email Swipes, Optin Page, Mindmap, Resource Cheat Sheet, Checklist,
- Year Released/Circulated: 2016
- File Size: 27,665 KB
License Details:
1. You're granted master resell rights, resell rights or to resell with personal use rights. Price for resell is strictly $7.00 minimum.
2. You may add this product to your PAID membership site.
3. You may giveaway the product as a bonus when people buy through your affiliate link.
4. You may edit the included sales page and opt-in page.
5. No, you may NOT edit the contents of the eBook(s).
6. No, this product does NOT include private label rights. You are granted Master Resell Rights only.
7. No, you may NOT giveaway the main eBook for free. Must be sold for at least $7.00.
If you disagree to these terms, please refrain from reselling this product.
Anyone found not abiding to these terms will have their license revoked and a possible infringement notice will be made to their web host for possible account suspension.