Salespage Snapshot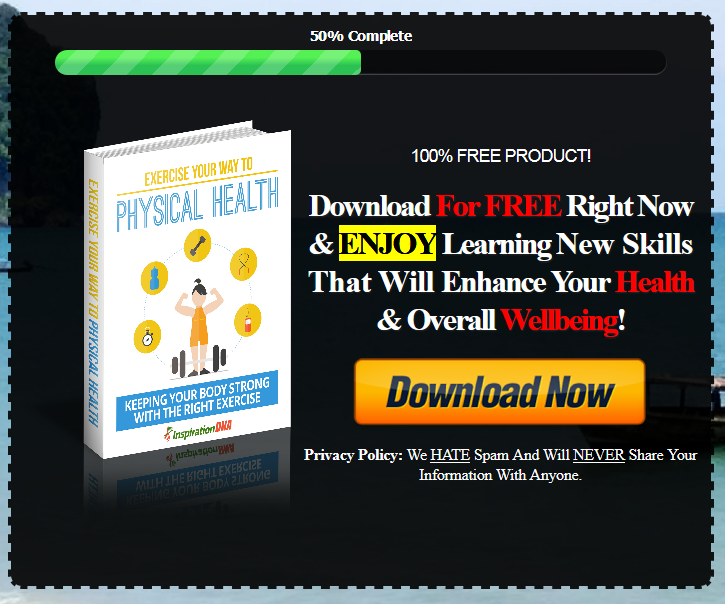 >> Click Here To View Sales Page...
Table of Contents
Foreword
Chapter 1:
Introduction
Chapter 2:
The Importance Of Maintaining A Strong Body Today And Into The Future
Chapter 3:
Make Sure You Know Your Limitations prior to Taking on an Exercise Regimen
Chapter 4:
Why Stretching Is Important
Chapter 5:
Cardio Training For A Healthy Body
Chapter 6:
Strength Training For A Healthy Body
Chapter 7:
Do You Need A Gym Or Can You Train At Home
Chapter 8:
Outside Activities for Healthy Exercise
Chapter 9:
Exercises You Can Do Anywhere
Chapter 10:
The Benefits Of Learning To Exercise Correctly
Wrapping Up
Sample Content Preview
Chapter 2:
The Importance Of Maintaining A Strong Body Today And Into The Future
Having a healthy body prepares the stage for your everyday well-being. It also has a direct impact on how fast and fine you will age. Maintaining your strength and robustness via good nutrition and lots of exercise promotes good blood circulation, digestion, and bone strength.
Exercise allows you to live an active, stress-free life. With plenty of exercise, you will be able to develop a strong immune system, something that people need to prevent diseases, chronic and serious. Based on studies made by the Center for Disease Control and Prevention, a person who exercises regularly shows greater mental alertness and reduced attacks of certain diseases.
Why It's Important
When your metabolism is working at its peak, you are able to burn more calories which your body uses for energy. This would also result in lesser aches and pains. The body needs lots of vitamins, dietary fiber, minerals, carbohydrates, and fatty acids in order to allow all body processes to function properly. Regular night bed rest is also necessary.
When you sleep, the body goes into work and repairs damaged cells. Deficiency in sleep, good nutrition, and exercise can deny the body of essential elements that will result in fatigue and stress.
The national Sleep Foundation says that ample sleep makes you less vulnerable to colds and flu. Getting enough exercise and the right kind of food can leave a person physically and mentally sharp. Constant workouts prepare the different parts of the body like the muscles, heart, lungs, and bones for the demands of daily life.
When the body reaches a healthy level and stays on that plateau, it would be able to withstand extraordinary stress and it would les likely give in to simple infections and other common diseases. When you do regular exercise such as aerobics, you effectively toughen your muscles and bones and this helps you avoid sprains, bone fractures, and even pulled muscles.
When you are fit, you can move more. Movement promotes calorie burning and this will eventually aid you in maintaining your weight. Half an hour of exercise each day will balance your calorie intake, this according to the American Heart Association.
Partner exercise with foods that are rich in fiber and low in fat can greatly help you control your weight. High fiber nutrition also encourages a healthy cardiovascular system.
Maintaining the right body weight reduces the risk of developing cardiovascular diseases as well as other forms of cancer and type 2 diabetes. These diseases do not progress in a short period of time, they develop through the years, and that is the reason why keeping your body healthy and fit is your best shot at preventing these types of diseases.
A healthy body maintained by exercise is your passport to a more meaningful and longer life.
Chapter 3:
Make Sure You Know Your Limitations prior to Taking on an Exercise Regimen
Making the decision to integrate regular exercise into your daily life can be a life-changing choice for you. It is definitely a smart move to leave lethargy behind and switch into a healthier, more active lifestyle instead of bumming in front of the boob tube while eating chips.
Nevertheless, exercise can be precarious especially for people who have specific health issues and those who have not done any strenuous physical activity for a long time.
Obese people are also advised to consult health specialists before embarking on an exercise regimen. Immediately going on board a demanding type of workout can lead to serious body injury. It is important to be familiar with the steps.
Your Limits
Knowing Your Limitations
If you have not heard of PAR-Q, it is the standard used to gauge fitness safety. This tool is used by health clubs, physical trainers, and even doctors all over the world. The name is short for Physical Activity Readiness Questionnaire and it is usually composed of 5 to 7 questions that can help a person determine if there are any health concerns that need to be addressed before undergoing an exercise program. These questions are answerable by yes or no. Here are some of the questions:
– Has your doctor prescribed you with drugs for blood pressure control or any hart condition?
– Are you suffering from any joint or bone problem which could be made worse if you undergo any strenuous physical activity?
– Have you ever lost balance because you felt dizzy? Do you occasionally lose consciousness?
– Have you experienced chest pains in the past even if you are not performing any physical activity? Do you feel pain in your chest when you perform physical activity?
– Has your doctor diagnosed you as having a heart condition? Has your doctor ordered you to refrain from doing any physical activity that he did not recommend?
If your answer is yes to any of these questions, it is best to consult your doctor and get cleared before you start with any type of workout.
Aside from this, here are other high risk conditions that require a go-signal from the doctor before the individual begins exercising:
– Being 20 pounds overweight
– Chain smoker
– Suffering from arthritis
– Having high blood pressure
– Diabetes
– Other chronic medical conditions
This does not mean that you cannot do exercise if you are hypertensive or diabetic. In fact, exercising is more often than not an essential part of treatment for these types of conditions. However, you may have limitations and your doctor is the best person to help you with these special concerns.
The rule in exercise is to always begin slowly until you have built enough intensity to level up your workouts. Gradual is the name of the game, not abrupt. Doing a hundred sit ups on your first day of exercise (although it is doubtful if you can do it) is a prescription to serious health issues.
Other Details
- 1 Ebook (PDF), 33 Pages
- 2 Graphics (PNG)
- 1 Salespage (HTML)
- Year Released/Circulated: 2018
- File Size: 2,579 KB
License Details:
[YES] Ebook Can be given away against an email address
[YES] Can sell the WHOLE product and keep 100% of the sales
[YES] Can sell the WHOLE product for Resale Rights
[YES] Can sell the WHOLE product with Master Resale Rights
[YES] Can edit the Squeeze & TY + MRR Upsell Pages
[YES] The WHOLE product can be packaged with other products you sell
[YES] The WHOLE product can be offered as a bonus with other products you sell
[YES] The WHOLE product can be added to paid membership sites
[YES] The WHOLE product can be offered through auction sites
[NO] WHOLE Product can be given away
[NO] WHOLE Product can be added to free membership sites
[NO] Ebook can be modified in any way
[NO] Can sell with Private Label Rights