Salespage Snapshot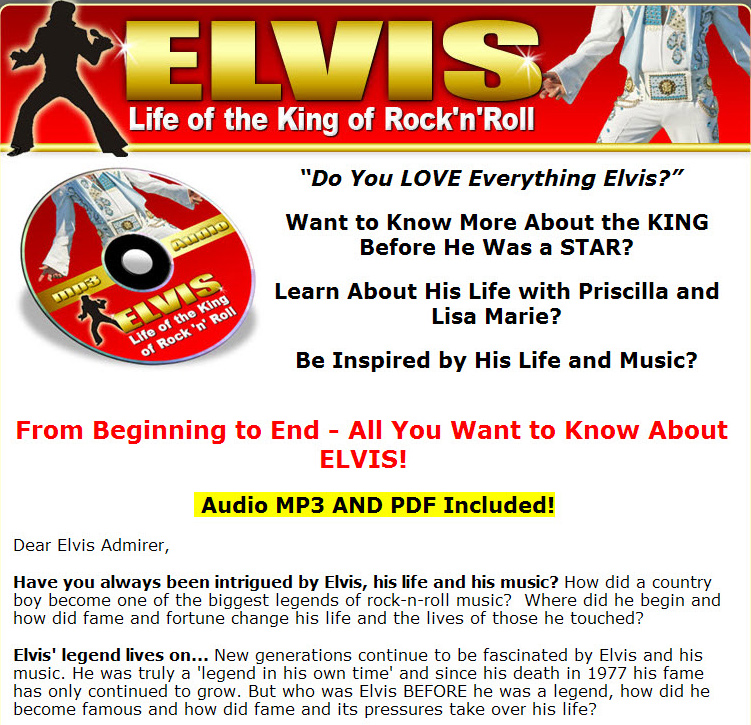 >> Click Here To View Sales Page...
PLR Ebook With Audio Table Of Contents
Elvis' Birthplace    4
Elvis' Family and Friends    6
How Elvis Broke into the Music Business    8
Elvis' First Recording Successes    10
How Elvis' Image Evolved During the Years    12
The Historical Performances That Made Him King    14
Elvis in Hollywood    16
Elvis in the Military    18
Elvis' Marriage to Priscilla    20
Elvis' Daughter, Lisa Marie    22
Elvis' Home at Gracelands    24
Elvis' Problem With Drug Addiction    26
Elvis' Return to Record-Breaking Live Performances    28
Elvis' Battle With His Weight    30
Elvis' Final Days    32
PLR Ebook With Audio Sample Content Preview
Elvis' Birthplace
The king of rock-n-roll was born on Jan 8th 1935, in the small town of Tupelo, Mississippi in 1935. No small town now, Tupelo has reached city status and has many interesting things to offer the tourist apart from the little house where Elvis was born. Even though the family moved away from Tupelo when Elvis was just thirteen, there is a statue of him there, holding a guitar.
The house where Elvis was born is a simple, two-roomed weatherboard home that cost $180 to build. It now forms part of the 15-acre park named after its famous benefactor. Elvis, deciding that there should be a park for the children to play in, raised funds to provide it with a concert in 1956. Now 50,000 people each year are drawn to view both the house and the park.
The park includes a memorial museum, gift shop and a chapel, along with beautiful gardens, walkways and plenty of parking for visitors. A story wall containing original stories from people who knew Elvis as a child is one unique feature, while a "Walk of Life" leading to his statue, contains granite blocks for each year of his life. It eventually leads visitors to a beautiful water feature called the Fountain of Life – a complete circle that represents Elvis's life in Tupelo. There is also a replica of the car in which his family left Tupelo; a 1939 green Plymouth. The museum is opened year round except for Thanksgiving and Christmas days.
Tourists can drive around the town to visit various places that are of significance in the life of the young Elvis. These include the location of an Assemblies of God church and the elementary school he attended as well as Johnnie's Drive-in, a coke and burger place where Elvis hung out with friends. Shakerag is seen as an important musical influence, while Tupelo Fairgrounds is where he first performed. The shop where he purchased his first guitar can be viewed, plus other places through to the Milam Junior High, Elvis' last school before leaving the district.
Tupelo derived its name from the native Tupelo gum trees that grow there. Though many battles were fought, won and lost in the town over the years, the converging railways ensured that the town thrived and developed. In fact it was the first US city to switch on a cheap, reliable electricity supply through the Tennessee Valley Authority.
A musical tribute, the Elvis Presley Festival is held there each year over the first weekend in June to celebrate the town's most famous son…
Other Details* Sales Page:
Included, HTML
* File Format:
MS Word Doc, PDF
* Number of Pages:
33
* Included Graphics:
Ecovers, PSD, JPG
* Download File Size:
36,768 KB