Salespage Snapshot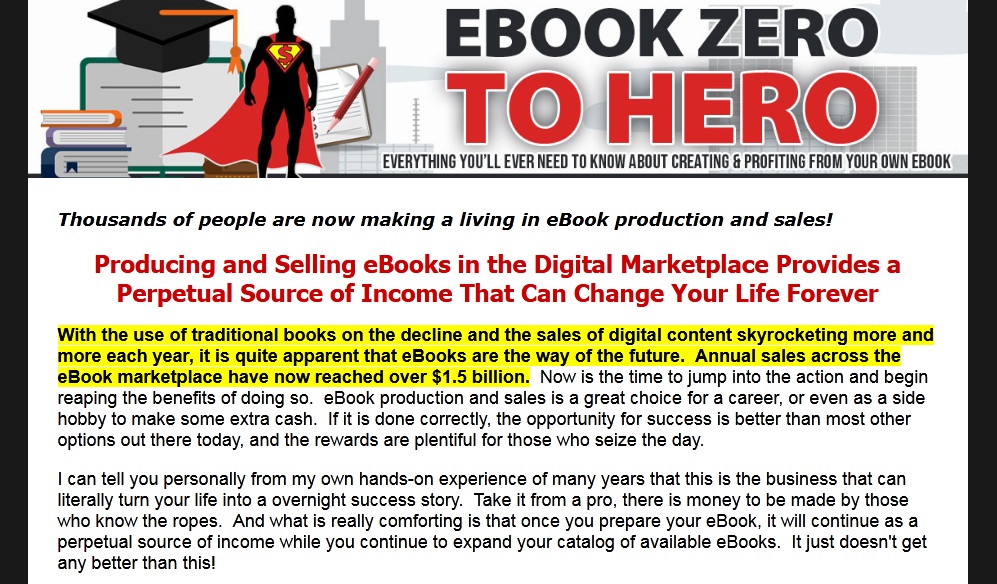 >> Click Here To View Sales Page...
Table of Contents
Intro….. 3
E-book Basics …. 3
Decide How Your Book Will Be Used ………. 3
Decide On Formats Relative To How Your E-book Will Be Used ………. 4
Choose A Relevant Topic. 5
Put Your E-book Together …………. 6
Arrange The Ads In Your E-book … 7
Decide What Extras To Include In Your E-book Package …….. 7
Market your E-book Depending On Its Use 8
Launching Your Product .. 9
Final Words ….. 10
Sample Content Preview
Whatever the reasons may be the eBooks that are produced will usually be done in a fashion that best suits its purpose for creation.
Those who choose to create eBooks for the purpose of establishing steady revenue earning platforms will definitely be more serious and conscientious about its content and design as compared to those who simply do so for the sheer pleasure of being able to share their views and knowledge.
The one that choose to do so as an earning tool will focus more on getting the information that is the most relevant, recent and fact based. Being a tangible asset the eBooks are something that can be tapped for its profit churning capabilities at any given place and time.
The sale of such eBooks can be done individually whereby the author has to actively promote his or her eBooks to parties interested in purchasing them or the other option would be to sign on with an already established entity that specializes in churning out eBooks to others for a fee.
EBooks can also be designed to create an individual's presence within a specified platform. The individual would then be perceived as an authority on the subject matter being produced through the eBook, thus creating a need for the said individual to be needed for their contributions.
Creating eBooks is considered a big business entity for today's information hungry world. Almost anyone can create an eBook when armed with the adequate amount of corresponding information.
Chapter 3
Decide On Formats Relative To How Your E-book Will Be Used
Deciding on the format most suitable for the types of various possible uses of the eBook is most important to ensuring its effectiveness. It is considered by those who are better informed as an essential point to consider when it comes to electronic publishing styles.
The format eventually chosen after the relevant considerations have been made will determine the nature of the digital package in which it is distributed.
There are many new formats that are available and many more new ones being developed. Currently there are tools available to facilitate the repackaging of existing formats into other acceptable or customs designed formats for alternative use.
This is of course very useful when the decision is made to commit to one style early on in the designing phase of the eBook exercise.
Considering the compatibility of the target audience in accessing and browsing through the content of the eBook is important. If the target audience intended is unable to access the information posted on the eBook through the chosen format then the eBook would not be worth anything to them besides of course the more obvious element of frustration they would experience when trying to access the said information.
Creating ways to ease the installation and use for the intended target audience is also another important point to consider. Here too if the installation process is lengthy and tedious the definite existence of the user unfriendly aspect of the design would be off putting and frustrating.
Therefore it is necessary to look into the installation requirements so that one that is easy can be tailored to fit the accessibility of the eBook.
The supporting tools that maybe required in order for the special features to be viewed without any interruptions must also be well chosen. There is nothing more annoying for the user than to have these interruptions marring the general experience of the eBook browsing.
Chapter 4
Choose A Relevant Topic
As eBook are predominantly designed for a specific target audience there should ideally be some thought put into the topic matter to be featured in it.
The content provided in the eBook should ideally reflect the information, solutions, problem encounters and other related material that would be useful to the reader focused that the particular subject.
Therefore choosing topic to write about should be done with some thought and care to ensure the choice made is interesting, attention grabbing and competitive in the eBook arena of current times.
Other Details
- 1 Ebook (PDF), 10 Pages
- 15 Graphics (JPG, PNG)
- 1 Salespage (HTML)
- 1 Squeeze Page (HTML)
- Year Released/Circulated: 2023
- File Size: 2,077 KB
License Details:
[ Yes ] Can sell the eBook to your customers.
[ Yes ] Can give away eBook (PDF Format).
[ Yes ] Can be used as a bonus (PDF Format).
[ Yes ] Can include eBook in membership site (PDF Format).
[ Yes ] Can be combined with other offers or sold as a package.
[ No ] Can include within website flips.
[ No ] Cannot sell Resell Rights to customers.
[ No ] Cannot sell Private Label Rights to customers.