Salespage Snapshot: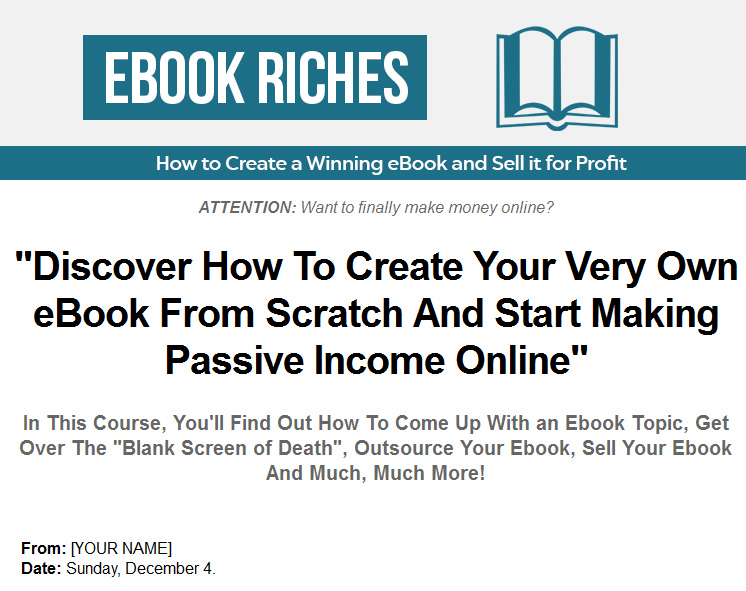 >>> Click Here To View Full Sales Page…
Table of Contents
Introduction ………. 5
The Challenges and Why Now is the Perfect Time …. 6
Chapter 1: Choosing a Niche and Title That Will Sell … 8
Choosing Your Niche …. 9
What are the Best Niches? …. 11
How To Choose An eBook Title . 14
Chapter 2: Writing or Outsourcing Your Book Content …………. 15
How To Structure The Contents of Your eBook ……. 16
Outsourcing Your eBook ………… 18
Other Ways to Get Content …….. 18
Length and Other Factors …… 20
Chapter 3: How to Write Compelling Content ………….. 21
Writing Your Book ……. 21
How To Get Over The Dreaded Blank Page ………… 23
Chapter 4: Formatting – How to Create Stunning PDFs ………… 24
How to Create a Formatted Document …… 24
Images ……… 26
Chapter 5: Designing Your Cover … 29
How to Create a Great Cover ….. 30
Outsourcing Your Cover Design ……….. 32
Chapter 6: Selling Your Ebook Through a Website ….. 33
How to Set Up Sales Through Your Website ………… 35
Chapter 7: Selling Your Ebook Through Kindle ………. 37
Prepping Your Book for Kindle … 39
Submitting Your Book to Amazon …………. 40
Maximizing Sales and Ranking .. 41
Chapter 8: More Ways to Sell Your Ebook …. 44
Selling in Hard Copy … 44
Other Platforms ……….. 45
Chapter 9: How to Build a Killer Sales Page To Sell Your Ebook ………… 47
Designing Your Sales Page ……. 48
Persuasive Writing for Your Sales Page … 50
Chapter 10: How to Promote Your eBook and Increase Sales .. 52
Conclusion & Action Plan 55
Sample Content Preview
Chapter 2: Writing or Outsourcing Your Book Content
We devoted an awful lot of time to the niche and the title but hopefully you recognize just why this is so important. And if you gave this the proper thought that it deserves, then hopefully it should help you to populate your book with content and to understand precisely what will make the book a success.
In short, you need to focus on delivering that value proposition – or solving a specific problem – and you need to do this in a way that's effective, that's unique and that gets to the point quickly.
This is how you make your book 'meaty' rather than just a lot of waffle. What is it that your book is really doing? What is it that makes it different and unique? What value do you really bring to the table?
Using all this information you can structure your book and design it in such a way that people will want to keep reading…
How To Structure The Contents of Your eBook
A good place to start is with a rough outline of your book such as a table of contents. Note that this will likely change over time as you write.
That contents should start with an introduction and this is one of the most important aspects of your book – especially if you're giving away free previews. Your objective here is not to kill time treading water so that you can bulk out your word count. Instead, this should be where you hit home right away by selling the dream and outlining precisely what it is that your readers can expect to learn.
So if you have a fitness ebook, you start by telling why fitness is so important and by painting a picture of what life could be like if your readers were stronger, slimmer and fitter. If your book is more about solving a specific problem, then your aim is going to be to focus on that problem and to describe the pain point.
From there, you then outline the nature of your book and what makes it different. Ideally, you'll provide some kind of tip and some kind of value as you do this. That way, your audience will right away see that you're capable of delivering on your promises and will right away see that their money would be well-spent.
Finally, end by highlighting precisely what they can expect to learn if they keep reading and how that will help address the issues you've outlined.
Next you'll launch into the first chapter. In this part you need to provide the basic foundation that your readers will need to understand the rest of the book. So if you're writing about internet marketing, then you should explain what internet marketing is and how it works.
That means explaining the basic business model and a bit of the history. Conversely, if you're writing about this diet or that, then you should explain the essentials that your readers need to know regarding nutrition. That doesn't mean you need to write a science textbook, just make sure you're prepping the audience with the knowledge they need.
You might also outline the 'lay of the land' or the status quo in your particular niche.
Next you need to demonstrate your philosophy and what you're bringing to the table. Do you have a unique 'trick' that your audience can you? Do you have a better strategy than the one most people are subscribing to? This is where you differentiate yourself and put across the unique aspect to your book.
Now start outlining the precise steps and show your audience how to combine the basic knowledge with your unique approach and ideas. This might be one chapter or seven depending on the complexity of the topic.
And of course this doesn't necessarily have to be a 'unique strategy' as such – it might just as well be a unique way of displaying the information. If your book was a '10 step program' to launching a restaurant, then these chapters would be where you'd present that 10 step program.
Finally, you would deal with any additional thoughts, concerns or tips and offer any appendix, resources or other additional information.
You can vary your structure, but this is a fairly safe way to go. Let's recap on that:
1. Introduction
2. Overview of the subject
3. Unique perspective/ideas/philosophy
4. Take-home action plan
5. Take-home action plan
6. Take-home action plan
7. Additional tips and discussion
8. Resources and appendix
9. Conclusion
Outsourcing Your eBook
If you absolutely cannot write the book yourself though, then you might still opt to outsource the creation to someone else. This is a perfectly acceptable approach but remember what we said earlier: you will struggle to find someone who is an absolute expert in the niche you want to write about, which in turn is going to create challenges when it comes to offering something definitive or ground-breaking.
Make sure you look hard then for a writer who really knows their stuff and ask to see a sample of their writing before you order the full thing. Don't expect a writer to write for you for free of course! But consider ordering the first chapter or just one article before you pay for the whole book.
It's also a good idea to give them as much structure and instruction as possible. Allow them flexibility to move beyond the scope of your outline (the best structure for chapters etc. will evolve as they write) but at the same time make sure that they don't just have a subject matter but that they also understand the key points you want to get across, the style you want and any specific tips, ideas or advice you have.
Note as well that you'll obviously get what you pay for. It's worth paying a little more to get a writer who has 'the voice' and who really understands the subject matter, rather than paying less and getting something that has been outsourced overseas and is written in broken English.
If you do decide to outsource the writing process, then you can find writers on sites like UpWork.com. Just post your job and then once you've found someone, you can go through them directly in future.
Other Ways to Get Content There are other ways to get your content too though! One option for example is to reuse content from your website. This is a smart trick that can actually be very profitable without rubbing anyone up the wrong way.
Other Details
- 20 Articles (TXT, DOC)
- 1 Ebook (PDF), 56 Pages
- 2 Graphics (JPG, GIF, PNG)
- 1 Salespage (HTML)
- Social Media Images, Email Swipes, Optin Page, Mindmap, Resource Cheat Sheet, Checklist
- Year Released/Circulated: 2016
- File Size: 10,610 KB
License Details:
1. You're granted master resell rights, resell rights or to resell with personal use rights.
2. You may add this product to your PAID membership site.
3. You may giveaway the product as a bonus when people buy through your affiliate link.
4. You may edit the included sales page and opt-in page.
5. No, you may NOT edit the contents of the eBook(s).
6. No, this product does NOT include private label rights. You are granted Master Resell Rights only.
7. No, you may NOT giveaway the main eBook for free.