Salespage Snapshot: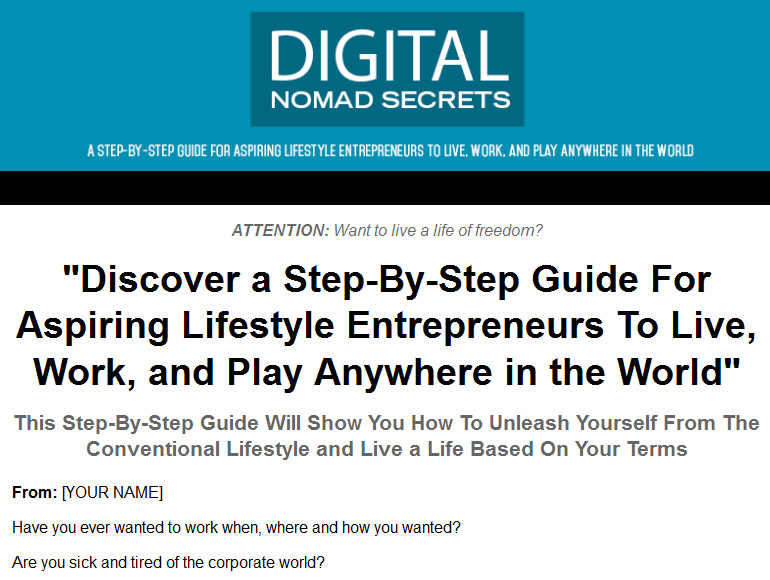 >>> Click Here To View Full Sales Page…
Table of Contents
Introduction …. 5
What is a Digital Nomad? … 7
The Top Benefits of Being a Digital Nomad …… 9
Chapter 1: Unchain Yourself … 10
The Cognitive Shift: Lifestyle Design ….. 11
An Introduction to Lifestyle Design . 13
Chapter 2: Preparing for Your Journey 16
Chapter 3: Go Online for Remote Jobs 19
Find Another Job .. 21
Find Your Own Work … 21
Chapter 4: Start Your Own Online Business ….. 23
Earning Money as a Freelancer . 23
Selling Services …. 26
Creating Passive Income …. 27
Creating Content … 30
Chapter 5: Taking Your Work on the Road . 32
Gear for Working on the Road 33
The Art of Working Out of Cafes …. 40
Chapter 6: Getting All Your Ducks in a Row …… 43
Your Travel Kit Bag … 44
Documents and Practical Considerations ….. 46
Chapter 7: Preparing Your Finances …. 49
Chapter 8: Ignoring the Urge to Procrastinate… 53
How to Balance Work and Play …… 53
Chapter 9: The Drawbacks of a Nomadic Lifestyle .. 56
The Struggles of Being a Nomad … 56
Compromise Solutions ….. 60
Chapter 10: Are You Ready for the Journey of a Lifetime? … 62
Conclusions and Closing Comments … 64
Sample Content Preview
Chapter 7: Preparing Your Finances
You've got your documents and your bag ready, your online business is set-up and ready to go and you have a good knowledge of where you're going.
Now you just need to worry about your money…
Cash and Cheques – What to Bring?
There's no way that you can bring all the cash you're going to need for an indefinitely long journey with you! For that reason then, you'll need to bring cards, cheques and more.
At any given point, you should have enough money to last you about a week. This will ensure that you won't get into trouble if you should lose your card and you'll still be able to get home or at least stay a few nights in a hostel.
Another tip is to keep a little cash separate and safe. For example, try keeping some in your shoe and that way, even if your things get stolen, you'll have some cash to get by! You can also try using travellers' cheques. These can be cashed in abroad but require ID, which means they're useless to anyone who steels them from you.
If you have life savings, then make sure it is very difficult for anyone who gets hold of your things to access them. Security is a big issue when you travel.
Bank
You'll need to let your bank know that you're no longer at your current address and you'll probably want to use a parent or friend's address instead.
You also need to speak with your bank about withdrawing cash. Make sure you're with a bank that makes it easy for you to get money out abroad and consider switching if yours carries a hefty fee.
Better yet is to get a credit card. Not only do these work abroad but they also protect you against having your cash stolen. Because the money isn't yours, it will be on the credit card company to chase it up!
Another tip is to consider getting a PayPal card. This again gives you an extra layer of security by allowing you to shop without handing over bank details. And better yet, you're likely to get paid by many clients online through PayPal. Thus the money never needs to even visit your bank account!
Financing
The hope of course is that you're going to earn money online in order to finance your trip but it can also be useful to have other income streams. One, as mentioned, is to rent out your home, in which case you'll probably want to use a property management company to handle the day-to-day administration and you'll need a storage unit to keep your things. You'll likewise need to find storage if you are renting and you're not going to have anywhere to come back to!
Another option is to take out a loan. This might seem reckless but again, the way to look at it is as spending money on what is likely to be one of the most amazing and transformative experiences of your life. It's far from reckless or a waste.
And a good option here is to get a PayPal loan! This works very well with the PayPal card option (because you'll be able to fill your PayPal account without worrying about withdrawing), it has zero impact on your credit rating and you will be able to pay it back out of payments you receive from clients and customers! In other words, you'll only need to pay it back as your online earnings are working out.
You don't need to have a big lump sum of money to go travelling like this but if you can get some from PayPal or another source, then it will free you to explore more openly and worry less about cash!
Budgeting
Finally, it is always a good idea to plan your trip and to pay careful attention to your budgeting as you do. Plot a route through the countries you wish to visit while ensuring that you're going to be able to afford to visit them on the salary you're likely to be earning!
Again, try looking for ways to cut cost – such as using SkyScanner to find the cheapest flights, AirBnB and Couchsurfing. There is a resource sheet that comes with this ebook and if you check that, you'll find plenty of excellent tools to help you plot your trip and save money on the road!
Chapter 8: Ignoring the Urge to Procrastinate
With everything set up, you can now pack your things and head off. The only problem is that you're also going to need to actually work and when you step food in an incredible country with endless things to do and see, it will be very hard to choose to sit down and work for 8 hours straight.
So how do you balance work and play? How do you resist the urge to forget work?
How to Balance Work and Play
The first thing to do, is to recognize that what you do the day before will affect you today. In other words, it's not as simple as splitting your work between morning and night. Because if you go out raving all night tonight and drink everything under the sun, you won't have a good day of work tomorrow!
Keep this in mind and treat your work nights as you would do anywhere else!
That said though, you should make sure that you make the absolute most of wherever you are and whatever you're doing during your free hours. The more you do this, the less resentful you'll feel when you're stuck on the computer.
Another tip is to try and get into a routine as far as possible. If you work at different hours every day, then your biological rhythms will not sync. One of the best things about working online is that you can find what time you work best and then make sure you work during those hours – that way you'll be working at the points when you are optimally effective.
This doesn't have to mean working 9-5 though. What works best for you will depend on your personal preferences and also on where you are and what your job is! Maybe you work for 15 hours three days of the week and relax for the remaining four? Maybe you work 7am-10am and then again at 4pm-7pm? Either way, find a flow and then stick to it once you find something that works.
Finally, try to make your work environments as conducive and enjoyable as possible. Because actually, working on a project you're passionate about in a rich environment can be ideal to help you get into the flow and get more work done. Look for classy hotels, nice libraries and cool cafes.
I was once building a virtual reality app in a library in Switzerland. The library was in a loft and had lots of wooden beams, along with windows looking out to snow-capped mountains. It was pretty ideal. Especially as there was free espresso! (It was actually Germany, just outside Switzerland – Radolfzell to be precise. Check it out if you're ever there!)
Other Details
- 10 Articles (TXT)
- 1 Ebook (PDF), 65 Pages
- 2 Graphics (JPG, GIF, PNG)
- 1 Salespage (HTML)
- 4 Promotional Ad Materials (Emails)
- Checklist, Resource Cheat Sheet, Mindmap, Optin Page, Social Media Images
- Year Released/Circulated: 2017
- File Size: 39,579 KB
License Details:
You're granted master resell rights, resell rights or to resell with personal use rights.
You may add this product to your PAID membership site
You may giveaway the product as a bonus when people buy through your affiliate link
You may edit the included sales page and opt-in page
No, you may NOT edit the contents of the eBook(s) & videos
No, this product does NOT include private label rights. You are granted Master Resell Rights only
No, you may NOT giveaway the eBook(s) & videos for free.
If you disagree to these terms, please refrain from reselling this product Anyone caught not abiding to these terms will have their license revoked and a possible infringement notice will be made to their web host for removal