Salespage Snapshot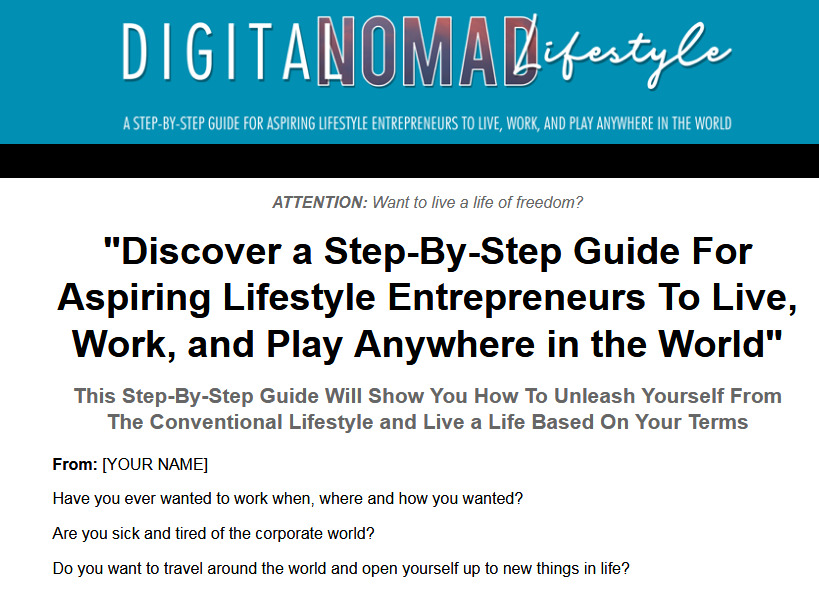 >> Click Here To View Sales Page...
Table of Contents
Introduction……………………………5
What is a Digital Nomad?………………………………..7
The Top Benefits of Being a Digital Nomad………………………9
Chapter 1: Unchain Yourself………………………10
The Cognitive Shift: Lifestyle Design……..11
An Introduction to Lifestyle Design………….13
Chapter 2: Preparing for Your Journey16
Chapter 3: Go Online for Remote Jobs19
Find Another Job………21
Find Your Own Work21
Chapter 4: Start Your Own Online Business…………………….23
Earning Money as a Freelancer………….23
Selling Services…………26
Creating Passive Income……………………….27
Creating Content………30
Chapter 5: Taking Your Work on the Road…………………………32
Gear for Working on the Road…………………..33
The Art of Working Out of Cafes………………40
Chapter 6: Getting All Your Ducks in a Row……………………..43
Your Travel Kit Bag……….44
Documents and Practical Considerations……………………………..46
Chapter 7: Preparing Your Finances……49
Chapter 8: Ignoring the Urge to Procrastinate…………………53
How to Balance Work and Play………………..53
Chapter 9: The Drawbacks of a Nomadic Lifestyle……….56
The Struggles of Being a Nomad…………….56
Compromise Solutions..60
Chapter 10: Are You Ready for the Journey of a Lifetime?………………………62
Conclusions and Closing Comments….64
Sample Content Preview
Chapter 1: Unchain Yourself
When you become a digital nomad, you'll find there are good times and bad times. It's important to have a balanced idea of what this is really going to entail and what life as a nomad is really like. We'll talk about the struggles and tribulations of the digital nomad lifestyle later on. Suffice to say, that this is not a lifestyle that will be for everyone. And that's okay.
But for many, the positives are going to greatly outweigh the negatives. The feeling of true freedom, of being able to go anywhere you wish in an incredible foreign land… that's something that can't be understated.
There will be moments as a digital nomad where everything just clicks into place. Really magical moments that stay with you forever.
Sometimes, these moments will be moments with other people. Imagine sitting in a hanging chair with a beautiful girl/guy and listening to the sea lapping against the shore. You realize you have a lot in common and the night ends with you kissing under the stars, as you hear the distant sounds of a bar not far away.
Other times, these moments will be those moments of adventure and exploration. Imagine coming up over the top of a hill to realize that you've just discovered and incredible view from the top of a mountain – an absolutely breathtaking view.
How often does your 9-5 lifestyle allow for moments like this?
But other times, the moments are going to be much smaller.
Sometimes you'll get these moments while you're working in a bar. People are passing by on the wet, cobbled streets outside and you're busily working away, listening to bar music and sipping a local beer while you work. The lights are neon and you're feeling inspired.
What incredible moments.
This is what you're working for as a digital nomad. This is why you're going to go through the challenges. This is why you must overcome the obstacles standing in your way.
The Cognitive Shift: Lifestyle Design
The first step to becoming a digital nomad is to make the cognitive shift in your own mind – to start viewing yourself differently and to start changing the way you consider your priorities and your commitments. We have been taught that certain variables in our lives are unchangeable. That there is just one way of doing things.
Of course this is not the case though. And actually, if you're willing to be creative, you can play with these elements anyway you choose. Before you make this realization, internalize it and make it a part of your philosophy, you're going to struggle to truly make the necessary changes to becoming a digital nomad.
The first thing you need to realize for instance, is that you need to start 'working to live' rather than 'living to work'. Likewise, recognize that work in and of itself is not what should give your life value.
Imagine that you could earn the same salary doing a job like rubbish collection. The job isn't particularly rewarding, there isn't a lot of career progression… but you can be finished by 4pm and you never bring your work home with you.
Do you take the job?
A lot of people will answer 'no'. Why? Because they feel they wouldn't get a sense of reward from that work. They wouldn't feel successful, or like they were progressing.
But the question to ask yourself, is why you are getting your sense of reward and progression from your job to begin with. Why is this the only way you can feel like you're doing something worthwhile?
This is one of the factors that makes people take on more and more responsibility and work harder and harder, just to feel like they're 'successful'.
But instead, why not be successful by writing a book? Why not be successful by making art? Or by travelling the world? Why not get your sense of purpose and reward from the things you do outside your office?
People tend to feel very proud about working hard but what value does working hard truly have? When the only result of that hard work is that a stapler gets delivered on time? Is that really what you want to measure success in your life by?
Instead then, ask yourself what it is that you really want from life. What do you want to achieve? What would make you truly happy? Then just think about what the easiest way to get to that point is. This way of thinking is known as 'lifestyle design' and it's the quickest way to improve your happiness and to get the very most out of life.
An Introduction to Lifestyle Design
To begin using lifestyle design in your own life, the first thing you need to do is to decide what it is that you want to try and achieve in your life. What is your passion? What gives you a sense of drive and motivation?
Other Details
- 10 Articles (TXT)
- 1 Ebook (PDF, DOC), 65 Pages
- 20 Graphics (PNG)
- 1 Salespage (HTML)
- Checklist, Resource Cheat Sheet, Mindmap, Optin Page, Social Media Images, Email Swipes
- Year Released/Circulated: 2021
- File Size: 34,810 KB
License Details:
You're granted master resell rights, resell rights or to resell with personal use rights. Price for resell is strictly $17.00 minimum
You may add this product to your PAID membership site
You may giveaway the product as a bonus when people buy through your affiliate link
You may edit the included sales page and opt-in page
No, you may NOT edit the contents of the eBook(s) & videos
No, this product does NOT include private label rights. You are granted Master Resell Rights only
No, you may NOT giveaway the eBook(s) & videos for free. Must be sold for at least $7.00 (videos $17)