Salespage Snapshot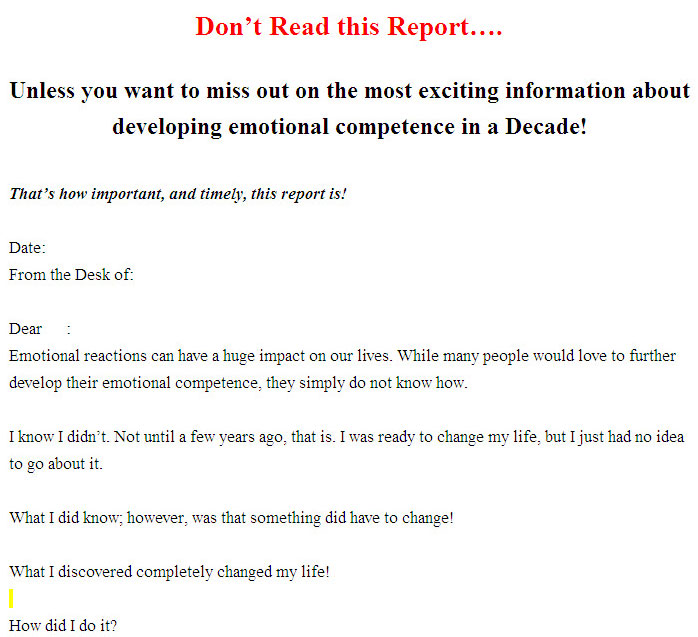 >> Click Here To View Sales Page...
PLR Ebook Sample Content Preview
Understanding Development of Emotional Intelligence
How to understand the processes of development of emotional competence:
Emotional development empowers us to take control of our life. When we develop emotional competence, it builds our self-confidence, which enhances our realization of self-worth. The enriched changes necessitate us to develop better communication skill, which gives us better social skills.
Regrettably, the road we travel to emotional development may become difficult. When we are struggling with daily demands of everyday living, it makes it difficult for us to find time to develop emotional competence. Work, attending to our family life and the disturbance our own pressures can build too much stress, causing anxiety. When we develop strategies that allow us effectively to manage stress before anything else, it helps us to develop mental competence. Stress is one of the major obstacles we must overcome to find success with emotional development.
Stress can lead to a myriad of various problems. Stress develops from stressors. An example of stressors are strict deadlines that loom earlier with each fleeting second. Stress builds from these stressors, so in order to manage stress; you must breakdown the stressors through the process of elimination.
For instance, if you have a tight deadline gets your prime job done first and then starts breaking down other tasks. Take on the bigger tasks first, so that you clear up time to handle other tasks.
Lately, biofeedback solutions came available. You may want to incorporate these practices in daily mediation and subliminal learning. Since stress measures, balancing and affecting both our mental and physical states, you may find benefits from biofeedback strategies. Biofeedback focuses on brainwaves, physiological changes, etc by using controlled techniques. With some techniques, a monitor is used with devices. The monitor reads information regarding the body's operation, function, etc, which includes the blood pressure, heart rate, and so on. The intentions of these programs are to help you achieve balance by controlling these physical actions.
The strategies offered with biofeedback have proven to relieve stress. By using meditation, the person is guided to relaxation. The body when relaxed open doors, giving you free access to building emotional competence.
Other Details* Sales Page:
Included, HTML, MS Word Doc
* File Format:
MS Word Doc, PDF
* Number of Pages:
155
* Included Graphics:
Ecovers
* Download File Size:
1,030 KB