Salespage Snapshot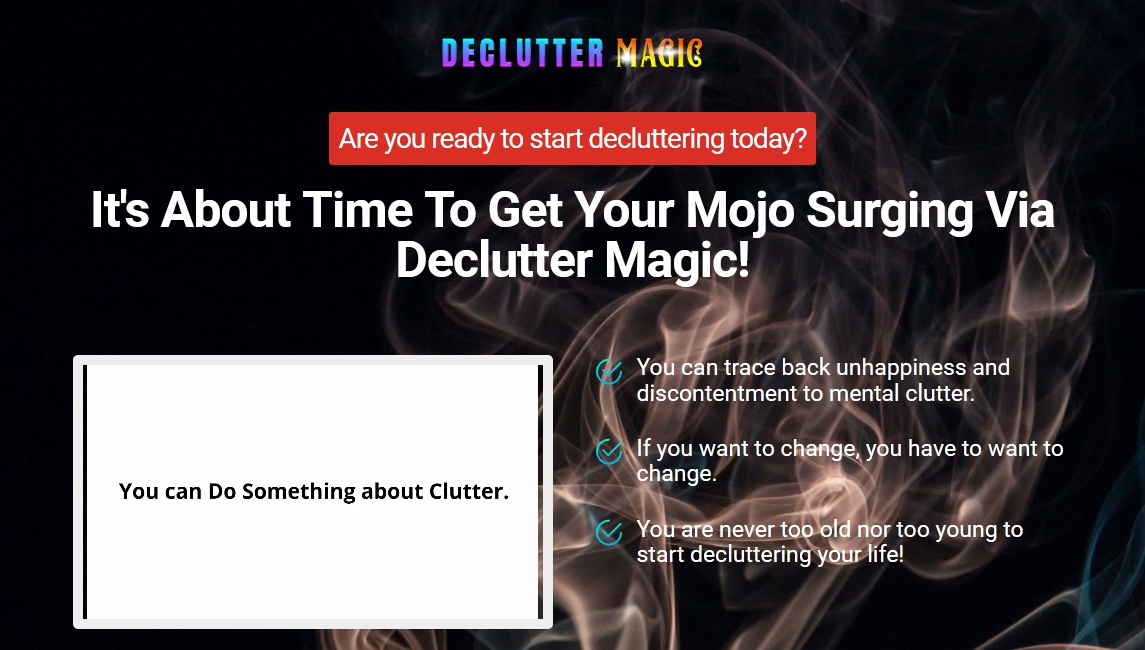 >> Click Here To View Sales Page...
Table of Contents
Introduction 04
Chapter 1: The Danger Of Cluttered Living 07
Chapter 2: You Can Do Something About Clutter 12
Chapter 3: Get Clear 17
Chapter 4: Start With What You Can See 29
Chapter 5: Get Rid Of Emotional Clutter 40
Chapter 6: Get Rid Of Psychological Clutter 69
Chapter 7: Get Rid Of Career Clutter 82
Chapter 8: Learn To Enjoy More With Less 93
Chapter 9: Learn The Art Of Contentment 101
Conclusion 111
Sample Content Preview
There is no attempt at any kind of analysis as to whether that script makes any sense as far as their lives are concerned. They don't think about a better fit between the script and the lives they are living out.
They don't consider whether the script has a specific historical or emotional context that may or may not be relevant today. They just automatically assume that since somebody they love and respect chose to live their life a certain way, then this path is the way forward.
It is no surprise that Americans, by and large, are not happy. The end result of everything I have described above is not pretty. We Americans are overmedicated. We are maxed out on our credit cards and are overstressed.
In spite of all the money, time, effort, and mental energy we spend on getting more and more stuff, we are nowhere close to being content.
We are actually nowhere near to living the kind of joyful life we initially sought out to achieve. The reason for this is actually quite obvious – we live cluttered lives. What makes this tragic is that we are not even aware of Most people are so stressed out that they are not as effective as they could be. Their relationships suffer. They don't do a good job at work, they break down easily, and can barely handle challenges that life throws their way.
You have to understand that life is not smooth nor easy. Life, after all, is made up of one unpleasant surprise after another. Some of these surprises can turn out to be positive if you prepare yourself properly.
Sadly, too many people choose not to do this because, at some level or other, they feel that they are entitled for things to be smooth, quick, easy, and convenient. It's no surprise that so many people are stressed out. Most people are so stressed that they are not as happy and content as they could be.
They focus on what they can get not just today, but tomorrow. They are focused on things that have already happened. They obsess about past failures, disappointments, and missed opportunities. They often engage in finding people and situations to blame for things that are going on in their lives in the here and now.
This is mental clutter. Unfortunately, a lot of people think that not only is this perfectly natural, but it actually defines who they are as individuals. That's right; you heard that correctly.
They believe that this is an integral part of their identity as human beings. Talk about missing the point. Talk about misreading the total picture.
Mental clutter, unfortunately, doesn't fall out of the sky. It doesn't appear at random. It is not something that you luck into. Instead, it is part of a larger equation. Believe it or not, physical clutter leads to mental clutter, and this produces a self-enforcing mechanism.
The more mental clutter you suffer from, the more you tend to create physical clutter around you. And when you see this in your physical surroundings, you stress out and create even more mental clutter. The process repeats itself over and over again.
It is a negative feedback loop that way too many of us are simply clueless about. If you are in any way, shape, or form unhappy with any aspect of your life, chances are quite high that you can trace that unhappiness and discontentment to mental clutter.
This toxic feedback loop holds people back from the life of victory, success, and happiness they could otherwise be living.
The worst part of this is that it's invisible. In fact, a lot of us justify this or make excuses for this to the point that this is what defines us. If somebody were to come into our lives to try to simplify things, don't be surprised if you put up a fight.
If somebody told you that a lot of the things that you're holding on to are unnecessary or even downright toxic, you would not be alone if you were to push back. You might even be thinking, "How dare you question me?", "How dare you insult me? This is part of who I am."
This is how people instinctively respond to any kind of decluttering maneuver imposed from the outside. I raised this issue because if you want to change, you have to want to change. It's one thing to mentally accept that you have to change, but it's another to let that mental awareness sink into the level of your emotions.
That is crucial because unfortunately, until and unless you develop a sense of emotional urgency regarding what you need to do, nothing will get done. Somewhere along the way, you would put up some sort of justification.
Other Details
- 10 Articles (TXT)
- 1 Ebook (PDF), 89 Pages
- 7 Graphics (JPG, PNG)
- 1 Salespage (HTML)
- Resource Report, Cheat Sheet, Mindmap, Social Media Images, Legal Page, Sales Video, Email Swipes
- Year Released/Circulated: 2023
- File Size: 77,276 KB
License Details:
[YES] Can be sold "as is" but not for less than $7
[YES] Can pass on the Resell Rights privilege (MRR) to your customers
[YES] Can add this product to a Membership Site or Bundled Within a Product Package as a Bonus
[YES] Can giveaway this product (NOT the editable source code files) to your subscribers, members or customers as a bonus or gift
[YES] Can giveaway the lead generation report (if any) for email list building purposes
[YES] Can edit the salespage(s) with your personal details and order link
[YES] Can be used as basis for your webinar/seminar
[YES] Can be added to paid membership sites
[NO] Can sell Private Label Rights (PLR)
[NO] Add to a free membership sites
[NO] You can't just pass away the product to anyone
[NO] Content of this product can be edited, modified or altered